Upcoming Events and Appearances
March 28, 2015 - Cuyahoga Falls, Ohio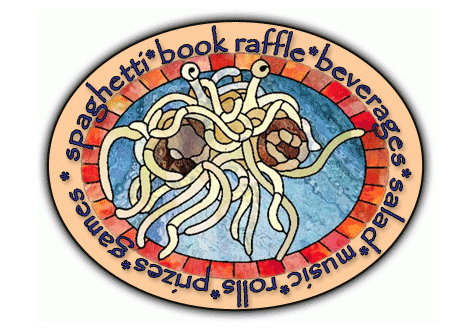 Flying Spaghetti Monster Dinner/Fundraiser
Saturday, March 28, 2015 from 6-10pm
Join us for a fundraiser hosted by Northern Ohio Freethought Society, with special guest Dan Barker, co-president of Freedom From Religion Foundation! He will give a short presentation and has agreed to sing a couple of tunes for us!
Be prepared to devour awesome spaghetti (both vegan and meat sauce) salad, rolls and butter, dessert and non-alcoholic beverages! Families welcome! We'll have a 50/50 raffle, an autographed book raffle, and other great prizes!
The event will be held at Lions Park Lodge, 641 Silver Lake Avenue, Cuyahoga Falls, OH 44221.
Prepaid tickets: $15 for adults (12 and up) $10 (age 5-11) Children under 5 are free. Tickets at the door: $20 for adults, $15 for ages 5-11, and children under 5 are free.
April 12 -- Washington, DC
Dan Barker will talk about his new book, Life Driven Purpose, on Sunday, April 12, at 5:00 pm at Busboys and Poets (5th & K, 1025 5th St NW, Washington, DC [Mt. Vernon Square Metro]). Dan will sign copies after a brief talk. $15 admission includes book. REGISTER HERE. The event is sponsored by "Voices of Reason" with the Center for Inquiry DC. Contact Simon Davis at [email protected]
May 3, 2015 — Fullerton, California

FFRF Senior Staff Attorney Rebecca Markert will be speaking at the Orange County Freethought Alliance annual conference on May 3, 2015. This event will be held at the Howard Johnson hotel at 222 West Houston Avenue in Fullerton Calif. Register today!