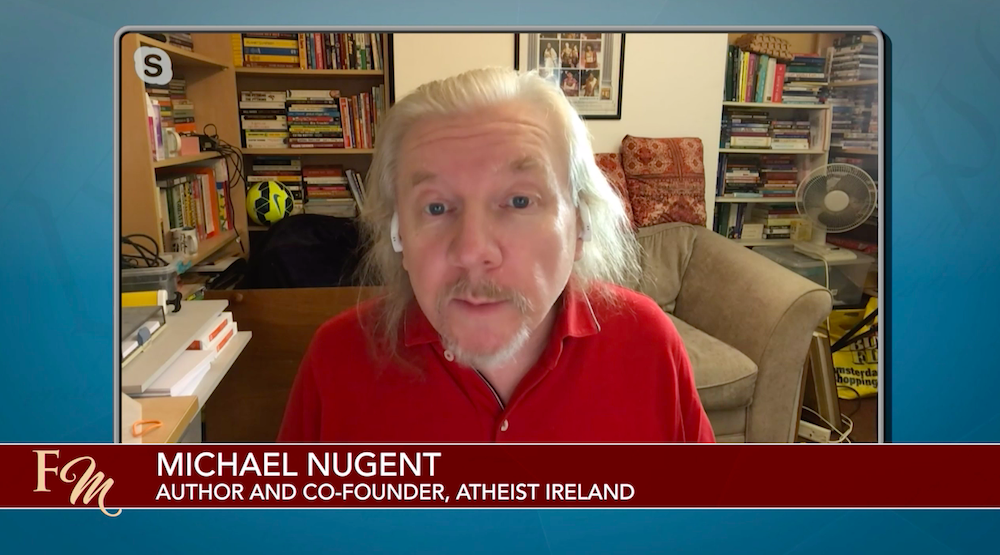 The interviewee this Sunday on the Freedom From Religion Foundation's TV show is a person who is doing his utmost to move Ireland away from the shackles of Catholicism.
When you think of the Republic of Ireland, you probably think of a nation of pious Catholics. The guest on FFRF's "Freethought Matters" TV show this week will then surprise you about the growing secularism in the Emerald Isle. Michael Nugent is a writer of both serious and comedy material who lives in Dublin. He's a founder and chairperson of the advocacy group Atheist Ireland, which promotes atheism, reason and ethical secularism in Ireland and around the world. Nugent's motto is: "You have rights — your beliefs do not."
"We're now at a stage where what used to be a Catholic country is now effectively a pluralist country," Nugent explains the paradox of his native nation to "Freethought Matters" co-hosts Dan Barker and Annie Laurie Gaylor. "But still, Catholic law that was put in place when the Catholic Church did have control over the population makes the Constitution a very Catholic one. That's part of the reason for the delays in changing things: We have to kind of grudgingly have a series of referendums to enable the laws to become more secular."
If you don't live in the quarter-plus of the nation where the show broadcasts on Sunday, you can already catch the interview on the "Freethought Matters" playlist on FFRF's YouTube channel. New shows go up every Thursday. You can also receive notifications when we post new episodes of "Freethought Matters" by subscribing to FFRF's YouTube channel.
Upcoming guests on the show include Gloria Steinem and joint interviewees Breaking Their Will author Janet Heimlich and nonreligious hospital chaplain Terri Daniel talking about the religious maltreatment of children.
"Freethought Matters" airs in:
Chicago, WPWR-CW (Ch. 50), Sundays at 9 a.m.
Denver, KWGN-CW (Ch. 2), Sundays at 7 a.m.
Houston, KIAH-CW (Ch. 39), Sundays at 11 a.m.
Los Angeles, KCOP-MY (Ch. 13), Sundays at 8:30 a.m.
Madison, Wis., WISC-TV (Ch. 3), Sundays at 11 p.m.
Minneapolis, KSTC-IND (Ch. 45, Digital Channel 5.5), Sundays at 9:30 a.m. (Digital channel 5.2 has been dropped.)
New York City, WPIX-IND (Ch. 11), Sundays at 8:30 a.m.
Phoenix, KASW-CW (Ch. 61, or 6 or 1006 for HD), Sundays at 8:30 a.m.
Portland, Ore., KRCW-CW (Ch. 32), Sundays at 9 a.m. Comcast channel 703 for High Def, or Channel 3.
Sacramento, KQCA-MY (Ch. 58), Sundays at 8:30 a.m.
San Francisco, KICU-IND (Ch. 36), Sundays at 10 a.m.
Seattle, KONG-IND (Ch. 16 or Ch. 106 on Comcast). Sundays at 8 a.m.
Washington, D.C., WDCW-CW (Ch. 50 or Ch. 23 or Ch. 3), Sundays at 8 a.m.
The show launched its fall season in early September with clips from the best past interviews on the program. Subsequently, it featured an interview with famed evolutionary biologist Richard Dawkins. The program has focused on a landmark Supreme Court case against religious indoctrination in public schools, has offered answers on how nonreligious people should deal with death, has spotlighted the secular lobby in Washington, D.C and has argued for the expansion of the U.S. Supreme Court. A few weeks ago, the interview was with FFRF Honorary Director Katha Pollitt, the noted writer, freethinker and feminist. After that, the show interviewed distinguished evolutionary psychologist and renowned author Harvard Professor Steven Pinker. Recently, the show paid homage to the departed acting legend Ed "Lou Grant" Asner. And the only openly nonbelieving member of Congress, Rep. Jared Huffman, honored the show with a return visit two weeks ago.
Please tune in to "Freethought Matters" . . . because freethought matters.
P.S. Please tune in or record according to the times given above regardless of what is listed in your TV guide (it may be listed simply as "paid programming" or even be misidentified). To set up an automatic weekly recording, try taping manually by time or channel. And spread the word to freethinking friends, family or colleagues about a TV show, finally, that is dedicated to providing programming for freethinkers!