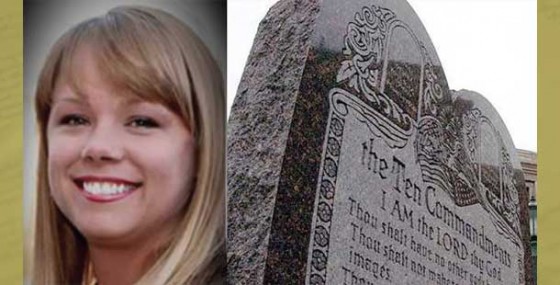 FFRF and a parent filed suit on Sept. 14, 2012, against the New Kensington-Arnold School District (Pa.) to challenge a six-foot-tall Ten Commandments monument in front of Valley High School. FFRF wrote to the District in March of 2012 requesting the monument be moved because it violated federal and Supreme Court precedent prohibiting the display of the decalogue in public schools. District officials defended the monument and refused to move it.
FFRF's complaint stated that the continued presence of the Ten Commandments on district property was an unconstitutional advancement and endorsement of religion.
The parties filed for summary judgment on Dec. 12, 2014 before Judge Terrence McVerry of the Western District of Pennsylvania.
McVerry ruled on July 27, 2015, that the parent of a student, Marie Schaub, and the student did not have standing to bring the lawsuit.
On August 9, 2016, the U.S. Court of Appeals for the Third Circuit held that Schaub did have legal standing to challenge the monument. The three judge panel unanimously found that her removal of her daughter from Valley High School due to the Ten Commandments monument, and prior contact with it, were sufficient for her to bring the case.
The court reversed and remanded for further proceedings on Schaub's claims and remanded for consideration of whether FFRF has standing on the basis that Schaub was a member when the suit was filed.
Judge McVerry ruled in a companion case that a similar monument violated the Establishment Clause.
The federal lawsuit was victoriously settled on Feb. 15, 2017, when the school district agreed to remove the Ten Commandments marker, and pay attorneys' fees of $163,500, of which more than $40,000 will go to FFRF for its attorney time and reimbursement of costs.
District Court:
Third Circuit Court of Appeals:
The New Kensington-Arnold School District agreed to pay $163,500 in attorneys fees and remove the monument.