The Freedom From Religion Foundation and its member David Steketee filed a lawsuit Dec. 1 in New Jersey state court suing the Morris County Board of Chosen Freeholders and other officials. The suit challenges public grants of tax dollars to churches to repair or maintain places of worship.
Steketee, a taxpayer in Morris County, is contesting grants to churches by the board's Historic Preservation Trust Fund. Since 2012, the board has awarded more than 55% of its total Trust Fund assets to churches — more than $5.5 million. It's believed that 2014 and 2015 grants haven't yet been fully disbursed.
FFRF and Steketee are specifically challenging:
Allotments to the Presbyterian Church in Morristown, which has been allocated more than $1.04 million in public funds since 2012. The church's 2013 construction grant application specifically notes that funding would allow "continued use by our congregation for worship services."
Allotments to the St. Peter's Episcopal Church. Its 2014 grant application states that a distribution from the fund would ensure "continued safe public access to the church for worship, [and] periods of solitude and meditation during the week."
The board didn't respond to FFRF's February 2015 complaint letter about the grants. Steketee testified June 24 before the board and again on July 8 asking it to follow the federal and state constitutions and discontinue the grants. Freeholder Hank Lyon has also objected to the practice.
The grants violate plaintiffs' rights under Article I, Paragraph 3 of the New Jersey Constitution, guaranteeing: "nor shall any person be obliged to pay tithes, taxes, or other rates for building or repairing any church or churches, place or places of worship, or for the maintenance of any minister or ministry, contrary to what he believes to be right."
These grants deprive Steketee of his constitutional rights, also in violation of the New Jersey Civil Rights Act, N.J.S.A. 10:6-2(c).
"Although preserving historic Morris County buildings is an appropriate use of taxpayer funds, the New Jersey Constitution must trump any other considerations regarding the
distribution of public funds to churches, places of worship, or ministries," FFRF's legal complaint alleges.
The plaintiffs seek a declaration from the Superior Court of New Jersey, chancery division of Morris County, that grants of taxpayer funds to churches, places of worship and ministries disbursed within the past two years violate the New Jersey Constitution. They seek a preliminary injunction, later to be made permanent, requiring the defendants to rescind the challenged grants and enjoin them from offering such grants to churches in the future. Nominal and actual damages are sought for Steketee, and the plaintiffs seek attorneys' fees.
"It was an axiom when our secular republic was founded that no citizen 'shall be compelled to frequent or support any religious worship, place, or ministry whatsoever,' to use the historic words of Thomas Jefferson," noted FFRF Co-President Annie Laurie Gaylor. "Tax dollars should not be subsidizing religious worship. That's what many immigrants to this land came here to escape."
The lawsuit is being handled by attorney Paul S. Grosswald. FFRF Staff Attorney Andrew L. Seidel and Diane Uhl Legal Fellow Ryan Jayne are co-counsel.
FFRF also thanks its former Legal Fellow Katherine Paige for her work on the case.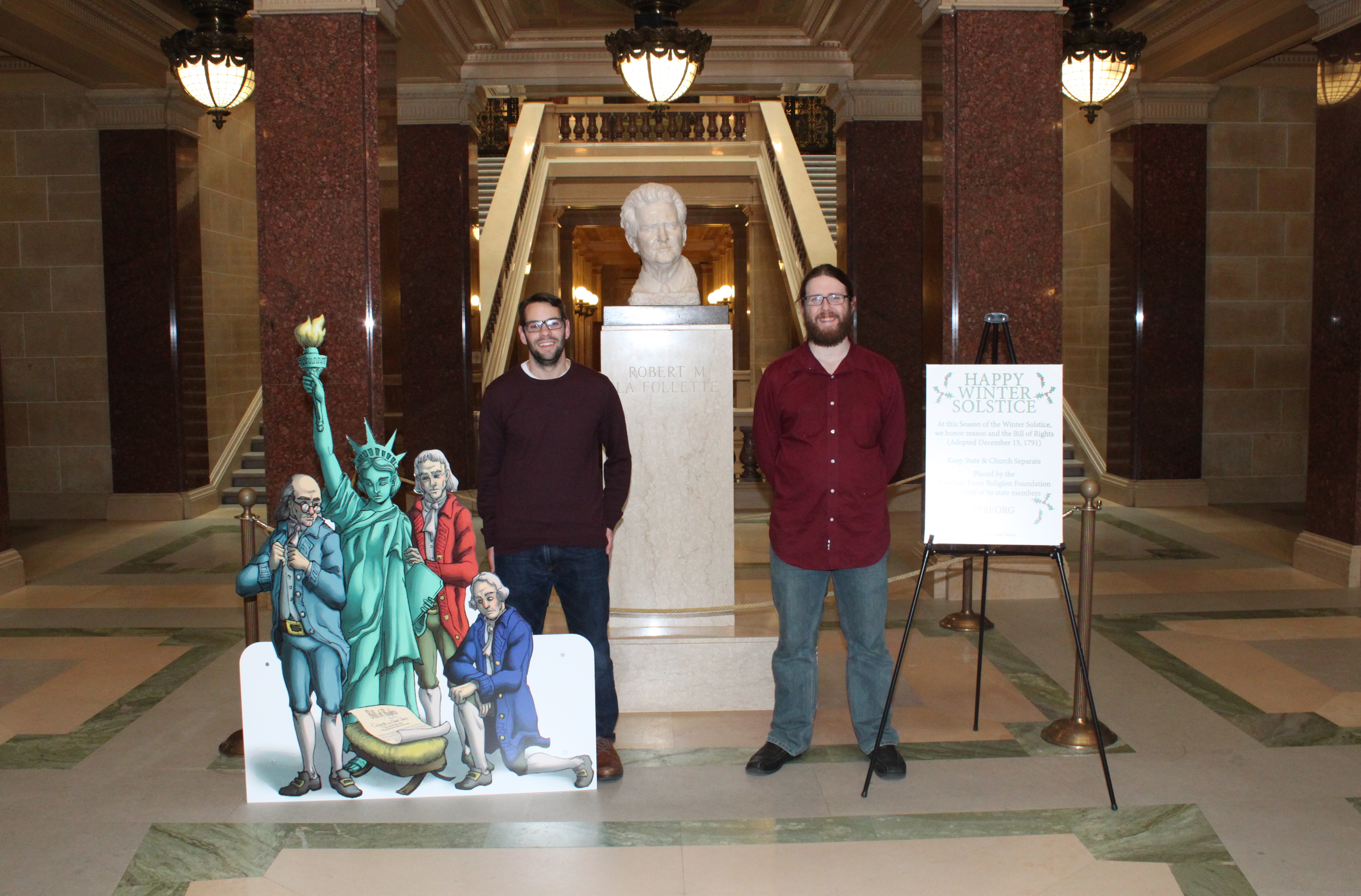 Today marks the 20th appearance of the Freedom From Religion Foundation's famous "no gods" Winter Solstice display in the Wisconsin State Capitol in Madison.
Joining the gilt display in the first floor rotunda this year is FFRF's newest Winter Solstice display, a whimsical metal cut-out depicting the "nativity" of the Bill of Rights, whose anniversary is Dec. 15.
The irreverent graphic, by artist Jacob Fortin, depicts founders Benjamin Franklin, Thomas Jefferson and John Adams, who's kneeling, all adoring a Bill of Rights in a manger.
A sign beside the tongue-in-cheek nativity reads:
"Happy Winter Solstice. At this Season of the Winter Solstice, we honor reason and the Bill of Rights (adopted Dec. 15, 1791)." At the bottom it reads: "Thou shalt not steal, please."
FFRF's traditional message, by FFRF's principal founder Anne Nicol Gaylor, who died at 88 earlier this year, was composed as an equal-time challenge, following religious divisiveness over religion at the seat of state government.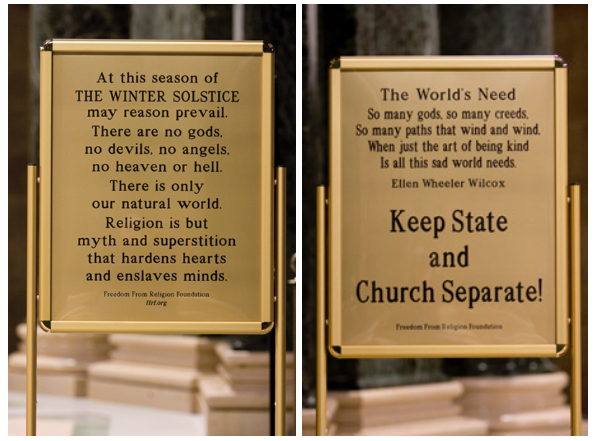 The sign reads:
At this season of the Winter Solstice, may reason prevail.
There are no gods, no devils, no angels, no heaven or hell.
There is only our natural world.
Religion is but myth and superstition that hardens hearts and enslaves minds.
On the back is a four-line secular poem by celebrated Wisconsin poet Ella Wheeler Wilcox. ("So many gods, so many creeds/So many paths that wind and wind/While just the art of being kind/Is all this sad world needs.")
Both displays are permitted to be up through December.
"The winter solstice is the reason for the season," says FFRF Co-President Dan Barker. Occurring this year on Dec. 22, it marks the shortest, darkest day of the year, heralds the symbolic rebirth of the sun and has been celebrated for millennia in the Northern Hemisphere with festivals of light, evergreens, gift exchanges and seasonal gatherings.
"FFRF would vastly prefer that government buildings and seats of government be free from religion — and irreligion," Barker added. "The rotunda is getting very cluttered. But if a devotional nativity display is allowed, there must be 'room at the inn' for all points of view, including irreverency and freethought. In celebrating the solstice, we celebrate reality."
State/church watchdog FFRF, based in Madison, Wis., has about 23,000 members, including more than 1,300 in Wisconsin, and has long been the nation's largest association of freethinkers, atheists and agnostics.
Holly Baer is the first recipient of the Freedom From Religion Foundation's $1,000 Yip Harburg Youth Activist Award, generously endowed by the Yip Harburg Foundation and FFRF members Ernie and Margie Harburg, the children of the famous lyricist of "Somewhere Over the Rainbow."
The award was spurred by Holly's Nov. 3 op-ed headlined "This misrepresentation of church and state" in the Daily Mississippian (the University of Mississippi at Oxford student newspaper). It detailed FFRF's complaint to the city of Collins about unconstitutional mixing of state and church in a city-owned park in which Christian displays had been placed for decades.
Holly also detailed the vitriolic reaction to the complaint on new stories online:
"Those nonbelievers need a city of their own to move to. Far far away from us."
"They will have their own city, it's called HELL."
"I think the city should take the complainer down."
Holly, a senior, later told FFRF:
When I enrolled in the University of Mississippi to pursue a degree in religious studies, I intended to me a missionary and live abroad spreading the gospel. Three years later, I am an outspoken writer, columnist and blogger chronicling my own struggles and frustrations as an ex-Christian in the Deep South.

When my hometown of Collins received a complaint from FFRF for illegal Christian decorations, I watched and listened to family and acquaintances make combative statements toward the person who informed FFRF of the legal violations. Many called for the "complainer" to be run out of town and said they deserved to have their house burned down.

Almost the entirety of my family, including those who no longer lived in Collins, went to the "Rally For Christmas" at a town hall meeting to discussing how to handle the letter of complaint. Instead, it became a religious revival, with Mayor V.O. Smith pledging to keep the decorations up.

As an opinion columnist for the Daily Mississippian, I wrote a response condemning the behavior I had seen as well as the superiority complex of Christians in the state. Despite claiming to be one of the best, most Christian states, Mississippi mostly excels at teen pregnancy, obesity, lack of education and a slew of other negative things. Mississippi has a history of explosive responses to being required to follow the law. The persecution complex is fueled by the idea that Christianity deserves a special place in society.

After graduation, I plan to continue writing and speaking out as a nonbeliever. I am pursing a master of fine arts in poetry, where nonbelief, subversion of religious themes and the conflict of my identity versus my upbringing have become central in my poems. I hope to continue to be involved with FFRF and to advocate for true separation of church and state.
Holly's blog is titled "Sex, Religion, Politics and other topics to avoid at the dinner table."
Nonbelief Relief, a new humanitarian agency to enable nonbelievers to make charitable donations under the banner of freethought, has announced some end-of-the-year grants.
Nonbelief Relief seeks to remediate conditions of human suffering and injustice, whether the result of natural disasters, human actions or adherence to religious dogma. It also seeks to provide assistance for individuals targeted for nonbelief, secular activism or blasphemy.
The grants are:
$20,000: World Food Program USA, designated for Syria. WFP, the largest humanitarian agency (affiliated with the United Nations) fighting hunger worldwide, notes, "Since fighting first broke out in 2011, the crisis in Syria has become WFP's largest and most complex emergency worldwide. Today, more than a third of the country's population has fled the ongoing civil war. More than half of the refugees are children."
The Nonbelief Relief board felt this gift will help save lives jeopardized in part by a major religious conflagration.
$10,000: Camp Quest scholarships to help needy students who could not otherwise afford to attend 2016 camps.
Although Nonbelief Relief is not primarily a local charity, the board agreed it's important to contribute to one's community and voted for these local or statewide grants:
$12,000: OM Tiny Houses. This will pay for a "tiny house" for a homeless person who contributes "sweat equity." A community of Tiny Houses shelters is a project of Occupy Madison Inc. and is being built in Madison, Wis.
$10,000 additional pledge to the city of Madison, contingent on city approval of a proposal to spend $10,000 to place permanent lockers for the homeless in or near downtown.
"As FFRF has downtown residency, we are acutely aware of the homeless crisis here in Madison," said Annie Laurie Gaylor, Nonbelief Relief administrator.
$2,500: Second Harvest Foodbank of Southern Wisconsin.
$25,000 pledge: Women's Medical Fund Inc., believed to be the longest continuously operating abortion rights charity in the nation, helping more than 20,000 needy Wisconsin women pay for abortion care. The board voted to give the money on Jan. 22, 2016, in honor of Anne Gaylor, FFRF's principal founder, who died in June, and also co-founded the WMF and administered it from about 1976 to March 2015.
In October, Nonbelief Relief gave $20,000 to Doctors Without Borders (Medecins Sans Frontières), raising several thousand additional dollars from FFRF donors. The grant was earmarked for the charity to use in Afghanistan after the Oct. 3 aerial bombing by the U.S. military of the group's hospital in Kunduz, killing 22 people and injuring 37 others.
Nonbelief Relief was incorporated in 2015, with the Freedom From Religion Foundation as its sole member. The board is made up of Gaylor, FFRF Co-President Dan Barker as vice president, FFRF Director of Operations Lisa Strand as secretary/treasurer, and Jim Zerwick and Stephen Hirtle, who also serve on FFRF's board.
Donations can be made via FFRF, either by explicitly earmarking your check for Nonbelief Relief or by selecting "Nonbelief Relief" from the designation dropdown at ffrf.org/donate/. If given via FFRF, the donations are deductible for income-tax purposes.
April 2-3 -- Fayetteville, Arkansas
More...