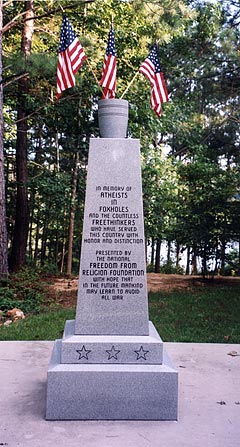 Glorious Fourth 2014 

Thursday, July 3 — Saturday July 5, 2014 

Sponsored by the Alabama Freethought Association & FFRF
---
To view photos from this year, click on the image below.
---
If you're looking for camaraderie with freethinkers and informative speakers in a relaxing, lakeside setting, register now for the annual July 4th celebration at FFRF's southern, air-conditioned Freethought Hall at Lake Hypatia, near Talladega, Alabama. Sponsored by the Alabama Freethought Association, the oldest FFRF chapter, and its co-director Patricia Cleveland, the event takes place Thursday, July 3, through Saturday, July 5. FFRF will co-sponsor, with Co-President Dan Barker entertaining at the piano and Co-President Annie Laurie Gaylor providing video updates on FFRF legal and other activities. Download our brochure, today!
Registration begins now for Alabama Freethought Association's annual event on July 3rd through 5th!
$20 members
$25 non-FFRF members
$15 adult meals
$10 kids' meals
Some of the fun we have scheduled:
Stimulating Speakers

Freethought Jeopardy, with Martin & Cheryl Lewison as emcees
The annual "atheists vs. agnostics" volleyball match
Craft events for children
A complimentary July 3 hotdog lunch (vegetarian options offered.) Other group meals in the breezy Lakeside Pavilion
"Debaptisms" in Lake Hypatia, presided over by Patricia Cleveland
Accommodations:
(Mention the Alabama Freethought Association for the group rate)
Holiday Inn
240 Haynes St
Talladega, AL, 35160
(256) 362-7780
In addition, the Cleveland family generously offers their personal grounds around Freethought Hall for RV or primitive campers who register for the event and reserve space in advance. Showers and toilets are available onsite for campers at Freethought Hall. Registration begins 10 a.m., Thursday, July 3, with programs all day Friday, July 4 and a brunch concluding the event at noon, Saturday, July 5.