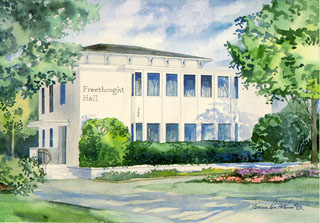 FREETHOUGHT HALL in Madison, Wisconsin, which serves as the national offices of the Freedom From Religion Foundation, was purchased in 1990 with the generous gifts of hundreds of members. One of the oldest buildings in downtown Madison, it houses the elegant Blanche Fearn reception room and the handsome Elizabeth Elliott library of more than two thousand freethought books.
The sandstone structure was built as a family home in 1855. Its first known owner was an entrepreneur who had taken part in the California gold rush and later operated business in Wisconsin. Another early owner was a church! The building became a rectory for 20 years in the late 1880s.
In the 1940s the pioneer home was remodeled as a clinic with physicians placing an addition on the front of the building. A series of commercial ventures occupied the building in recent years until its cash purchase by the Foundation.