Freethinker of the Year Award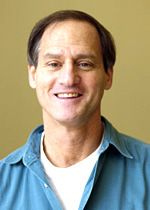 The Freethinker of the Year Award was inaugurated by the Freedom From Religion Foundation in 1985. The Freethinker of the Year Award is reserved for litigants who have brought and won lawsuits upholding the separation of church and state.
The Foundation's inaugural awardee was attorney Ishmael Jaffree, who demonstrated great courage in challenging an Alabama law encouraging religious meditation in public schools with himself as plaintiff. The challenge brought his family great notoriety and harassment, but ended with a strong decision by the U.S. Supreme Court overturning the law.
Pictured: 2002 Freethinker of the Year Michael Newdow, M.D., who received the award after his nationally-significant victory in which the 9th U.S. Circuit Court of Appeals ruled the words "under God" unconstitutional in the Pledge of Allegiance.
Photo by Brent Nicastro