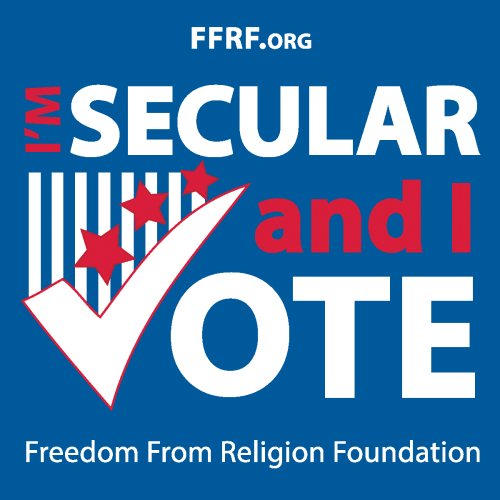 The Freedom From Religion Foundation, which engaged in a nationwide "I'm secular and I vote" PR campaign this year, is delighted to see a recent Associated Press report recognize that "nonreligious voters wield serious clout."
AP VoteCast's survey of more than 94,000 voters nationwide shows that "some 22 percent of voters claimed no religious affiliation" and "contributed to voting coalitions that gave Democrats victories in battleground states such as Pennsylvania, Wisconsin and Arizona."
"For all the talk of the overwhelmingly Republican voting by white evangelical Christians in recent elections," notes AP reporter Peter Smith, "the unaffiliated are making their presence felt."
With "Nones" (atheists, agnostics or "nothing in particulars") now 29 percent of all U.S. adults, secular voters are starting to fulfill our potential as election game-changers. The number identifying as religiously unaffiliated has grown by 10 percentage points in the last decade, according to Pew Research Center. The "Nones" are now almost equal to the 30 percent of voters who identify as born again or evangelical Christians.
Associated Press points out that the "Nones equaled Catholics." However, 43 percent of voters consisted of Protestants and other Christians. Other religious groups totaled 13 percent, including 3 percent Jewish and 1 percent Muslim.
The unaffiliated voted for Democratic House candidates nationwide over Republicans by a more than 2-1 margin (65 percent to 31 percent), according to VoteCast. Similarly, 72 percent of voters with no religious affiliation voted for Joe Biden in 2020.
Ryan Burge, a professor of political science at Eastern Illinois University whom FFRF has interviewed in the past, points out that atheists and agnostics as a subset of the "Nones" are more likely to make a campaign donation, attend a political meeting or join a protest than evangelicals.
"When you consider how involved they are in political activity, you realize how important they are at the ballot box," he told Associated Press.
"But atheists and agnostics, though only a third of the nones, punch above their weight, given their heavy involvement in politics," as Associated Press puts it.
In other takeaways, the survey shows that between two-thirds and three-quarters of voters with no religious affiliation supported Democratic candidates in key races in Wisconsin and Arizona. Four in five people with no religious affiliation voted against abortion restrictions in Michigan and Kentucky. Likewise four in five voted for Josh Shapiro and John Fetterman, Pennsylvania's newest Democratic governor and senator.
Secular voters are leading with our secular values, as illustrated by the fact that four in 10 Democratic voters affiliated with Christian traditions say abortion should always be legal, while six in 10 Democratic voters unaffiliated with religion say it should always be legal.
"In general, 69 percent of Democratic voters unaffiliated with a religion identify as liberal," the AP report says, "compared with 46 percent of Christians who voted for Democrats."
A 2020 survey of 12,000 registered voters who are members of FFRF revealed, "We are the real values voters," according to Dan Barker, FFRF co-president.

The AP report shows why it's more important than ever for freethinkers to demand that candidates and public officials start reflecting our secular values, adds Annie Laurie Gaylor, who serves as co-president with Barker.
"Move over, religious right and Christian nationalists!" Gaylor says. "The secular voters are here, our numbers and influence are growing, we're organizing and we plan to protect our public schools, abortion and LGBT rights and our secular Constitution, which is what our democracy rests on.
The Freedom From Religion Foundation, a state/church watchdog, is the country's largest freethought organization, with 38,000 nonreligious members and 23 chapters all across the country.