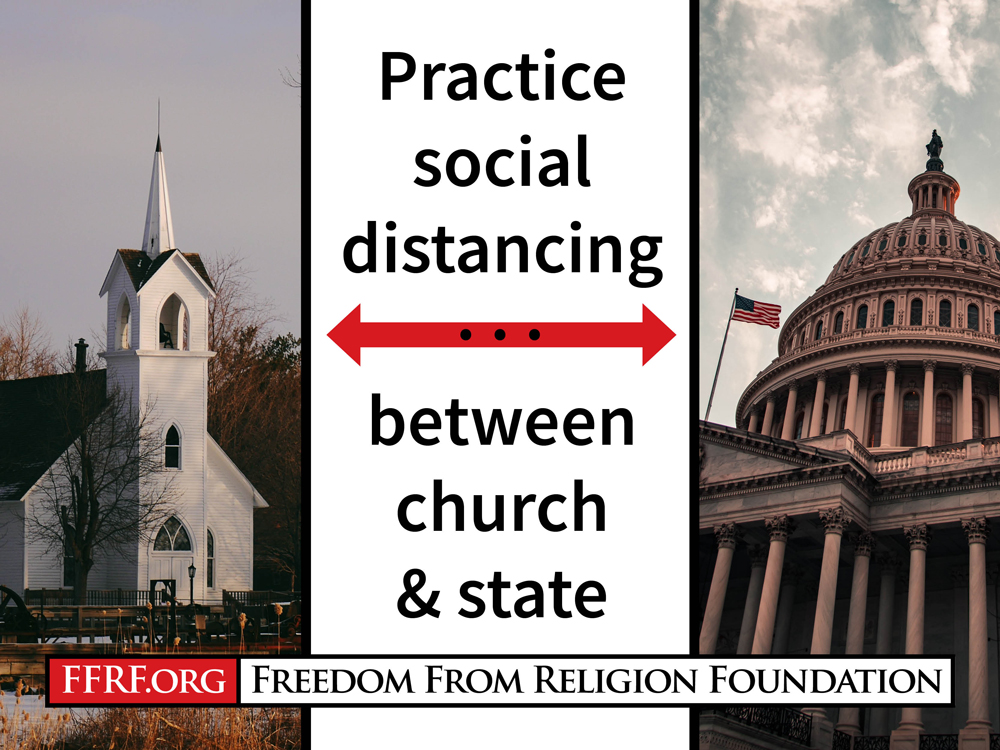 Litigious churches and churchgoers — mostly of the evangelical persuasion — have filed legal challenges against stay-at-home orders in at least 19 states.
Shockingly, the Justice Department is intervening on behalf of some of the churches, in accordance with Attorney General William Barr's memo signaling support for church gatherings during the pandemic shutdown. On Tuesday, May 19, the department sent a letter chiding California Gov. Gavin Newsom, subject of two church-related lawsuits, for delaying resumption of in-person services.
A Washington Post op-ed on May 13 pointed out a contradiction in church reactions to the pandemic: "On the one hand, churches argue that the free exercise clause of the First Amendment entitles them to special exemptions from stay-at-home orders. On the other hand, they also assert that churches can and must be treated just like nonreligious organizations when it comes to taxpayer funding." (A whopping 9,000 Catholic churches were approved for federal funding under the Paycheck Protection Program. Forty percent of Protestant churches applied for funding, with half of those applications accepted, according to a survey by Lifeway Research.)
There is growing evidence about the spread of COVID-19 through church services. CNN reports that one worshipper later found to have the coronavirus, who had defied California's order to attend a religious service on Mother's Day, exposed 180 other people. In a case in Sacramento County in April, CNN reports that 71 people connected to a single church were infected. The Centers for Disease Control and Prevention announced in mid-May that two persons with COVID-19 unknowingly spread the virus to more than 30 people during church gatherings in early March in Arkansas before any case was diagnosed in that state. And in another such instance, the CDC identified a "superspreading" event on March 17 involving a member of a church choir in Skagit County, Wash., who spread the coronavirus, resulting in 32 confirmed cases, 20 other likely infections, three hospitalizations and two deaths.
"Wouldn't you think churches would want to protect their congregations during the pandemic and help them stay safe?" asks Annie Laurie Gaylor, FFRF co-president. "Instead, this is a dismaying continuation of the religious war against science with life-and-death consequences."
Nevertheless, many righteous pastors or churchgoers are suing government officials over state-at-home orders. Here's an up-to-date roundup by state:
California: Two California churches filed separate lawsuits in May alleging Gov. Gavin Newsom's stay-at-home orders have illegally deprived them of religious freedom because the orders prohibit communal services. The South Bay United Pentecostal Church of Chula Vista sued in early May, alleging that the order has "criminalized all religious assembly and communal religious worship." The lawsuit states: "To be blunt, California's present regime, which mandates that Californians who need the Spirit of Almighty God settle for the lesser spirits dispensed out of California's liquor stores, is demeaning and denigrating to all persons of faith." Abiding Place Ministries and other congregations around the state previously filed a separate suit in April.
Colorado: A federal judge denied a Denver churchgoer's challenge, filed on March 30, seeking a preliminary injunction to bar enforcement of the COVID-19 stay-at-home orders restricting the gathering of more than 10 people at a time. The plaintiff complained his parish ceased conducting weekly mass, offering the eucharist, or hearing confessions. U.S. District Judge Daniel Domenico upheld the government's authority and duty to control the spread of disease in an April decision.
Delaware: Rev. Christopher Allan Bullock of Canaan Baptist Church, New Castle, filed a federal lawsuit on May 19 challenging gubernatorial stay-at-home restrictions. Under threat of being sued, Gov. John Carney had already changed an order that restricted gatherings to 10 persons or fewer, to permit places of worship to reopen on May 20 at 30 percent capacity. Bullock still filed suit, stating, "It appears the state is saying that you have to have an appointment to go to church, and that's not what the bible says nor is that practical."
Illinois: Two Illinois congregations filed an emergency lawsuit in early May against Gov. J.B. Pritzker, claiming his stay-at-home rules, which allowed fewer than 10 people to gather, were unconstitutional. Elim Romanian Pentecostal Church in Chicago and Logos Baptist Ministries in Niles asked for a temporary restraining order against the governor and his Restore Illinois plan. The lawsuit says "plaintiffs are threatened with becoming criminals for merely having 11 people at church." (Another church near Rockford lost a similar lawsuit filed the week before.)
Kansas: After the Kansas Supreme Court prohibited religious services with more than 10 people in mid-April, two Kansas churches appealed to "a higher power," as KCTV in Lawrence put it. Junction City's Calvary Baptist Church and Dodge City's First Baptist Church sued Kansas Gov. Laura Kelly in federal court over her order that even church services should have 10 people or fewer. U.S. District Judge John Broomes in Wichita issued a preliminary injunction in the churches' favor, claiming the executive order placed greater restrictions on religious organizations than secular operations. Kelly then announced she would begin to lift many restrictions on public gathering in early May.
Kentucky: A federal court ruled on May 8 that Kentucky Gov. Andy Beshear cannot temporarily ban mass gatherings at church services. Maryville Baptist Church and its pastor held in-person services in Easter in defiance of the pandemic restrictions, and sued to block enforcement. In Louisville, U.S. District Judge Justin Walker on April 11 ruled that "on Holy Thursday" the mayor had "criminalized the communal celebration of Easter" by discouraging large social gatherings, including at churches. Walker, 37, whom the American Bar Association rates as "unqualified," has been nominated by President Trump to the powerful Court of Appeals for the District of Columbia.
Louisiana: A federal judge in Louisiana turned down a minister's request on May 15 to halt Gov. John Bel Edwards' stay-at-home order. The notorious Rev. Tony Spell, pastor of the Life Tabernacle Church in Central, La., had sought a temporary restraining order. Spell had been charged with multiple misdemeanors and was placed under house arrest for continuing to flout the shelter-in-place order by holding large church services amid the pandemic. Spell was arrested for aggravated assault on April 21 for driving his church bus toward a protester. Although mandated not to leave his residence to go to the church, he defied the order by holding a church service on April 26 (wearing an electronic device on his ankle). Spell told several hundred worshippers: "God gave you an immune system to kill the virus."
Maine: Calvary Chapel of Bangor filed a federal lawsuit in early May against Gov. Janet Mills and her stay-at-home orders prohibiting in-person and drive-by worship services. The pastor, Ken Graves, charged that "the Christian church is, in fact, being targeted and discriminated against."
Michigan: Several churches, pastors and churchgoers filed a lawsuit in federal court on May 7 against Gov. Gretchen Whitmer's executive order. "We have to physically distance people 6 feet apart. That means what we'd have to do is instead of having our usual service, we'd have to have multiple services," complained plaintiff and Minister Andrea Simpson of Word of Faith International Christian Center in Southfield, representing a 6,000-member congregation.
Minnesota: Two churches have filed suit in federal court on May 3 against Minnesota Gov. Tim Walz's stay-at-home order, claiming he is "treating religious organizations as second-class citizens" by limiting services to 10 people. The lawsuit was filed by the newly formed Upper Midwest Law Center, representing Northland Baptist Church of St. Paul and Brooklyn Park megachurch Living World Christian Center.
Mississippi: In mid-May, Gov. Tate Reeves announced social-distancing and cleaning guidelines that will allow churchgoers to attend in person, but advised citizens to follow his example and worship at home. Still, two lawsuits were filed against local stay-at-home rules.
Missouri: A federal judge on May 17 dismissed a lawsuit filed by a group of Christians alleging that St. Louis County's stay-at-home order violates their religious freedom by banning large in-person church services. U.S. District Judge Ronnie White said they did not have standing, although a group of Christians filed notice to appeal. One of the plaintiffs, Frank O'Brien of O'Brien Industrial Holdings, has previously sued the Obama administration over the requirement that company health insurance cover birth control.
New Jersey: A New Jersey Catholic priest filed suit on April 30 challenging Gov. Phil Murphy's COVID-19 order, which has led to the closure of all Catholic churches in the state. A rabbi in Lakewood joined the suit after being arrested on May 11 for hosting a gathering of more than 10 people in his backyard in a tent. When police arrived, about 20 men began yelling at the police and Rabbi Yisrael A. Knopfler was arrested for making physical contact with an officer. Police had made similar citations for two secular backyard events.
New Mexico: In Legacy Church Inc. v. Kunkel, a New Mexico federal district court on April 17 ruled against a challenge by a megachurch to the state's order barring meetings of more than five people. The church requires approximately 30 clergy and technical staff members to live-stream its religious services. The court noted that the order is "neutral and generally applicable" and had reasonable time, place and manner restrictions.
North Carolina: A federal judge in North Carolina on May 16 sided with what Associated Press termed "conservative Christian leaders" and blocked Gov. Roy Cooper's stay-at-home orders as it affects indoor religious services. Two churches and an organization representing other churches filed suit, saying the order violated their constitutional rights because certain stores could reopen at 50 percent capacity but not churches. The state allowed religious gatherings under 10 individuals and had begun easing restrictions on May 8 under a three-phase reopening plan, with no limits on outdoor worship services. "We don't want indoor meetings to become hotspots for the virus, and our health experts continue to warn that large groups sitting together for long periods of time are much more likely to cause the spread of COVID-19," said a Cooper spokesperson.
Oregon: On May 18, the Oregon Supreme Court reinstated enforcement of Gov. Kate Brown's statewide coronavirus restrictions, after a lower court overturned the order, in a suit brought by 16 churches and other plaintiffs. One of the churches, the Peoples Church in Salem, normally has an audience of 3,700. A lower court judge had ruled that Brown's precautions were not required for "larger gatherings involving spiritual worship."
Texas: Pastors of three Houston-area churches sued over Harris County's stay-at-home order. The Texas Supreme Court dismissed a challenge on April 8. The same group filed a similar lawsuit that same week over church restrictions, even though the county judge revised the county order to align with Gov. Greg Abbott's executive order deeming churches "essential businesses." The church plaintiffs are joined by Tom DeLay, former House majority leader. They have also challenged Montgomery County's stay-at-home order in a different state district court.

Virginia: Lighthouse Fellowship Church of Chincoteague Island, Va., supported by the Justice Department, in April sued Virginia Gov. Ralph Northam over his stay-at-home order. Northam filed a response in May saying that lifting the order "would seriously undermine Virginia's efforts to resist a once-in-a-century pandemic and threaten irreparable harm to an unknown (and unknowable) number of people.Time and again, large gatherings — including in-person religious services — have provided fertile ground for transmitting this deadly virus." He said the order doesn't require places of worship to close, nor does it prevent public access to churches or block services "with a limited number of attendees." The state noted there's no evidence the governor singled out religious organizations or political speech when he banned all gatherings.
Wisconsin: A churchgoer filed a lawsuit against Gov. Tony Evers' stay-at-home order (which allowed religious gatherings under 10 persons). The Wisconsin Supreme Court on May 13 knocked down the entire order in a related challenge, thus not ruling on the churchgoer's legal action. FFRF had filed an amicus brief against the churchgoer's suit.