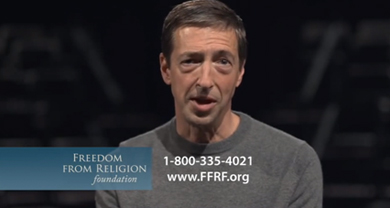 Many millions of viewers of the Sunday Democratic primary debate will be seeing the iconic Freedom From Religion Foundation ad featuring "unabashed atheist" Ron Reagan.
The 30-second commercial will air twice during the down-to-the-wire CNN debate in Phoenix on March 15 starting at 8 p.m. Eastern, which features the top two remaining candidates, ex-Vice President Joe Biden and Sen. Bernie Sanders. It will also run once during pre-show and post-show commentary on CNN. In addition, the ad will feature Monday, March 16, on "Erin Burnett OutFront" (7-8 p.m. Eastern), "Anderson Cooper 360" (8-9 p.m.) and on "Cuomo Prime Time" (9-10 p.m.). Total viewership is estimated at more than 20 million.
During the commercial, the son of President Ronald Reagan and Nancy Reagan says:
Hi, I'm Ron Reagan, an unabashed atheist, and I'm alarmed by the intrusion of religion into our secular government. That's why I'm asking you to support the Freedom From Religion Foundation, the nation's largest and most effective association of atheists and agnostics, working to keep state and church separate, just like our Founding Fathers intended. Please support the Freedom From Religion Foundation. Ron Reagan, lifelong atheist, not afraid of burning in hell.
It is the same commercial that ruled the internet during the Democratic debate on CNN in mid-October, when the name of Ron Reagan became the most searched term on Google in the course of the debate and among the top 20 trenders on Twitter. The ad also received several approving nods, including from comedian and actress Sarah Silverman, and was the subject of intense media coverage, albeit sometimes grudgingly. A repeat airing of the spot two months ago again also generated significant social media and new member responses.
FFRF wishes to express its appreciation to the gracious, generous and quotable Reagan, who coined the famous catchphrase used in the ad: "unabashed atheist, not afraid of burning in hell."
Donors to FFRF's Advertising and PR Fund, ffrf.org/donate make possible this major outreach. If you'd like to see continuing ads, which have raised FFRF's profile and recruited thousands of new members, please donate to FFRF's ad fund. Thank you and see you Sunday on CNN!
The Freedom From Religion Foundation, based in Madison, Wis., a 501(c)(3) nonprofit educational charity, is the nation's largest association of freethinkers (atheists, agnostics), and has been working since 1978 to keep religion and government separate.