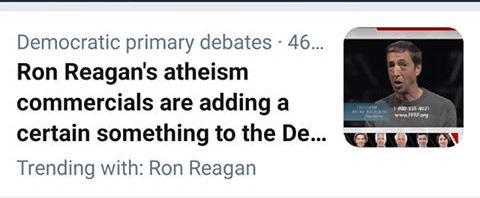 The Freedom From Religion Foundation is delighted to report that its iconic commercial recorded by Ron Reagan, "lifelong atheist, not afraid of burning in hell," once again trended on social media last night (Jan. 14) during the CNN-hosted Democratic primary debate.
Reagan, the son of President Ronald Reagan and Nancy Reagan, says during the 30-second spot:
Hi, I'm Ron Reagan, an unabashed atheist, and I'm alarmed by the intrusion of religion into our secular government. That's why I'm asking you to support the Freedom From Religion Foundation, the nation's largest and most effective association of atheists and agnostics, working to keep state and church separate, just like our Founding Fathers intended. Please support the Freedom From Religion Foundation. Ron Reagan, lifelong atheist, not afraid of burning in hell.
Last October, when the commercial played for the first time during a Democratic debate, the appearance was so novel it garnered a national Fox piece saying Reagan was not on stage "but his provocative plug for a prominent atheist group earned him the top spot on Google." The spot nabbed a positive tweet then from celebrity Sarah Silverman. During the January replay, the tweet with the biggest audience was by Adam Best, a filmmaker in Austin: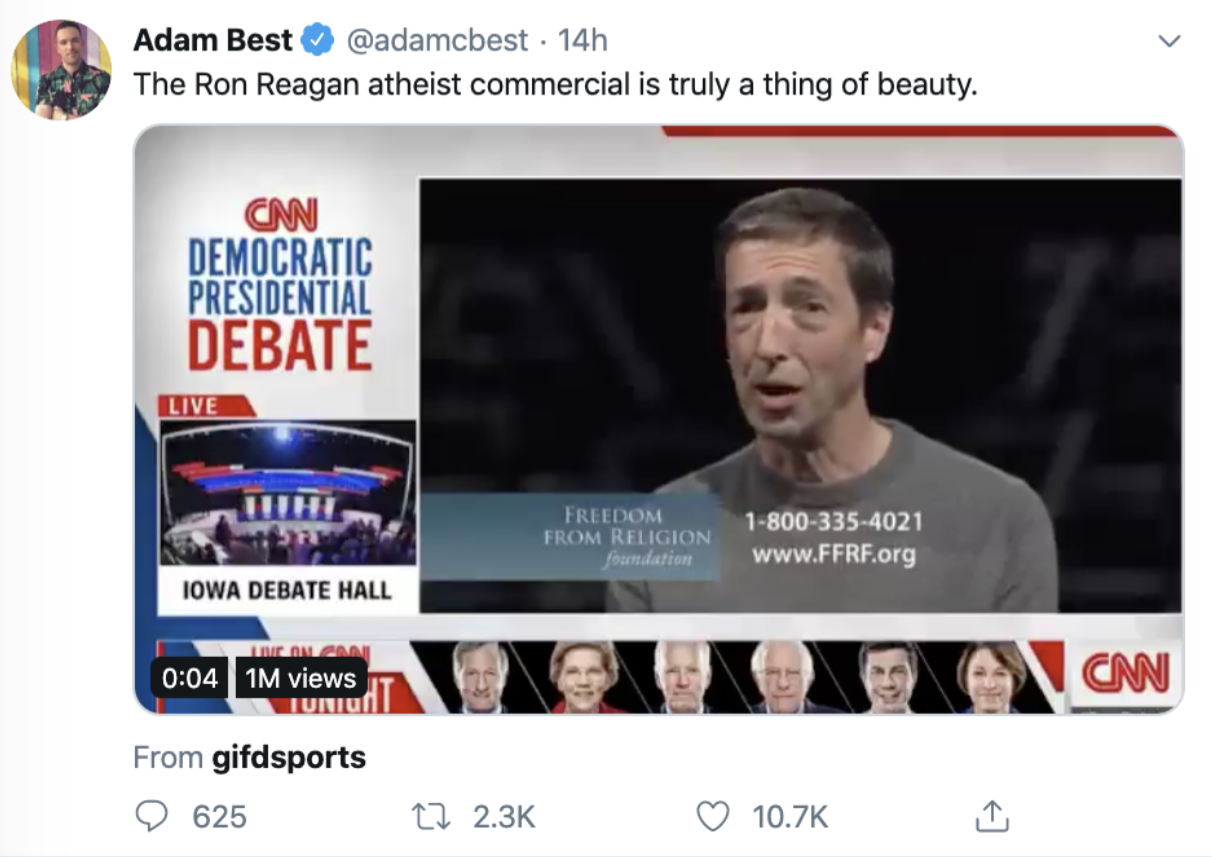 The social media reaction was instantaneous. Below are some of our favorites:
· I just saw a commercial supporting the removal of religion in government and it was the most amazing thing I've seen... ever!
· Today #RonReagan wins the internet.
· Without a doubt, last night's best moment was #RonReagan's spot for atheism during the debate. It was important for separation of church & state, and priceless for the last line.
· Give us more #RonReagan.
· So stunning. So brave.
· "Lifelong atheist not afraid to burn in hell" is my new life motto thanks #RonReagan.
Then, of course, there were the not-shy Christian critics. They were aptly represented by this doozy:

"Lots of folks over social media have asked us when they're going to see the ad again," notes FFRF Co-President Annie Laurie Gaylor. "Needless to say, running commercials on national TV — in this case a series of ads over the course of the evening of the debate plus three more tonight ('Erin Burnett OutFront,' 'Anderson Cooper 360,' and 'Cuomo Prime Time') — as required in the contract, is very expensive. It's also so worthwhile, helping to make FFRF a household name, improve the image of freethinkers and recruit many new members. So we count on and are so grateful to those who follow Ron's advice to join FFRF, as well as to those members who give donations to FFRF's Advertising and PR Fund."
Only CNN, Comedy Central and MSNBC have had the guts to accept the paid advertisement — the ad has been rejected by ABC, NBC, CBS and even Discovery. ABC not only declined the Reagan spot when it hosted the debates on Sept. 12, but it also refused to run an older, less edgy ad by FFRF touting separation of church and state, which played footage of JFK as a candidate attesting, "I believe in an America where the separation of church and state is absolute." That refusal by ABC was a shocker, since the national network had previously run the JFK ad on some news programs several years ago.
Fight back against network censorship, help educate the nation and attract more FFRF supporters by designating your donation to FFRF for advertising. All donations remain deductible for income-tax purposes. (Use the drop-down designation to select Advertising & PR at: ffrf.org/donate.) Thank you.