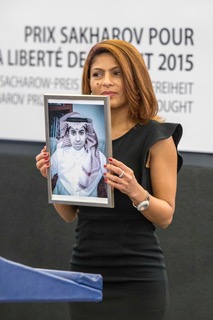 The activist wife of a Saudi freethinker whose persecution has caused global outrage will be speaking at the Freedom From Religion Foundation's convention in San Francisco in early November.
For the supposed crime of "apostasy," Saudi blogger Raif Badawi was shockingly sentenced in 2013 to 600 lashes and seven years in prison, which was unbelievably increased to 1,000 lashes and 10 years in prison the following year (with a hefty accompanying fine, to boot). Ensaf Haidar, his wife, will be speaking at FFRF's 41st national convention in the Golden Gate City on the weekend of Nov. 2-4, where she will be receiving the second annual Henry Zumach Freedom From Religious Fundamentalism Award of $10,000.
Other featured speakers at the gathering include eminent writer Salman Rushdie, television host Adam Savage, actor John de Lancie (of "Star Trek" fame), ex-Muslims of North America co-founder Sarah Haider, irreverent actress Julia Sweeney and stand-up comedian Leihann Lord.
Shortly before Badawi was jailed Haidar fled with their children to Quebec, where she was granted political asylum. Haidar has become a secular activist in her own right, establishing the Raif Badawi Foundation for Freedom to spread progressive values in the Middle East and working tirelessly for Badawi's release.
Badawi's real "crime" seems to have been his attempt to engender social discussion on the intrusive role of religion, the clerical establishment and the moral police in Saudi society. "Raif Badawi's trial for 'apostasy' is a clear case of intimidation against him and others who seek to engage in open debates about the issues that Saudi Arabians face in their daily lives," said Philip Luther, Amnesty International's director for the Middle East and North Africa.
Badawi was subjected to 50 lashes in 2015. A global movement sprang up in his defense, which, thankfully, made the Saudi government pause. But Badawi is still in prison — and reportedly in deteriorating health.
Badawi (often along with Haidar) has been given several international honors, including the prestigious Sakharov Prize for Freedom of Thought, awarded by the European Union. Badawi's writings have been collected in a book that serves to inspire all of us. The work is evocatively titled "1000 Lashes: Because I Say What I Think."
"Freedom of speech is the air that any thinker breathes; it's the fuel that ignites the fire of an intellectual's thoughts," Badawi has said.
Raif Badawi is a secular icon, and Ensaf Haidar is an international freedom fighter. The Freedom From Religion Foundation is pleased to be honoring them at its get-together in San Francisco.
"Ensaf has shown exemplary courage in speaking out for freethought in the face of tyranny," says FFRF Co-President Dan Barker. "She and Raif need all the support they can get for standing up to the most fundamentalist regime on Earth."
Convention registration is only $60 per member, $65 per companion, $110 non-member, and free for students and children. Sign up for the discounted package that includes the two group meals on Saturday and save $20. The convention is being held at the arresting downtown Hyatt Regency, which has the world's biggest hotel lobby and rooms featuring floor-to-ceiling windows. Room can be reserved for Thursday, Friday and Saturday nights at $235 plus tax.
The Freedom From Religion Foundation, a national nonprofit organization based in Madison, Wis., is the largest U.S. association of freethinkers, representing over 32,000 atheists, agnostics, and other freethinking American citizens.