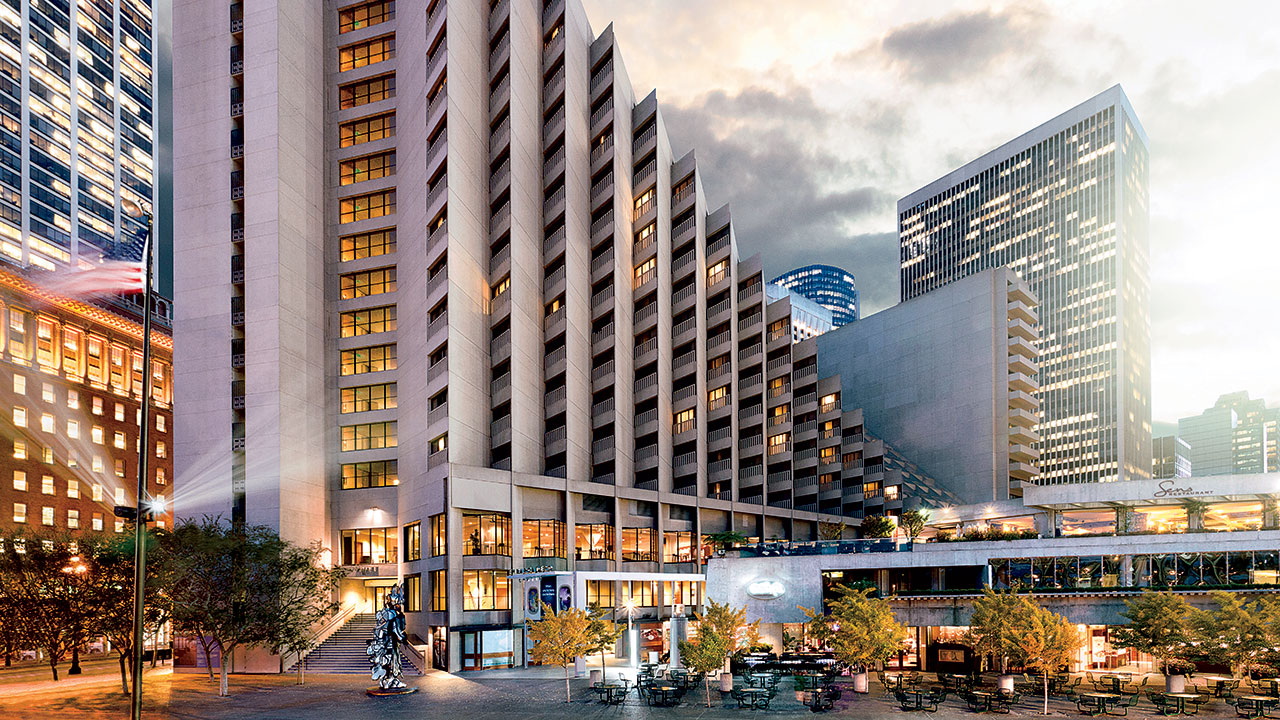 FFRF FINAL REGISTRATION DEADLINE ON FRIDAY, OCTOBER 12, 2018
No walk-in registrations accepted
HOTEL INFORMATION
Five Embarcadero Center, San Francisco, California 94111
Rooms at the convention room rate are sold out; however, a few rooms are available at a favorable rate of $275 per night. A $1 room assessment and state and local taxes of 16.25% also apply. Register for a room online or call Central Reservations toll-free at 1-888-421-1442 or non toll free at 402-592-6464. If calling, the room block is under the group name, "Freedom From Religion Foundation." You may reserve through October 10, 2018, unless the block sells out earlier. To avoid disappointment, reserve now!
The Hyatt Regency is only steps away from the California Street cable car line stop, ferry terminals and BART stations. It is located about 15 miles from the San Francisco International Airport (SFO), and 19.6 miles from the Oakland International Airport (OAK). The hotel's website offers a map and driving directions so that you can plan your trip effectively.
TRANSPORTATION FROM AIRPORT
Bay Area Rapid Transit (BART) connects San Francisco Airport to Downtown San Francisco for $8.65 each way. The Hyatt is located steps away from the Embarcadero BART Station.
GUEST PARKING
The Hyatt Regency San Francisco offers guests the convenience of indoor valet parking, with in and out privileges. Valet parking with in-and-out privileges costs $70.68 per night including tax. The service is located on our Drumm Street entrance. Assisted self-parking is also offered for $34 per night. High profile cars, such as SUVs, up to 12-feet high can be valet parked. Note that if the vehicle needs two spaces, guest will be charged for two cars.
AMENITIES
The Hyatt Regency San Francisco includes fitness and leisure amenities such as a 24-hour StayFitâ"¢ gym, waterfront running and walking paths, Blazzing Saddles bike rentals, Chromecast interactive in-room entertainment and a club lounge with a 360-degree view of the city and the bay. For your comfort and convenience there is complimentary premium Wi-Fi throughout the hotel, a business center, and a lost and found service.
Rooms include Wi-Fi, a coffee-maker, a hairdryer, a refrigerator, an iHome alarm clock alarm and floor to ceiling windows with views overlooking the San Francisco Bay or cityscapes. Check-in time is 4 p.m. and check-out time is 12 p.m.
DINING
In the Hyatt Regency lobby is the Embarcadero restaurant, which serves fresh, local California cuisine in a fun atmosphere. You can start off your day with breakfast at the Eclipse Kitchen & Bar, which is open for breakfast at 6 a.m. until 11:30 a.m. The restaurant serves food and drinks all day until 11 p.m. and offers a happy hour from 3 p.m. to 5:30 p.m. daily. The Eclipse Bar is a vibrant destination with a sophisticated ambiance to wind down after a day at FFRF's lively convention. Open until midnight, the bar offers signature martinis and artisan cocktails.
If you're on the go you can stop by The Market, which offers fresh, healthy items served in conveniently transportable packages. The Market is open daily from 6 a.m. to 12 p.m. Guests can have any of the menu items offered by The Market delivered to their guest room for $5.
NEARBY DINING
Across the street from the hotel is Embarcadero Center Dining. Famous eateries at the center include Boudin Sourdough Bakery & Cafes, Osha Thai, Kara's Cupcakes, Buckhorn Grill and Crystal Jade. The Ferry Building Marketplace is located on the foot of Market Street with shops offering a wide variety of foods including artisan cheeses and fresh local fish. PIER 39 includes popular seafood restaurants and food stands.
TOURIST ATTRACTIONS
Hyatt Regency San Francisco offers easy access to many San Francisco attractions. You can enjoy shopping at Union Square and Embarcadero Center, explore the museums and attractions in Golden Gate Park, check out the city's top landmarks such as the Golden Gate Bridge, Fisherman's Wharf and Alcatraz.