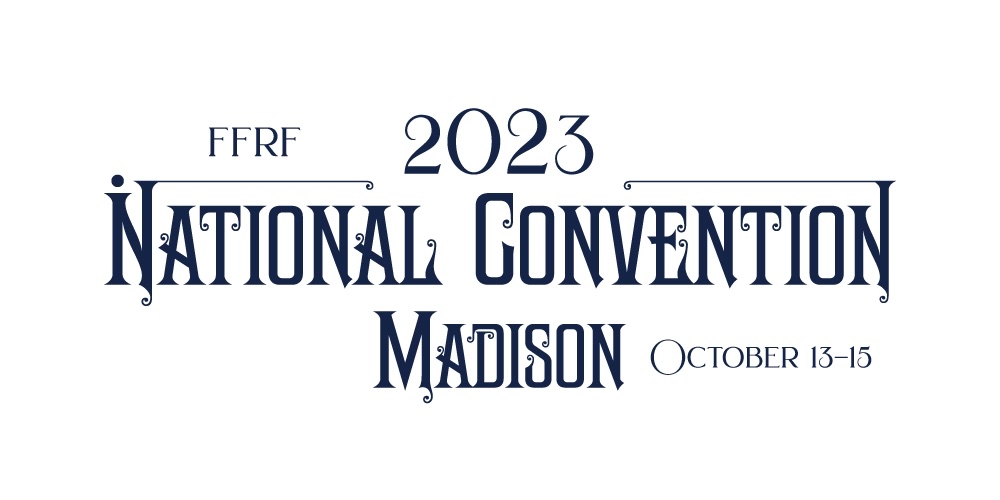 The Freedom From Religion Foundation is announcing a riveting line-up for its 46th annual convention, taking place largely on Friday, Oct. 13 and Saturday, Oct 14 at the Monona Terrace Convention Center in Madison, Wis.
We encourage you to reserve rooms now. The convention will take place for the first time in FFRF's 46-year history on a "Football Saturday" and convention-goers are competing with Wisconsin Badgers fans. Plan ahead so you are not disappointed. All details, including hotel contacts and deadlines, can be found on the back page.
The convention will not only showcase FFRF activism but will place special emphasis this year on the threats of white Christian nationalism and to abortion rights. It will also include "godless" entertainment and cameos by two drag queens!
Newly confirmed speakers include:
• Elie Mystal, receiving FFRF's Clarence Darrow Award, a bronze statuette. The Harvard Law School grad and author of the bestselling Allow Me To Retort — A Black Guy's Guide to the Constitution is the justice correspondent for The Nation, appears regularly as a commentator on MSNBC. He's executive editor of Above the Law, a website with about two million unique visitors focusing on law, courts and justice.
• Robert P. Jones, founder and president of Public Religion Research Institute and author of two books on white Christian supremacy. PRRI is a nonprofit, nonpartisan organization that conducts independent research on religion, culture and public policy. He has a Ph.D. in religion from Emory University and an M.Div. from Southwestern Baptist Theological Seminary, but left the Southern Baptist Church, writing White Too Long: The Legacy of White Supremacy in American Christianity. He will also sign copies of the September 2023 release, The Hidden Roots of White Supremacy and the Path to a Shared American Future.
A trio of other experts on white Christian nationalism will dominate the Saturday morning program. Joining announced "Champion of the First Amendment" honoree Amanda Tyler, executive director of the Baptist Joint Committee for Religious Liberty and organizer of Christians Against Christian Nationalism, will be two authors:
• Andrew Seidel, author of The Founding Myth: Why Christian Nationalism Is Un-American and American Crusade: How the Supreme Court is Weaponizing Religious Freedom. He worked for FFRF as a constitutional attorney and director of strategic response, and is now VP of strategic communications at Americans United.
• Dr. Bradley Onish, on the faculty at the University of San Francisco, is author of the new book, Preparing for War: The Extremist History of White Christian Nationalism — And What Comes Next. Originally a Christian evangelical himself, he co-hosts the popular religion and politics podcast, "Straight White American Jesus."
Two students who are suing West Texas A&M for violation of their free speech rights will be named student activist awardees. After university president Walter Wendler canceled a campus drag show set up as a benefit, they became the plaintiffs. The students, fittingly, will be introduced by two local drag queen performers. They are:
• Barrett Brown, 21, who will graduate next spring, will receive the Beverly and Richard Hermsen Student Activist Award of $5,000.
• Lauren Stovall, 19, who runs the Secular Student Alliance chapter at the university, will receive the Diane and Stephen Uhl Out of God's Closet Student Award of $5,000.
Abortion rights will be addressed by at least three expert speakers:
Jen Castle, national director of abortion service delivery at Planned Parenthood Federation of America, will accept on behalf of Planned Parenthood the $35,000 Henry Zumach Freedom From Religious Fundamentalism Award. Castle leads a team that supports the delivery of abortion care by staff across the nation, and is one of the few nurse practitioners trained to perform procedures later in pregnancy. She will report all that Planned Parenthood is doing to continue to provide access to abortion.
Mary Ziegler, a noted abortion rights legal expert and advocate, will receive FFRF's "Forward Award," given to those who are moving society forward. She is the author of many articles and six books on social movement struggles around reproduction, autonomy and the law, most recently, Roe: The History of a National Obsession (2023) and Dollars for Life: The Anti-Abortion Movement and the Fall of the Republican Establishment (2022). A graduate of Harvard Law School, she is a professor at the University of California-Davis and contributor to The New York Times, the Atlantic, PBS Newshour, CNN and the Washington Post.
Lizz Winstead, a political satirist, will receive FFRF's "Emperor Has No Clothes Award." Winstead is a prominent abortion rights activist and a founder of Abortion Access Front, a team of comedians, writers and producers who use humor to destigmatize abortion and expose the extremist forces working to destroy abortion rights. She was co-creator and head writer of Comedy Central's "The Daily Show," and a co-founder of Air America Radio. Her book of essays is called Lizz Free or Die. She will be the Saturday night keynote speaker.
Previously announced speakers and events include:
Godless Gospel, which will do an encore of its acclaimed debut at the 2022 national FFRF convention. André Forbes, a former gospel producer, is artistic director and Dan Barker, who formerly had a musical ministry background, is executive producer. Vocalists include Tahira Clayton, jazz vocalist; Rogiérs Fibby, president of Black Nonbelievers of DC; Candace Gorham, author of The Ebony Exodus Project; Cynthia McDonald, an activist with Freedmen of Chicago; DeAngela Morant, a business woman from Florida. All singers had gospel music background.
Kate Cohen, who writes elegant, freethinking columns as a Washington Post contributing writer exposing America's reflexive deference to religion and its effect on education, health care and human rights, will receive the Freethought Heroine Award. Her book, We of Little Faith: An Atheist Comes Clean (And Why You Should Too) will be out just in time for her to sign books for convention goers. She is the author of two previous books and her essays also appear in Slate, Salon, BuzzFeed, Bustle, Vox and Fine cooking.
Emily Olson, a member of the city council in Owosso, Mich., who will receive FFRF's "Nothing Fails Like Prayer" Award for bravely attempting to persuade the council to discontinue prayer.
A secular legislative panel, which will include Wisconsin Sen. Kelda Roys, first elected to the assembly in 2008 and the senate in 2020. She is an attorney, small business owner, and ardent supporter of abortion rights. Rep. Mike Freiberg has served as a Minnesota state representative since 2013, is an attorney for a nonprofit committed to improving public health, and is a founding member of the new Secular Government Caucus in the Minnesota Legislature. A third panelist will be announced soon.
The convention will feature appearances by some of the as-yet-to-be-awarded student essayists from its 2023 essay competitions.
Also featured will be the usual "Highlights of the Year" from Co-Presidents Dan Barker and Annie Laurie Gaylor, the legal report by FFRF Legal Director Rebecca Markert and staff attorneys, and a report by the new c(4) FFRF Action Fund by FFRF Governmental Affairs Director Mark Dann and Senior Policy Counsel Ryan Jayne.
FFRF's untraditional "traditions" will likewise take place: the Non-Prayer Breakfast with its popular "Moment of Bedlam," the drawing for "clean," pre-"In God We Trust" currency, musical interludes by musician Dan Barker, book and product sales tables, and chances to socialize.
An open house will be held on Thursday, Oct. 12, at FFRF's impressive office, Freethought Hall, in downtown Madison from 2-4 p.m., with complimentary refreshments and a self-guided tour. The office quadrupled in size, thanks to generous donors, in 2015, and includes an auditorium, library and many freethought artifacts.
Hot beverages and continental breakfast will start the Friday opening program, and complimentary cake and hot beverages will conclude the first day of the conference.
There will also be optional meals: a Friday buffet, and three group meals on Saturday.
The annual membership meeting takes place on Sunday, Oct. 15, beginning at 9 a.m., followed by the annual meeting of the State Representatives, with adjournment about noon.