Secular activism in the time of coronavirus: Resources for you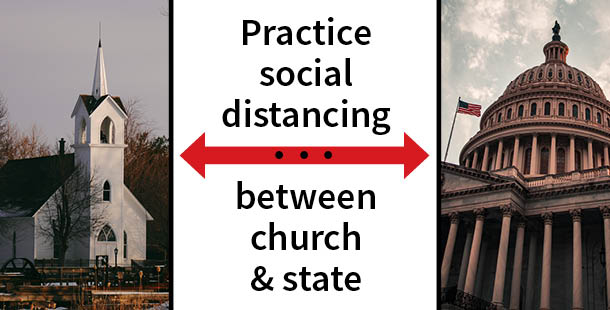 What you can do if a public official exempts churches from stay-at-home orders
The Freedom From Religion Foundation believes that public policy should be based on science, reason, data, compassion and expertise. That is especially true when public policy is fighting a deadly pandemic. Many of you have contacted FFRF, angry and worried that governors across the country are exempting churches and religious worship from the "safer at home" orders necessary to stop the spread of the coronavirus. FFRF has already sent a letter to every governor explaining why church exemptions are unconstitutional and lethal. We've also asked each FFRF member to call and email your own governor. That action alert has basic talking points. We've sent other letters of complaint, too. We've written op-eds. We will continue to challenge these inappropriate religious exemptions. And we know you want to fight them, too.
If you're stuck at home, perhaps feeling a little helpless, isolated, and angry that these churches are risking your life and the lives of your loved one, we want to help you fight back. FFRF's attorneys have prepared a memo that you can send to government officials who:
Have exempted churches or houses of worship from stay-at-home orders, OR
Are not enforcing stay-at-home orders against churches.
We encourage you to contact such officials yourself, either by writing your own short message and linking to FFRF's memo or by sending the officials a copy directly. If you can, call the governmental office and make the case over the phone, then follow up by emailing the memo.
These religious exemptions are going to kill Americans. You can help save lives.
These numbers make sense. Communal worship is communal. In other words, churches are uniquely susceptible to spreading the disease meaning that they should not have lesser restrictions, but, if anything, greater restrictions. Everything about attending church in person is designed to flout social distancing and other best practice for not spreading this disease: Passing the collection plate, greeting neighbors with hugs and handshakes, handling the same religious books, sitting in pews, edging along in front of other worshippers to get to one's seat, singing and reciting prayers loudly, sharing wine and wafers, common pools of water, and more.
Not only that, people attending church meet for longer and have greater interaction than people going to buy food or pick up a prescription. The Supreme Court recognized this when it refused to strike down California's stay-at-home order as it applied to churches, explaining that that order "treats more leniently only dissimilar activities, such as operating grocery stores, banks, and laundromats, in which people neither congregate in large groups nor remain in close proximity for extended periods." S. Bay United Pentecostal Church v Newsom, No. 19A1044, 2020 WL 2813056 (U.S. May 29, 2020).
These aspects are almost unique to churches and are why churches can be treated differently, or, at least, treated as other comparative entities such as movie theaters, might be. Of course, this doesn't account for the common elements other businesses must deal with, such as public bathrooms, hundreds of passers-by opening doors, standing in lines to enter and exit, etc.
FAQ
Does my state have a stay-at-home order?
Check out the latest on these orders at the New York Times.
My government exempted church worship from the stay-at-home order. What can I do?
Tell them to include churches and houses of worship in the orders! Email them a copy of FFRF's memo. FFRF has already contacted every governor, but nothing will happen if they do not feel the pressure from voters and constituents such as you. These governors must be held accountable. Exemptions are unconstitutional, unreasonable, and immoral.
A church near me is violating a stay-at-home order. What can I do?
If your state has a stay-at-home order that includes churches, contact your local and state officials (health department, police, or sheriff) via non-emergency lines, and tell them to enforce it. Report it to FFRF, too. If your state does not have a stay-at-home order, tell your governor to act now.
If your state exempts churches from the stay-at-home order see the next question.
My state doesn't have a stay-at-home order. What can I do?
If your state does not have a stay-at-home order, tell your governor to act now! Science, reason, and data all point to the importance of issuing and enforcing common-sense stay-at-home orders — not just in stopping the spread of the disease, but in easing the pressure on our medical system.
What else is FFRF doing?
In addition to educating our elected officials in letters about orders, educating the public about the importance of including churches in these orders through op-eds, and sending action alerts to engage freethinkers in holding their public officials accountable, FFRF attorneys are analyzing governmental action in response to COVID-19. We're reviewing orders to determine whether litigation against a state is warranted. We are reviewing other measures taken by governors and state legislatures to ensure that state/church separation is not obliterated during crisis response. We continue to hold the line for the First Amendment. In addition to letters, op-eds, action alerts, and more, FFRF attorneys are analyzing every order and the pros and cons of litigation against these governors.
How can I help FFRF?
Reach out to your elected officials and remind them of the importance for religion and government to be separate even — especially — in times of crisis. Speak out against religious pandering by your elected officials during this pandemic. Act on the issues outlined above and continue to report to FFRF any other pandemic response state/church infractions you see in your community.
Most of all, if you're not already a member, join us. We need your support now more than ever.
Thank you for your activism. And we hope you are able to stay safe.