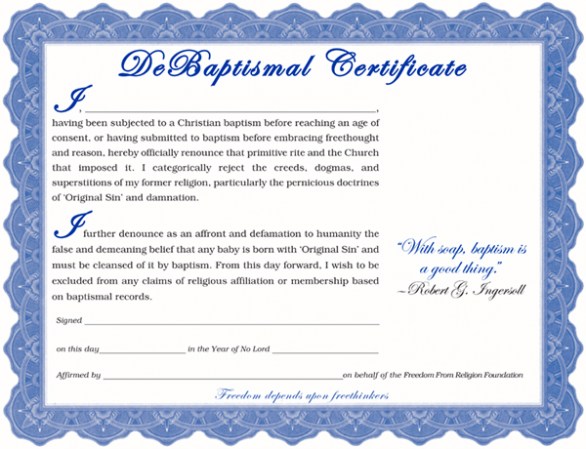 DeBaptismal Certificates
"With soap, baptism is a good thing!" — Robert G. Ingersoll.
Two original "DeBaptismal Certificates," personally signed by former minister Dan Barker (author of Godless) and sealed and embossed by the Freedom From Religion Foundation. One for you, one to send your church. Or one for you, one for a friend! Heavy weight parchment mailed first class with cardboard to protect, handled with care by FFRF.
If you want additional certificates, they are $2 ea. going to the same address with your minimum $5 certificate-set order. Phone the office 9-5 Central weekdays so we may take your custom order.
Sales price without tax
$4.00
Call 608/256-8900 during standard work hours or This email address is being protected from spambots. You need JavaScript enabled to view it. the office regarding discounts for large orders of FFRF products, special requests and costs for UPS or overnight delivery