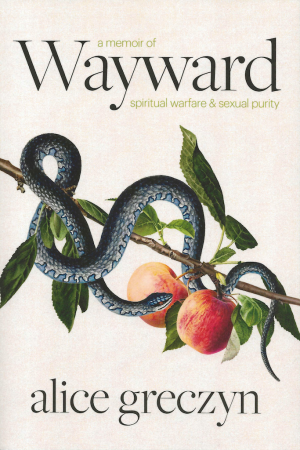 Wayward
A Memoir of Spiritual Warfare and Sexual Purity
By Alice Greczyn
When Alice Greczyn's parents felt called by God to exchange worldly employment for heavenly provision, they followed their faith into homelessness with five children and a cat in tow. Homeschooled and avowed never to kiss a man until her wedding day, Alice had plans to escape the instability by becoming a missionary nurse—plans that were put on hold with the opening of an unexpected door: the opportunity to be an actress in Hollywood. What followed was a test of faith unlike any she had prepared for, an arranged betrothal she never saw coming, and a psychological shattering that forced her to learn how to survive without the only framework for life she had ever known.
This unique coming-of-age story takes place within a Christian subculture that teaches children to be martyrs and women to be silent. Revelatory, vulnerable, and offering catharsis for your own journey through faith and doubt, Wayward is a deeply intelligent memoir of soul-searching—and finding the courage to live in your own truth.
Paperback, 366 pages.
Sales price without tax
$20.00
Due to the COVID-19 pandemic, order fulfillment will be delayed. Thank you for your patience, and stay well!
Minimum purchase amount is $5. Prices include domestic shipping and handling costs. For international orders please call 1 (800) 335-4021
FFRF is a not-for-profit charitable organization, not a retail business. We strive to make purchases easy and worry-free. Our "Make it Right" policy means that if you are not 100% satisfied with our products, just This email address is being protected from spambots. You need JavaScript enabled to view it. or call 608-256-8900 and we will work with you. FFRF makes every effort to fulfill orders accurately, and works to meet the expectations of our customers whenever possible. However, discounts, promotions, and bonus items are subject to availability, and may be discontinued at any time. Contact us regarding discounts on large orders, special requests, international orders, and costs for UPS or overnight delivery. Please note that items qualifying for U.S.P.S. media mail services (books, CDs, DVDs) may be sent separately and can take up to 10 days to arrive.