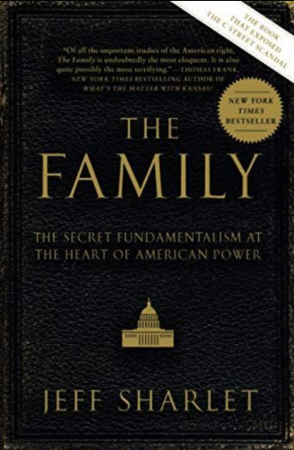 The Family
The Secret Fundamentalism at the Heart of American Power
By Jeff Sharlet
Inspiration for the Netflix Documentary Series
Behind the scenes at every National Prayer Breakfast since 1953 has been the Family, an elite network dedicated to a religion of power for the powerful. Their goal is "Jesus plus nothing." Their method is backroom diplomacy. The Family is the startling story of how their faith—part free-market fundamentalism, part imperial ambition—has come to be interwoven with the affairs of nations around the world.
Paperback, 464 pages.
Sales price without tax
$18.00
Minimum purchase amount is $5.00. Prices include domestic shipping and handling costs. For international orders please call 1 (800) 335-4021
Proceeds support FFRF's unparalleled nonprofit advocacy to promote freethought and keep religion out of U.S. laws and social policy. FFRF is a not-for-profit charitable organization, not a retail business. We strive to make purchases easy and worry-free. Our "Make it Right" policy means that if you are not 100% satisfied with our products, just CONTACT US or call 608-256-8900 and we will work with you. FFRF makes every effort to fulfill orders accurately, and works to meet the expectations of our customers whenever possible. However, discounts, promotions, and bonus items are subject to availability, and may be discontinued at any time. Contact us regarding discounts on large orders, special requests, international orders, and costs for UPS or overnight delivery. Please note that items qualifying for U.S.P.S. media mail services (books, CDs, DVDs) may be sent separately and can take up to 10 days to arrive.