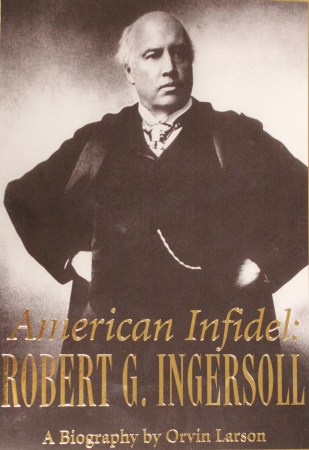 American Infidel: Robert G. Ingersoll
By Orvin Larson
Warmly told biography of Robert Green Ingersoll (1833-1899), celebrated orator of 19th-century America, Civil War officer, personal friend of three U.S. presidents, the individual most responsible for the flowering of freethought in the United States.
"No finer personality ever existed."
--Thomas A. Edison
"One of the bravest, grandest champions of human liberty the world has ever seen."
--Clarence Darrow
"Freedom was what he preached; he wanted the shackles off everywhere . . . He was a rare, bold, heroic figure."
--Robert M. La Follette, Wisconsin Governor, U.S. Senator
"One of the constellations of our time . . . a bright, magnificent constellation."
--Walt Whitman
Published by the Freedom From Religion Foundation. Paperback, 316 pages.
Sales price without tax
$10.00
FFRF is a not-for-profit charitable organization, not a retail business. We strive to make purchases easy and worry-free. Our "Make it Right" policy means that if you are not 100% satisfied with our products, just CONTACT US or call 608-256-8900 and we will work with you. Also, contact us regarding discounts on large orders, special requests, and costs for UPS or overnight delivery. We typically process orders within 24 hours.