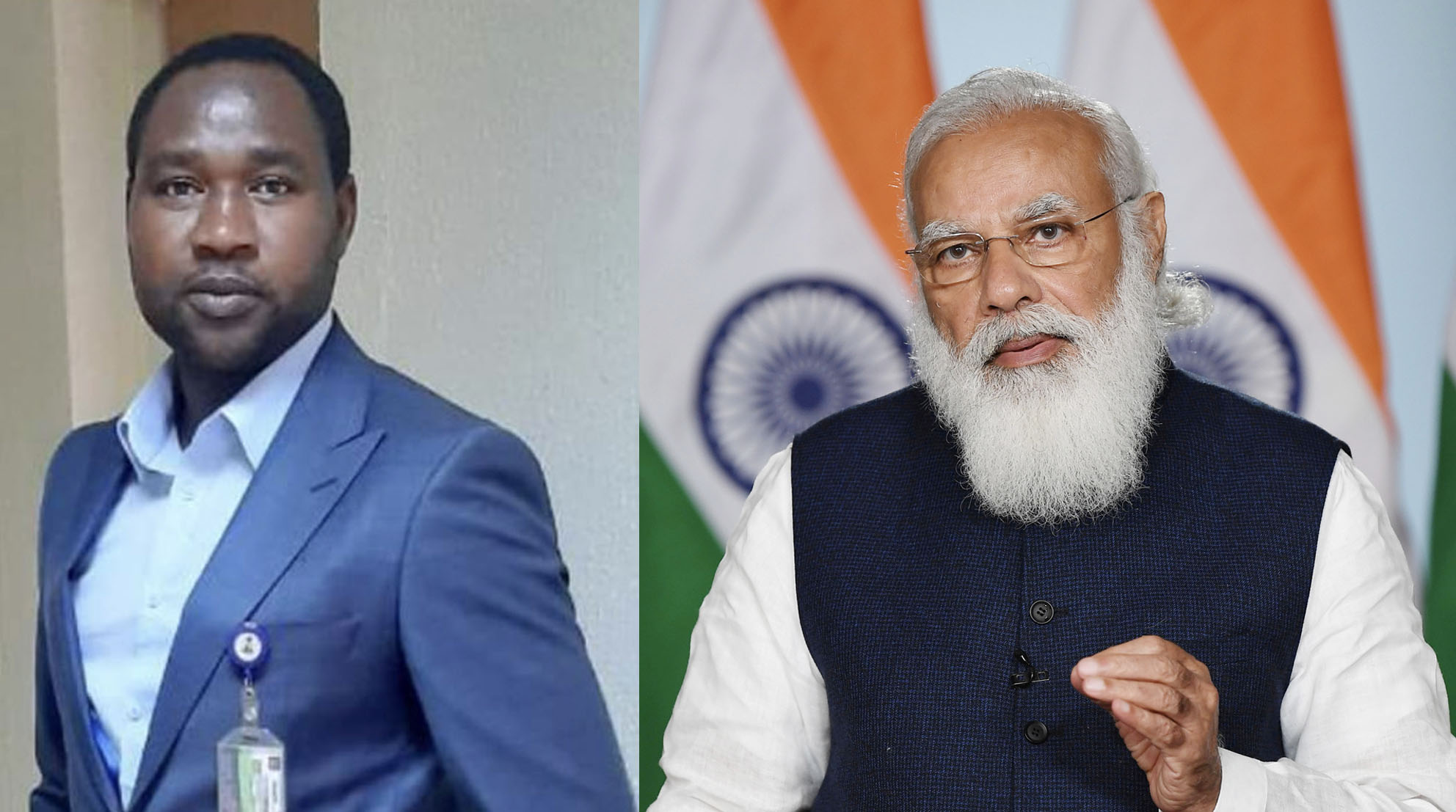 Imprisoned Nigerian freethinker Mubarak Bala (left) and Indian Prime Minister Narendra Modi (right)
The Biden administration is prioritizing commercial and geostrategic interests over constitutional principles.
It has neglected to designate two key global partners, India and Nigeria, as "countries of particular concern" despite the recommendation of the quasi-official U.S. Commission on International Religious Freedom to do that. The omissions aren't all that surprising: The United States has too much invested — in many senses of that word — in these two countries to ruffle feathers.
The U.S. reluctance ignores the reality on the ground. India is currently controlled by the political arm of the RSS (or the National Volunteer Corps in the English translation), a Hindu nationalist organization founded in 1925 and partly inspired by Mussolini's fascists. Indian Prime Minister Narendra Modi joined the group when he was 8 years old. The RSS has burrowed its way into every level of the Indian governing apparatus — with official approval, of course. Professor Christophe Jaffrelot in his recent book Modi's India labels the country in its present form as an ethnic democracy. Modi's second term has been especially problematic, with laws introduced at the national and state levels to disenfranchise Muslims, ban beef, prohibit religious conversions, take away the autonomy of the Muslim-majority Kashmir region and facilitate the building of grand temples on disputed sites.
However, the United States values India as a counterweight against China. "The United States is prepared to accept every manner of abusive regime if its strategic objectives are met," says Sukumar Muralidharan, professor of journalism at O.P. Jindal University near New Delhi. Jaffrelot offers two further explanations for the U.S. indulgence: the notion that India potentially offers a huge market for American goods, and the lingering goodwill India has from its past reputation as a stable, tolerant, secular democracy — the very principles that the Modi government is busy destroying.
Nigeria also falls into the same category. "Religious freedom conditions in Nigeria remain poor, with both state- and societally perpetrated violations," states the U.S. Commission on International Religious Freedom. Interestingly, the commission has prominently listed as a prisoner of conscience Mubarak Bala, an imprisoned freethinker whose cause FFRF has fervently championed. An atheist, Bala was the head of the Humanist Association of Nigeria before his arrest. Bala has been sentenced to 24 years in prison, slapped with 10 counts of causing a public disturbance in connection to Facebook posts he is alleged to have made throughout April 2020, which are deemed to have caused a public disturbance due to their "blasphemous" content.
Blasphemy is in general a commonly invented problem in Nigeria. "Despite Nigeria's constitution protecting religious freedom, Nigerian citizens faced blasphemy charges and convictions, violence, and attacks during religious ceremonies," states the U.S. Commission on International Religious Freedom. And this is at various levels of government. The commission's report points out that states in northern Nigeria have convicted a number of people for this noncrime. (Then there's the Nigerian Islamic fundamentalist group Boko Haram, whose crimes against humanity are on another level.)
Again, Nigeria is important for the United States — looming too large on the African continent for the Biden administration to adopt a punitive approach.
"Nigeria is Africa's most populous country, largest economy and leading oil producer," states a report earlier this year prepared for the Congressional Research Service. "Successive U.S. administrations have described the U.S. partnership with Nigeria as among the most important bilateral relationships on the continent: Nigeria is the United States' second-largest trade partner and third-largest destination for U.S. foreign direct investment in Africa, and it routinely ranks among the top annual recipients of U.S. foreign assistance globally."
FFRF deplores the free pass that the Biden administration is giving to India and Nigeria.
"The United States is constitutionally dedicated to religious freedom, and this should be a guiding principle in our foreign policy," says FFRF Co-President Annie Laurie Gaylor. "Instead, the U.S. State Department most often cynically places commercial or strategic considerations above everything else."
The Freedom From Religion Foundation is a national nonprofit organization with more than 38,000 members across the country, with members in every state. FFRF protects the constitutional separation between state and church and educates about nontheism.