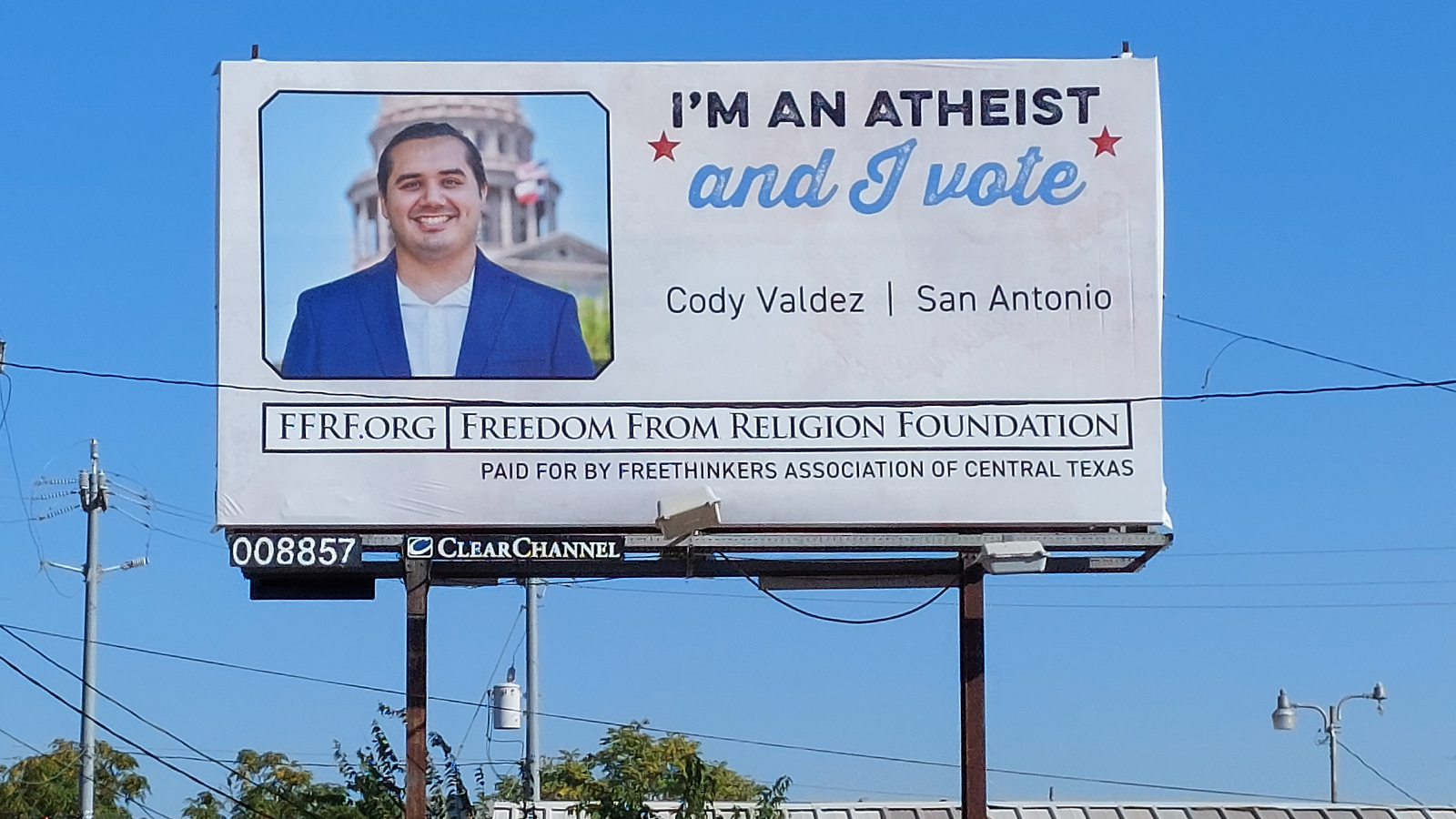 Four "I'm an atheist and I vote billboards" are going up around San Antonio in time for a major national gathering there of atheists and agnostics convening in the last weekend of October.
The Freedom From Religion Foundation, whose upcoming 2022 national convention's theme is "DO Mess with Texas," is partnering with Freethinkers Association of Central Texas to bring the billboard campaign to the Alamo City.
The four billboards are scheduled to run during the month of October leading up to Election Day. University of Texas-Austin student Cody Valdez is pictured on each of the billboards, three of which are going up this week at: San Pedro, south of Euclid, facing south; on South Flores, south of Lubbock, facing south and on I-37, south of I-35, facing south. The same message will be going up the week of Oct. 17 at Houston Street, south of Elm, facing west.
FFRF notes that almost a third of US adults now identify as "atheists, agnostics or nothing in particular." FACT spokesperson Katie Gaines adds that the number of "Nones" (unaffiliated) who are Hispanic is at least 23 percent. Cody Valdez is part of FFRF's ongoing "secular vote" national campaign calling attention to the growing voter power of nonreligious Americans who are demanding that religion stay out of government and social policy.
"Freethinkers Association of Central Texas is proud to stand with Freedom From Religion Foundation and Cody Valdez in saying that we trust in reason, science, and our secular Constitution," Gaines says.
FFRF Co-President Annie Laurie Gaylor adds, "We're spreading the word about the increasing power of the nonbelieving voting bloc, and what better place to do it than the city where so many of them will be gathering soon."
The Freedom From Religion Foundation has 38,000 members and several chapters all over the United States, including more than 1,600 members and a chapter in Texas.