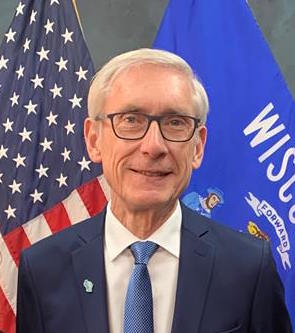 Extremists in the Wisconsin Legislature are once again foiling Gov. Tony Evers' attempts to overturn the state's draconian 1849 abortion ban.
Evers announced yesterday that he would call a special session on Oct. 4 to ask the Legislature to put the pre-Civil Rights law up to a vote of the people. By today, Republican legislative leaders had already snubbed the action, promising to immediately adjourn the session, as they did in early June, when Evers had called a special session to repeal the abortion ban prior to the expected U.S. Supreme Court ruling overturning Roe v. Wade.
FFRF's home state of Wisconsin is one of nine states with abortion bans predating Roe v. Wade that were not taken off the statute books. The 173-year-old statute, which long antedates reproductive medical advances and even women's right to vote, went into immediate effect after the Supreme Court struck down Roe. Wisconsin's criminal abortion law would fine and imprison physicians who perform abortions for up to six years. Wisconsin Attorney General Josh Kaul is challenging the law in state court.
In announcing the special session, Evers noted that U.S. Sen. Ron Johnson has even floated the idea to hold a referendum on the abortion issue. Unfortunately, Wisconsin currently does not have a mechanism that would permit voter initiatives such as the ballot measure in Kansas protecting abortion rights that passed there in August, and the upcoming referendum in Michigan that, if passed, will also ensure legal abortion in that state. Evers' special session would have started the lengthy process needed to amend the state Constitution to permit voter-initiated referenda.
Once again, Wisconsin's extremist- and male-dominated Legislature (only 31 percent of seatholders are female) will cavalierly close this special session without debate. Such a contemptuous response is shameful — and a betrayal of Wisconsinites whose health and autonomy is jeopardized by this ancient law.
The question must be asked: Why does the Wisconsin Legislature fear giving voice to citizens to address this crucial human rights issue? The answer is obvious: A majority of citizens in the state and nationally support legal abortion in most or all cases.
"Our state is in the midst of a crisis," comments FFRF Co-President Annie Laurie Gaylor. "This is a case of minority rule flouting the will of the people in order to deny fundamental rights."
The Freedom From Religion Foundation, a national state/church watchdog based in Madison, Wis., has over 38,000 nonreligious members and several chapters all over the country, including more than 1,600 members in Wisconsin and a chapter in Kenosha/Racine.