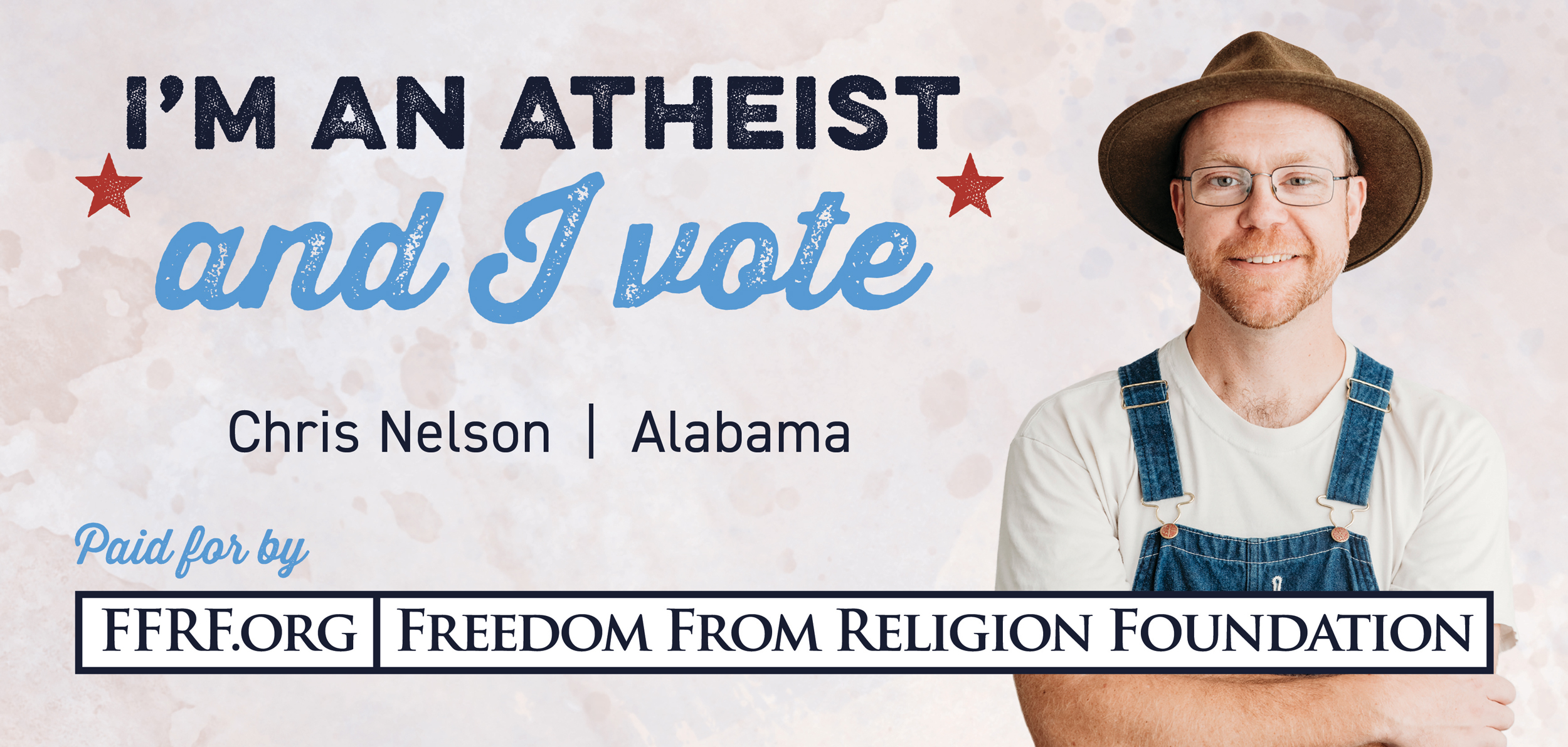 "I'm an atheist and I vote" is the bold message from Alabaman Chris Nelson appearing on a billboard that has gone up this week in Montgomery as part of a national secular vote campaign.

The provocative voter drive emphasizes that 75 million nonreligious adult Americans (nearly one-third of the population) are dedicated to the separation of state and religion — and are voting that way.
The campaign is timed around the 235th anniversary on Sept. 17 of the signing of the U.S. Constitution, which, the Freedom From Religion Foundation reminds Americans, is a godless document. Read more about the national campaign.

Nelson is pictured in front of his state Capitol on a digital billboard at I-85 at 911 Hutchinson Street in Montgomery. He was brought up in north Chilton County, and attended the University of Montevallo and University of Alabama in Tuscaloosa. He holds to the principle that people of all faiths — or no faith — must work together to build a better Alabama for everyone. Growing up in church, and eventually deciding that the inconsistencies of organized religion were not the path he wanted to pursue, he says the truths of the stories he heard in his youth still had an impact: "If anyone would be first, he must be last of all and servant of all."
Nelson was one four plaintiffs in a recent FFRF lawsuit successfully ending an unconstitutional religious test to register to vote in Alabama and was named "2021 Freethinker of the Year" at FFRF's most recent conference.

Nelson will also appear in three related full-page Alabama newspaper ads this coming Sunday in which he notes: "The 'Nones' (those of us unaffiliated with religion) are now 29 percent of the U.S. population. We are the largest 'denomination' by religious identification."

Nelson calls for keeping religion out of government, social policy and public schools. Notably, given the overturning of Roe. v. Wade and increasing attacks on LGBTQ rights, their ad also demands that religion be kept "out of bedrooms, personal lives and health care decisions — including when or whether to have children, and whom to love or marry."
Says FFRF Co-President Annie Laurie Gaylor, "We're putting public candidates and officials on notice that secular voters are here, that WE are the true 'values voters' and that it's time that our secular viewpoint be respected and represented."
FFRF calls attention to the growing and increasingly overt calls to Christian nationalism, and alarming Supreme Court trends to privilege religion and eviscerate individual rights for religious reasons. "That's why our secular voices must be heard," Gaylor concludes.
View FFRF's secular vote billboards and bus signs around the country.

The Freedom From Religion Foundation has more 38,000 members throughout North America, serves as a membership group for like-minded atheists, freethinkers and humanists, and works diligently as a state/church watchdog to uphold the constitutional principle of separation between state and church.