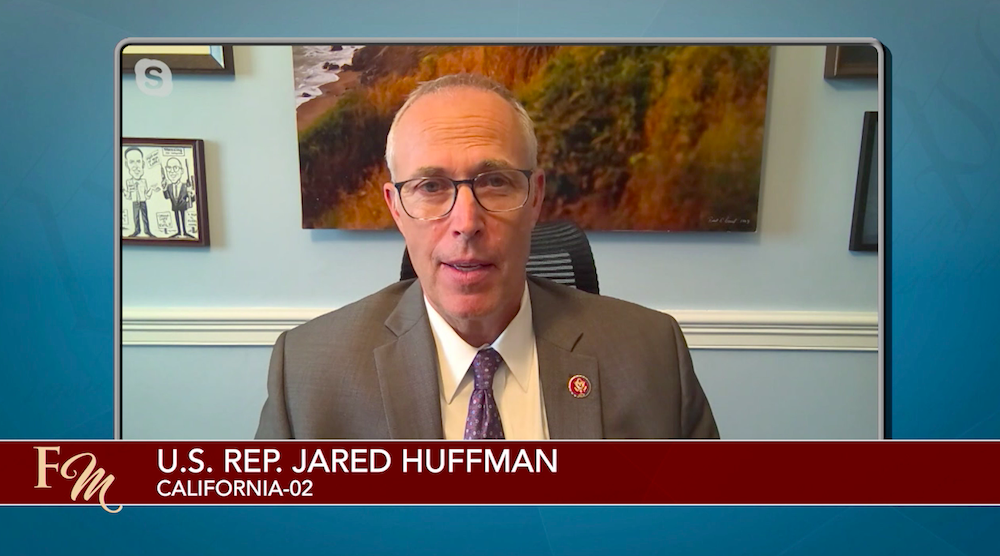 Click here to watch the teaser.
The Freedom From Religion Foundation's "Freethought Matters" TV show this Sunday features a new interview in which the only openly nonbelieving member of Congress talks about the Jan. 6 Capitol assault and related matters.
U.S. Rep. Jared Huffman, who represents California's 2nd District, is the co-founder and co-chair of the Congressional Freethought Caucus, which promotes public policy formed on the basis of reason, evidence, science and strong moral values. Huffman, in paying a return visit to the FFRF show, explains there's a spectrum of beliefs among individual members of the caucus, which also "includes infidels like me." He adds, "I don't believe in God, but I definitely feel like I have a strong moral framework."
Huffman provides invaluable insights into the attack on the U.S. Capitol. "I think the two big takeaways for me were to just see in a very clear and irrefutable way how central white Christian nationalism was to every aspect of the Jan. 6 insurrection and how it remains a very major threat to our democracy," he tells "Freethought Matters" co-hosts Dan Barker and Annie Laurie Gaylor.
If you don't live in the quarter-plus viewership of the nation where the show broadcasts on Sunday, you can already catch the interview on the "Freethought Matters" playlist on FFRF's YouTube channel. New shows go up every Thursday. You can also receive notifications when we post new episodes of "Freethought Matters" by subscribing to FFRF's YouTube channel.
"Freethought Matters" airs in:
Chicago, WPWR-CW (Ch. 50), Sundays at 9 a.m.
Denver, KWGN-CW (Ch. 2), Sundays at 7 a.m.
Houston, KIAH-CW (Ch. 39), Sundays at 11 a.m.
Los Angeles, KCOP-MY (Ch. 13), Sundays at 8:30 a.m.
Madison, Wis., WISC-TV (Ch. 3), Sundays at 11 p.m.
Minneapolis, KSTC-IND (Ch. 45, Digital Channel 5.5), Sundays at 9:30 a.m. (Digital channel 5.2 has been dropped.)
New York City, WPIX-IND (Ch. 11), Sundays at 10 a.m.

Phoenix, KASW-CW (Ch. 61, or 6 or 1006 for HD), Sundays at 8:30 a.m.
Portland, Ore., KRCW-CW (Ch. 32), Sundays at 9 a.m. Comcast channel 703 for High Def, or Channel 3.
Sacramento, KQCA-MY (Ch. 58), Sundays at 8:30 a.m.
San Francisco, KICU-IND (Ch. 36), Sundays at 10 a.m.
Seattle, KONG-IND (Ch. 16 or Ch. 106 on Comcast). Sundays at 8 a.m.
Washington, D.C., WDCW-CW (Ch. 50 or Ch. 23 or Ch. 3), Sundays at 8 a.m.
Upcoming shows will include an interview with student activist and plaintiff Max Nibert, who is suing his West Virginia school over a school-day religious revival, with FFRF's help. "Freethought Matters" is now in its sixth season. To watch earlier shows, including an interview with freethinker and feminist icon Gloria Steinem, visit the "Freethought Matters" playlist on FFRF's YouTube channel. Please tune in to "Freethought Matters" . . . because freethought matters.
P.S. Please tune in or record according to the times given above regardless of what is listed in your TV guide (it may be listed simply as "paid programming" or even be misidentified). To set up an automatic weekly recording, try taping manually by time or channel. And spread the word to freethinking friends, family or colleagues about a TV show, finally, that is dedicated to providing programming for freethinkers!