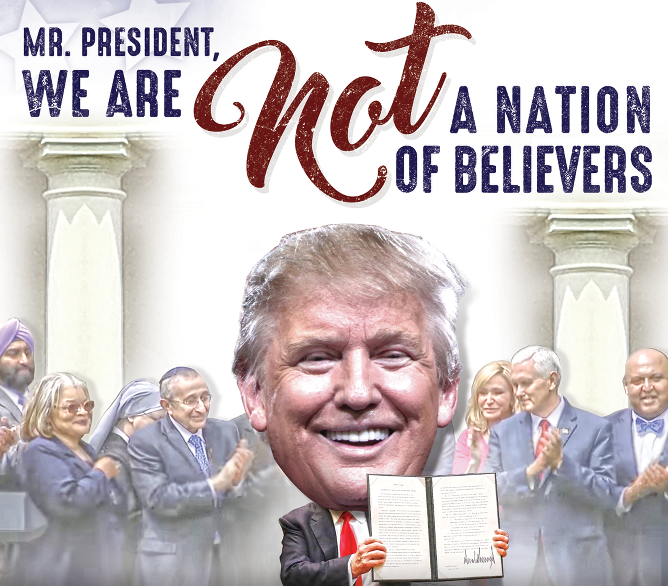 The Freedom from Religion Foundation continues to see progress being made as more and more members of Congress abandon the National Prayer Breakfast.
Thanks to extensive reporting from Jonathan Larsen of TYT Investigates, we are seeing more information about how destructive the National Prayer Breakfast and its supporting organization, the Fellowship Foundation, are. As a result, Sen. Tim Kaine walked away from the breakfast last month.
This week Larsen revealed new information on how the Fellowship Foundation has helped to install fundamentalist leaders in Guatemala and what religious conservatives will do to hang onto power.
FFRF is calling upon members of Congress not to support the annual breakfast or its related programming in any way, including by co-chairing.

The National Prayer Breakfast is extremely dubious in nature and has become a nexus for religious extremism, infiltration by Russian agents and organized hate (anti-LGBTQ and anti-labor). The National Prayer Breakfast zealously promotes right-wing ideas — far from the bipartisan event that it pretends to be.

"We are pleased to see the work by TYT Investigates, led by Jonathan Larsen, continuing to shed light on the National Prayer Breakfast and the damage it continues to cause," says Annie Laurie Gaylor, president and co-founder of FFRF. "We hope the amplification of this issue by Cenk Uygur (FFRF's 2010 Emperor Has No Clothes Award winner) and the team at The Young Turks and TYT Network will enlighten the public."

The people at the progressive television network fully concur.

"It's time that members of Congress wake up to the harm of the National Prayer Breakfast," says TYT founder and host of "The Young Turks" Cenk Uygur. "The event exists to empower mainstream right-wing, anti-LGBTQ activists and leaders around the world — and this must stop."

The National Prayer Breakfast is a pay-to-play event with a troubling history:
Freedom From Religion Foundation is the nation's largest freethought association, with more than 35,000 members dedicated to supporting the constitutional principle of separation of state and church, and educate the public about what it is to be a freethinker in the United States.