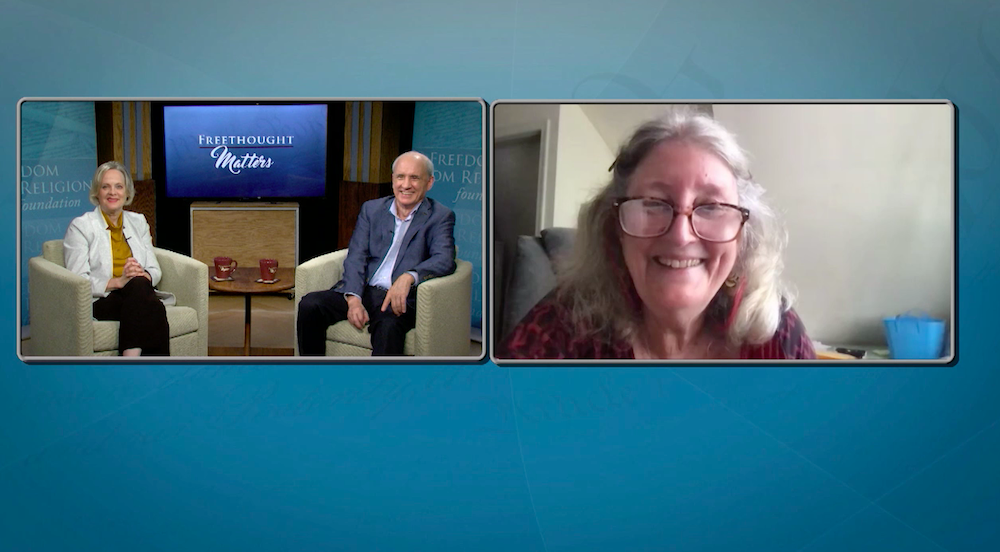 One of the nation's foremost writers, freethinkers and feminists is the guest on the Freedom From Religion Foundation's "Freethought Matters" TV show this Sunday.
Katha Pollitt has been writing a National Magazine Award-winning column for The Nation since 1995. She's the author of several books, including Atlantic Traveler (recipient of the National Book Critics Circle Award), Subject to Debate, Virginity or Death!, Learning to Drive (adapted into a movie with Patricia Clarkson and Ben Kingsley) and, most recently, Pro: Reclaiming Abortion Rights. Pollitt, who has been honored by FFRF a number of times, is an atheist who has eloquently termed religion "a farrago of authoritarian nonsense, misogyny and humble pie — the eternal enemy of human happiness and freedom." During the interview, Pollitt addresses the religious roots of the war against abortion, overpopulation and the plight of Afghan women.
"Being against abortion is connected to anti-feminism, which all these patriarchal religions are against," Pollitt tells "Freethought Matters" co-hosts Dan Barker and Annie Laurie Gaylor. "And so the idea that a woman should be able to make up her mind about what happens in her body is not something that they are happy about."
The episode will be airing in over a dozen cities on Sunday, Oct. 3. If you don't live in the quarter-plus of the nation where the show broadcasts on Sunday, you can already catch the interview on the "Freethought Matters" playlist on FFRF's YouTube channel. New shows go up every Thursday. You can also receive notifications when we post new episodes of "Freethought Matters" by subscribing to FFRF's YouTube channel.
Coming shows this season include interviews with Professor Ryan Burge (a leading expert in the rise of the "Nones") and journalist Charlotte Dennett, co-author of Thy Will Be Done: The Conquest of the Amazon: Nelson Rockefeller and Evangelism in the Age of Oil and author of The Crash of Flight 3804: A Lost Spy, A Daughter's Quest, and the Deadly Politics of the Great Game for Oil.
"Freethought Matters" airs in:
Chicago, WPWR-CW (Ch. 50), Sundays at 9 a.m.
Denver, KWGN-CW (Ch. 2), Sundays at 7 a.m.
Houston, KIAH-CW (Ch. 39), Sundays at 11 a.m.
Los Angeles, KCOP-MY (Ch. 13), Sundays at 8:30 a.m.
Madison, Wis., WISC-TV (Ch. 3), Sundays at 11 p.m.
Minneapolis, KSTC-IND (Ch. 45), Sundays at 9:30 a.m.
New York City, WPIX-IND (Ch. 11), Sundays at 8:30 a.m.
Phoenix, KASW-CW (Ch. 61, or 6 or 1006 for HD), Sundays at 8:30 a.m.
Portland, Ore., KRCW-CW (Ch. 32), Sundays at 9 a.m. Comcast channel 703 for High Def, or Channel 3.
Sacramento, KQCA-MY (Ch. 58), Sundays at 8:30 a.m.
San Francisco, KICU-IND (Ch. 36), Sundays at 10 a.m.
Seattle, KONG-IND (Ch. 16 or Ch. 106 on Comcast). Sundays at 8 a.m.
Washington, D.C., WDCW-CW (Ch. 50 or Ch. 23 or Ch. 3), Sundays at 8 a.m.
"Freethought Matters" had an array of impressive guests last season. These included: pundit Eleanor Clift, actor and FFRF After-Life Member John de Lancie of "Star Trek" "Q" fame, Professor Steven Pinker, one of the most eminent global public intellectuals, and A.C. Grayling, a prominent British philosopher and the author of about 30 books, who grappled on the show with philosophy and the pandemic. The show launched its new season in early September with clips from the best past interviews on the program. Subsequently, it featured an interview with famed evolutionary biologist Richard Dawkins. Two weeks ago, the show focused on a secular public education lawsuit that's become a historic milestone, and last week it offered answers on how nonreligious people should deal with death.

Please tune in to "Freethought Matters" . . . because freethought matters.
P.S. Please tune in or record according to the times given above regardless of what is listed in your TV guide (it may be listed simply as "paid programming" or even be misidentified). To set up an automatic weekly recording, try taping manually by time or channel. And spread the word to freethinking friends, family or colleagues about a TV show, finally, that is dedicated to providing programming for freethinkers!