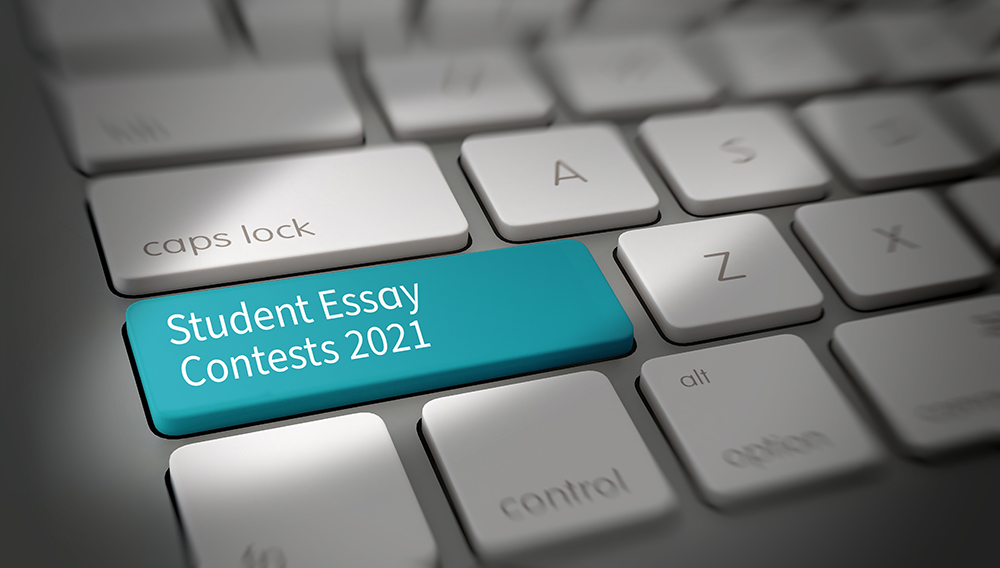 The Freedom From Religion Foundation has announced its 2021 essay competitions for freethinking students — offering more than $45,000 in total scholarships.

Each of these four contests has 10 top prizes: First place — $3,500; second place — $3,000; third place — $2,500; fourth place — $2,000; fifth place — $1,500; sixth place — $1,000; seventh place — $750; eighth place — $500; ninth place — $400; and 10th place — $300. FFRF also offers optional honorable mentions of $200.
William J. Schulz Memorial Essay Contest for College-Bound High School Seniors
High school seniors graduating this spring and attending college in the fall are asked to write on the topic of "In science I trust."

Write a personal statement about why you trust science over faith — and why you think society should do the same. Please include an example of how religious faith has obstructed science or analyze a historic or current issue related to religion vs. science, such as with the pandemic, stem-cell research, climate change or medical (and psychiatric) science.
Word limit: 300–450. Deadline: 11:59 p.m. May 31.

Michael Hakeem Memorial Essay Contest for Freethinking College Students
Currently enrolled college students (up to age 24) may write on: "How religion divides us, and secularism unites us."
Write an essay about the divisiveness of religion personally, historically and/or politically, and why secularism is unifying. You may wish to incorporate analysis of current events and controversies to make your case. Tell us why you personally reject religion.
The $1,000 prize in the ongoing college competition is now being generously endowed starting in 2021 by actor and FFRF Lifetime Member Madison Arnold. Madison, who is 89, has given a $30,000 endowment as a living bequest, what he calls a "pre-quest."
Word limit: 450–650. Deadline: 11:59 p.m. June 30.

The David Hudak Memorial Contest for Black, Indigenous & Students of Color
Black, Indigenous and Students of Color ages 17–21 (college-bound high school seniors to currently enrolled college students), may write on the topic of: "What I would like to tell my family (or friends) about my atheism or nonbelief."
In an essay written in the form of a letter to a religious family member, friend or teacher, etc., please tell them what you think is most important to know about why you are an atheist or otherwise reject religion. (You may prefer to describe yourself as an agnostic, freethinker, humanist or a similar term.) You may wish to address common misconceptions or stereotypes about atheism, reassure them about your morality or explain why rejecting religion has improved your life. If you choose to discuss harm caused by religion, please include at least one reason why you also consider religion to be untrue.
This contest is offered to provide support and acknowledgment for freethinking students of color, as a minority within a minority. The other FFRF student contests are open to all students.
Word limit: 400–600. Deadline: 11:59 p.m. July 15.

Brian Bolton Essay Contest for Graduate and "Older" Students
Graduate students (through age 30) and "older" undergrads (ages 25–30) are asked to write on the topic: "The dangers of religious extremism in 21st century America."
Please write about the dangers of religious extremism today in the United States, whether by individuals, churches, public officials or the judiciary. You may wish to address Christian nationalist threats to civil rights or American principles. Provide some examples and analysis, and make a case for secularism.
Word limit: 550–750. Deadline: 11:59 p.m. July 31.
Note: In none of the essay competitions are we looking for an opinion or theory about the origin of religion or why religion exists.
FFRF thanks Phil Zuckerman, author and professor of sociology and secular studies at Pitzer College, for suggesting several of the topics for the competitions.

Additional prompts on the topics and contest rule requirements can be found here.

Students are required to submit their essay via the online application, and should carefully review all contest rules. The contests cater to students in different age/class ranges. Students may only enter one FFRF contest annually and may not enter a contest if they have previously won an award in that particular contest. All eligible entrants will receive a digital year-long student membership in FFRF. Those who do not win are offered an additional thank you gift.

FFRF has previously announced its third annual essay competition for law school students. The award prizes and number of slots differs slightly, with $10,000 in scholarships offered. The deadline for that 1,500-word essay is June 15, and rules and the application are available here.

The Freedom From Religion Foundation is appreciative of FFRF members who make the effort to contact local high schools, colleges and universities to help publicize its competitions.