FFRF sponsors four essay competitions for students. All four FFRF essay contests offer the same awards:
First Place: $3,000
Second Place: $2,000
Third Place: $1,000
Fourth Place: $750
Fifth Place: $600
Sixth Place: $500
Seventh Place: $400
Optional Honorable Mention(s): $200
Thank you acknowledgment: Winners, in addition to their scholarship, will receive a school-year membership in FFRF. That includes a subscription to Freethought Today, FFRF's newspaper published 10 times a year, which will publish winning essays. All other eligible entrants will be offered the choice of a student FFRF membership and Freethought Today subscription, or a freethought book or product.
---
William J. Schulz High School Essay Competition
Closed for the year, please check back in Spring of 2019.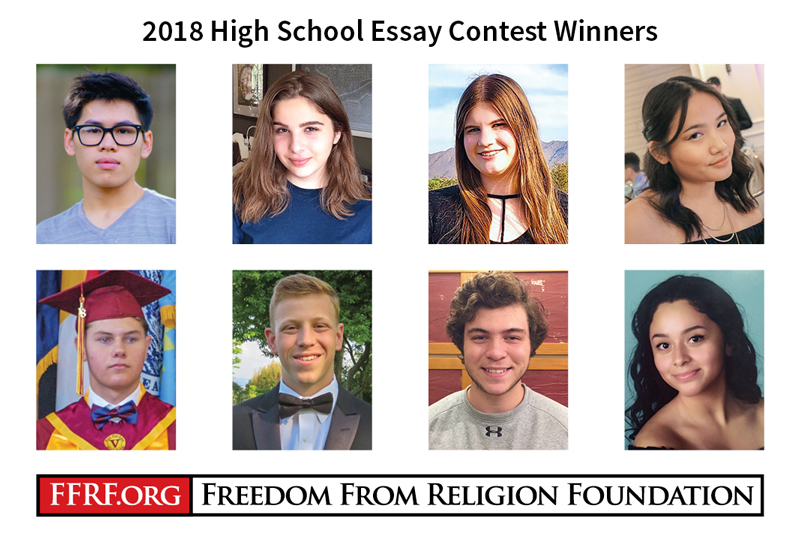 The Freedom From Religion Foundation is proud to announce the 24 winners — including 10 major prizes — of the 2018 William Schulz High School Essay Contest for college-bound seniors. Winners are listed below with their age, the college or university they will be attending, and the award amount. FFRF has paid out a total of $13,000 in award money for this contest this year.
First place
Anh Quoc Nguyen, 18, University of Texas ($3,000)
Second place
Sarah Almstrom, 18, University of Massachusetts ($2,000)
Third place
Andreanna Papatheodorou, 18, Bryn Mawr College ($1,000)
Fourth place (tie)
Mackenzie Brown, 17, Arizona State University ($750)
Aisha Galdo, 17, University of Florida ($750)
Fifth place (tie)
Matthew Bergosh, 18, ($600)
Sam Mathisson, 18, University of Michigan ($600)
Sixth place (tie)
Trevor Jansen, 18, University of Maryland, Baltimore County ($500)
Alden Lecroy, 18, Clemson University ($500)
Seventh place
Ariana Menjivar, 18, Montgomery College ($400)
Honorable mentions ($200 each)
Fatima Bartel, 18, Ramapo College
Nick Bellizzi, 18, University of Illinois
Meghan Cashell, 17, University of Missouri
Haidee Clauer, 18, Pomona College
Amber Cocchiola, 18, Kent State University
Amber Fehrs, 18, Brown University
Kenneth Gonzalez Santibanez, 17, Princeton University
Mitchell Griffin, 18, University of Iowa
Damon W. Jordan, 17, Ohio State University
Maddy Malik, 18, Vanderbilt University
Benjamin Manzo, 18, Ashland University
Haven Morris, 17, Armed Forces in Germany
Jonathan Obeda, 18, University of California-Riverside
John West, 18, University of Minnesota
---
David Hudak Memorial Freethinking Students of Color High School Essay Competition
Closed for the year, please check back in Spring of 2019.
---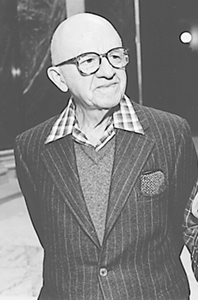 Michael Hakeem Memorial College Essay Competition
Closed for the year, please check back in Spring of 2019.
---
Brian Bolton Graduate/"Older" Student Essay Contest
THIS YEAR'S TOPIC: The Dangers of Bibliolatry in the United States
PROMPT: Biblioatry is defined as "worship of the bible." What are the dangers of basing social policy or laws on the bible? Why do biblical teachings make bad public policy? Marshall evidence, topical and/or historical, which shows the harm or threat of unquestioned respect for the bible by Americans, including public officials. You may wish to analyze the flurry of state bills being introduced to encourage or require bible instruction in public schools or promote the Ten Commandments, or resolutions declaring "the year of the bible" or otherwise showing governmental preference for the bible. You may wish to focus on one or two specific threats, for example problematic bible verses affecting women's or LGBTQ rights, science, children's health, etc. Include your personal thoughts about the bible and what you think can be done about its undue influence.
WORD LENGTH: 550 - 750 words
ELIGIBILITY: Open to any graduate students through the age 30, or to undergraduate students ages 25-30 who attend a North American college or university. You remain eligible to enter this contest if you will graduate by spring or summer 2018.
DEADLINE: Fill out application and submit your essay no later than midnight, August 1, 2018.