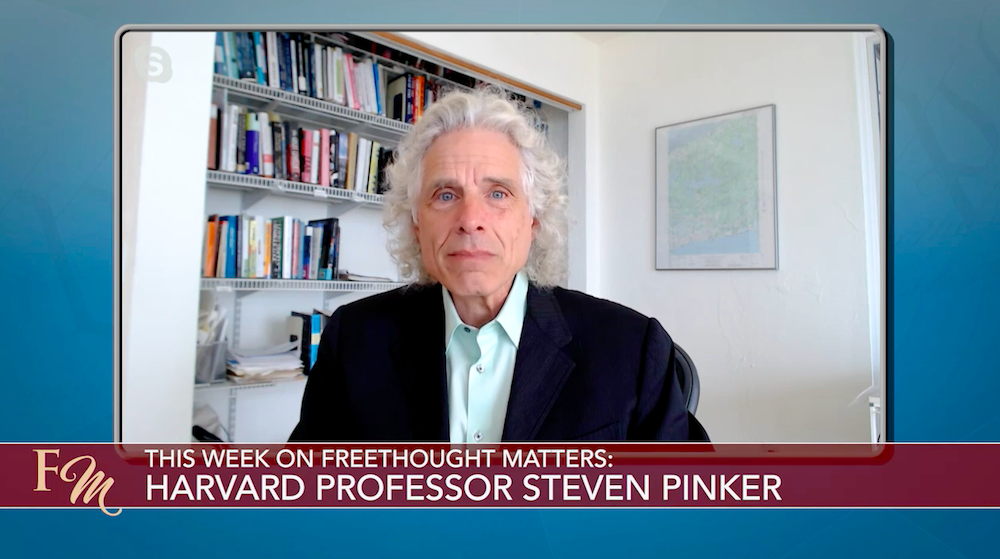 One of the most eminent public intellectuals in the world is the guest on the Freedom From Religion Foundation's TV show this week, talking about his new course on rationality.
If you don't live in the 27 percent of the country's markets where "Freethought Matters" broadcasts on Sunday, you can already catch the episode on FFRF's YouTube channel.
Steven Pinker, who serves as FFRF's honorary president, has won numerous awards for his research, his teaching and his many books, most notably The Language Instinct, How the Mind Works, The Blank Slate and Enlightenment Now: The Case for Reason Science, Humanism and Progress. He has been included in Foreign Policy magazine's world's top 100 public intellectuals and Time's 100 most influential people in the world today. Pinker is chair of the usage panel of the American Heritage Dictionary. He has been named Humanist of the Year and has received FFRF's Emperor Has No Clothes Award.
And now Pinker, who has completed an astonishing 40 years teaching as a professor, has created a class on rationality and taught it at Harvard. (Watch the lectures and look over the syllabus here.) Very logically, that's the topic of discussion for this episode: How to think rationally.
"The fact that living things are made out of organs like the eyeball and the heart, they just seem explicitly designed to carry something out. And it's natural to assume, well, if they show signs of design, that must've been a designer, namely God," Pinker explains a common fallacy to FFRF Co-Presidents Dan Barker and Annie Laurie Gaylor. "Well, thanks to Charles Darwin, we do have an alternative to the theory of a cosmic engineer, maybe natural selection. We can see it in computer simulation. So you can start from almost nothing and get basically an eyeball from generations of selection and mutation. And so it's a fallacy to let our eye for complex design lead to the conclusion that there must be a designer."
This is the fall season's eighth episode of "Freethought Matters," airing in 12 cities on Sunday, Oct. 25.
FFRF has brought together the fall season of its TV show, "Freethought Matters," in the face of the pandemic. The season's first episode was broadcast with the distinguished journalist and pundit Eleanor Clift, which you can watch here. The second show had as the guest Professor Khyati Joshi, an expert on Christian privilege, while the third one had as the joint interviewees possibly the foremost scholars on Christian Nationalism in the United States. The fouth episode featured an interview with actor and FFRF After-Life Member John de Lancie of "Star Trek" "Q" fame, and the fifth one provided a double musical treat in the form of jazz artists Addison Frei and Tahira Clayton. The sixth show had as the guest Pulitzer Prize-winning reporter Linda Greenhouse, the country's leading analyst of the U.S. Supreme Court, while the most recent had on legislative stalwart and feminist and civil rights pioneer U.S. Rep. Eleanor Holmes Norton.
Upcoming guests include satirical singer-songwriter Roy Davidson and movie/TV actor and singer John Davidson, today a nonbeliever.
Freethought Matters" airs in:
Chicago, WPWR-CW (Ch. 50), Sundays at 9 a.m.
Denver, KWGN-CW (Ch. 2), Sundays at 7 a.m.
Houston, KUBE-IND (Ch. 57), Sundays at 9 a.m.
Los Angeles, KCOP-MY (Ch. 13), Sundays at 8:30 a.m.
Madison, Wis., WISC-TV (Ch. 3), Sundays at 11 p.m.
Minneapolis, KSTC-IND (Ch. 45), Sundays at 9:30 a.m.
New York City, WPIX-IND (Ch. 11), Sundays at 8:30 a.m.
Phoenix, KASW-CW (Ch. 61, or 6 or 1006 for HD), Sundays at 8:30 a.m.
Portland, Ore., KRCW-CW (Ch. 32), Sundays at 9 a.m. Comcast channel 703 for High Def, or Channel 3.
Sacramento, KQCA-MY (Ch. 58), Sundays at 8:30 a.m.
Seattle, KONG-IND (Ch. 16 or Ch. 106 on Comcast). Sundays at 8 a.m.
Washington, D.C., WDCW-CW (Ch. 50), Sundays at 8 a.m.
Watch previous seasons here, including recent interviews with Ron Reagan, Julia Sweeney and Ed Asner, as well as U.S. Reps. Jared Huffman and Jamie Raskin, co-chairs of the Congressional Freethought Caucus.
"We want to provide sympathetic programming for the 'unmassed masses,' and offer an alternative, so that religious programming does not win by default," says Gaylor.
Please tune in to "Freethought Matters" . . . because freethought matters.
P.S. Please tune in or record according to the times given above regardless of what is listed in your TV guide (it may be listed simply as "paid programming" or even be misidentified). To set up an automatic weekly recording, try taping manually by time or channel. And spread the word to freethinking friends, family or colleagues about a TV show, finally, that is dedicated to providing programming for freethinkers!
The Freedom From Religion Foundation, based in Madison, Wis., a 501(c)(3) nonprofit educational charity, is the nation's largest association of freethinkers (atheists, agnostics), and has been working since 1978 to keep religion and government separate.