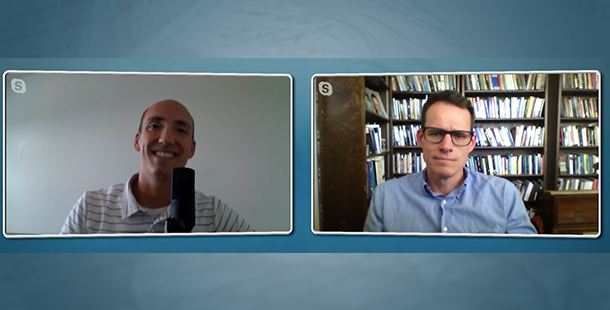 Two of the foremost specialists in the United States on Christian Nationalism, who have a new book out on the phenomenon, are the joint guests on the Freedom From Religion Foundation's television show this Sunday. If you don't live in the 22 percent of the country's markets where the show broadcasts, you can already catch the show on FFRF's YouTube channel.
On the fall season's third episode of "Freethought Matters," airing Sunday, Sept. 20, in 12 cities, guest host Andrew Seidel, FFRF's Director of Strategic Response, interviews Professors Andrew Whitehead and Samuel Perry, authors of the recently published Taking America Back for God: Christian Nationalism in the United States. Whitehead is a sociologist who was an associate professor at Clemson and has started teaching at Indiana University this semester. Perry is a sociologist and associate professor at the University of Oklahoma and the author of two other books, Addicted to Lust and Growing God's Family. Seidel himself is the author of the recent The Founding Myth: Why Christian Nationalism Is Un-American.
Christian Nationalism "is related to racism, but it's not just racism, and it's related to authoritarianism, but it's not just authoritarianism," Whitehead says on the show. "It's related to xenophobia, but it's not just reducible to that. And so it's connected and it connects all of these other negative ideologies in this powerful way that we felt like we needed to unpack some more."
FFRF has enthusiastically launched the fall season of its TV show, "Freethought Matters," in the face of the pandemic. The season's first episode was broadcast with the distinguished journalist and pundit Eleanor Clift, which you can watch here. The second show had as the guest Professor Khyati Joshi, an expert on Christian privilege.
Upcoming guests and topics include the imperiled Constitution with Supreme Court expert Linda Greenhouse, who covered the court for 30 years for the New York Times. "Freethought Matters" will also soon feature a interview with the distinguished D.C. delegate, Rep. Eleanor Holmes Norton (a member of the Congressional Freethought Caucus), and '60s and '70s pop star, movie and TV actor and singer John Davidson, today a nonbeliever.
Freethought Matters" airs in:
Chicago, WPWR-CW (Ch. 50), Sundays at 9 a.m.
Denver, KWGN-CW (Ch. 2), Sundays at 7 a.m.
Houston, KUBE-IND (Ch. 57), Sundays at 9 a.m.
Los Angeles, KCOP-MY (Ch. 13), Sundays at 8:30 a.m.
Madison, Wis., WISC-TV (Ch. 3), Sundays at 11 p.m.
Minneapolis, KSTC-IND (Ch. 45), Sundays at 9:30 a.m.
New York City, WPIX-IND (Ch. 11), Sundays at 8:30 a.m.
Phoenix, KASW-CW (Ch. 61, or 6 or 1006 for HD), Sundays at 8:30 a.m.
Portland, Ore., KRCW-CW (Ch. 32), Sundays at 9 a.m. Comcast channel 703 for High Def, or Channel 3.
Sacramento, KQCA-MY (Ch. 58), Sundays at 8:30 a.m.
Seattle, KONG-IND (Ch. 16 or Ch. 106 on Comcast). Sundays at 8 a.m.
Washington, D.C., WDCW-CW (Ch. 50), Sundays at 8 a.m.
Watch previous seasons here, including recent interviews with Ron Reagan, Julia Sweeney and Ed Asner, as well as U.S. Reps. Jared Huffman and Jamie Raskin, co-chairs of the Congressional Freethought Caucus.
"We want to provide sympathetic programming for the 'unmassed masses,' and offer an alternative, so that religious programming does not win by default," says Gaylor.
Please tune in to "Freethought Matters" . . . because freethought matters.
P.S. Please tune in or record according to the times given above regardless of what is listed in your TV guide (it may be listed simply as "paid programming" or even be misidentified). To set up an automatic weekly recording, try taping manually by time or channel. And spread the word to freethinking friends, family or colleagues about a TV show, finally, that is dedicated to providing programming for freethinkers!