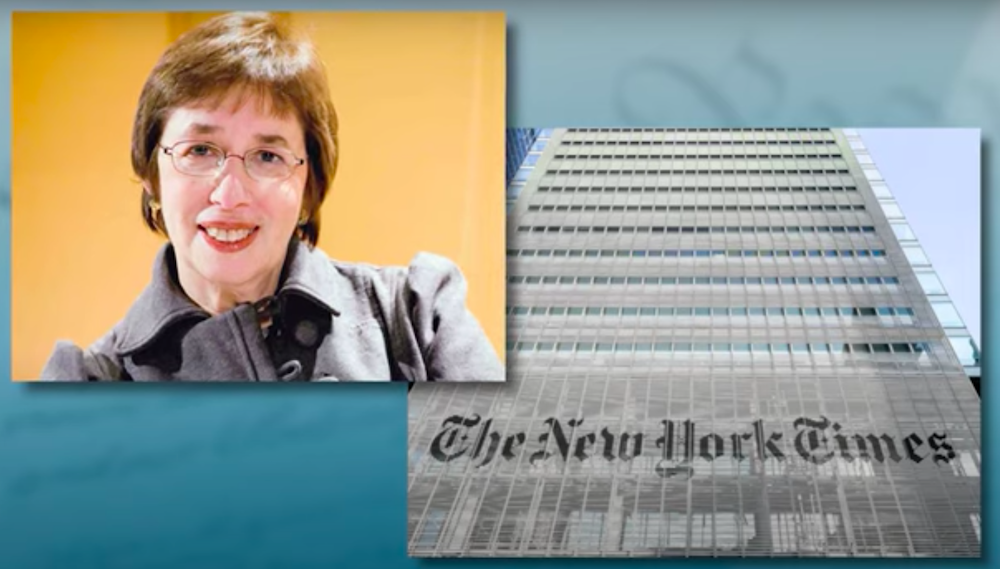 This week's episode of the Freedom From Religion Foundation's TV show, "Freethought Matters," has as its guest the country's foremost expert on an institution that's been on everyone's mind: the U.S. Supreme Court.
If you don't live in the 22 percent of the country's markets where the show broadcasts, you can already catch the episode on FFRF's YouTube channel.
Linda Greenhouse is the Pulitzer Prize-winning reporter who covered the Supreme Court for the New York Times from 1978 to 2008.
"My view is that privileging religion is one of the projects of Chief Justice Roberts," she tells FFRF Co-Presidents Dan Barker and Annie Laurie Gaylor in assessing the Supreme Court's recent Establishment Clause judgments. "He's got a few others, but this is one that really came to the fore this past summer with these three decisions."
Don't miss also Greenhouse's cogent dissection of the imperiled state of Roe v. Wade and the chilling direction being taken by the current high court. (Note: The episode was recorded before Justice Ruth Bader Ginsburg's death.)
Greenhouse's books include a biography of Justice Harry Blackmun (Becoming Justice Blackmun), Before Roe v. Wade — Voices that Shaped the Abortion Debate Before the Supreme Court's Ruling (written with a colleague), as well as The U.S. Supreme Court: A Very Short Introduction, The Burger Court and the Rise of the Judicial Right, and her latest, Just a Journalist: Reflections on the Press, Life and the Spaces Between. She is also president of the American Philosophical Society. Greenhouse writes a biweekly column on legal issues and is the senior research scholar at Yale Law School. She spoke at FFRF's 2010 annual convention and will be receiving an award at its November 2021 national convention in Boston.
This is the fall season's sixth episode of "Freethought Matters," airing in 12 cities on Sunday, Oct. 11.
FFRF has energetically brought together the fall season of its TV show, "Freethought Matters," in the face of the pandemic. The season's first episode was broadcast with the distinguished journalist and pundit Eleanor Clift, which you can watch here. The second show had as the guest Professor Khyati Joshi, an expert on Christian privilege, while the third one had as the joint interviewees possibly the foremost scholars on Christian Nationalism in the United States. The penultimate episode featured an interview with actor and FFRF After-Life Member John de Lancie of "Star Trek" "Q" fame. The most recent one provided a double musical treat in the form of jazz artists Addison Frei and Tahira Clayton.
Upcoming guests include the distinguished D.C. delegate, Rep. Eleanor Holmes Norton (a member of the Congressional Freethought Caucus), psychologist and philosopher Steven Pinker and '60s and '70s pop star, movie and TV actor and singer John Davidson, today a nonbeliever.
Freethought Matters" airs in:
Chicago, WPWR-CW (Ch. 50), Sundays at 9 a.m.
Denver, KWGN-CW (Ch. 2), Sundays at 7 a.m.
Houston, KUBE-IND (Ch. 57), Sundays at 9 a.m.
Los Angeles, KCOP-MY (Ch. 13), Sundays at 8:30 a.m.
Madison, Wis., WISC-TV (Ch. 3), Sundays at 11 p.m.
Minneapolis, KSTC-IND (Ch. 45), Sundays at 9:30 a.m.
New York City, WPIX-IND (Ch. 11), Sundays at 8:30 a.m.
Phoenix, KASW-CW (Ch. 61, or 6 or 1006 for HD), Sundays at 8:30 a.m.
Portland, Ore., KRCW-CW (Ch. 32), Sundays at 9 a.m. Comcast channel 703 for High Def, or Channel 3.
Sacramento, KQCA-MY (Ch. 58), Sundays at 8:30 a.m.
Seattle, KONG-IND (Ch. 16 or Ch. 106 on Comcast). Sundays at 8 a.m.
Washington, D.C., WDCW-CW (Ch. 50), Sundays at 8 a.m.
Watch previous seasons here, including recent interviews with Ron Reagan, Julia Sweeney and Ed Asner, as well as U.S. Reps. Jared Huffman and Jamie Raskin, co-chairs of the Congressional Freethought Caucus.
"We want to provide sympathetic programming for the 'unmassed masses,' and offer an alternative, so that religious programming does not win by default," says Gaylor.
Please tune in to "Freethought Matters" . . . because freethought matters.
P.S. Please tune in or record according to the times given above regardless of what is listed in your TV guide (it may be listed simply as "paid programming" or even be misidentified). To set up an automatic weekly recording, try taping manually by time or channel. And spread the word to freethinking friends, family or colleagues about a TV show, finally, that is dedicated to providing programming for freethinkers!