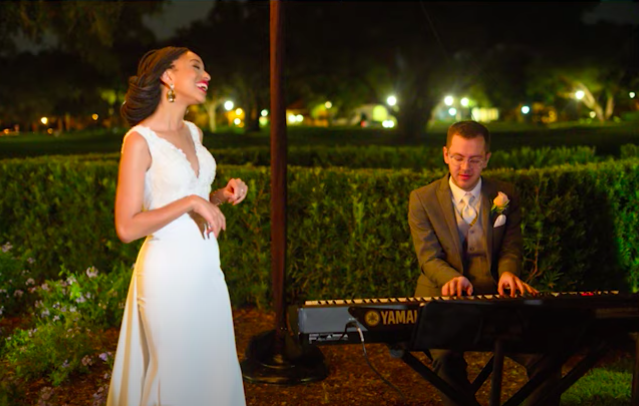 The Freedom From Religion Foundation's TV show has a double treat for you this Sunday in the form of interviews with two stellar jazz musicians with unusual freethought back stories.
If you don't live in the 22 percent of the country's markets where the show broadcasts, you can already catch the show on FFRF's YouTube channel.
Addison Frei and Tahira Clayton are well-known jazz musicians in New York City — and newlyweds. Albums by Addison, a pianist and composer, include "Future Speak," "Transit" and "Intentions" and the AMP Trio albums "To Be Determined" and "m(y)our World." He has been a favorite accompanist of many vocalists, including Leslie Odom Jr., Renée Elise Goldsberry, Janis Siegel and Carol Fredette. Tahira is an internationally known award-winning jazz vocalist who has performed at Sony Music Hall, Tribeca Performing Arts Center, and many other venues.

Those in Addison's immediate family have been long-time members of FFRF. His mother Brenda Frei became well-known in the freethought community after appearing on the Morgan Spurlock "30 Days" TV show as an atheist living with a Christian family for a whole month. Tahira was raised in a devout household — tune in to discover how she now "gives thanks" to Harry Potter. Tahira is a founding board member of the Women in Jazz Organization and has traveled internationally to present her research on "The Dangers of Jazz: Sexism in Society."

"Being a woman in jazz, I felt that there was a huge danger, which is sexism that wasn't necessarily being addressed or researched in a thorough way," she tells "Freethought Matters" co-hosts FFRF Co-Presidents Dan Barker and Annie Laurie Gaylor. "I started talking to different women. And I learned very quickly that there were several common denominators between each woman's experience, whether they're the only woman on the band stand or the only woman in their collegiate jazz program — these things that seem to be very benign, but when put into a larger context are actually quite dangerous."

This is the fall season's fifth episode of "Freethought Matters," airing in 12 cities on Sunday, Oct. 4. Addison and Tahira perform live on the show, and one of their music videos is played, too.
FFRF has enthusiastically launched the fall season of its TV show, "Freethought Matters," in the face of the pandemic. The season's first episode was broadcast with the distinguished journalist and pundit Eleanor Clift, which you can watch here. The second show had as the guest Professor Khyati Joshi, an expert on Christian privilege, while the third one had as the joint interviewees possibly the foremost scholars on Christian Nationalism in the United States. The most recent episode featured an interview with actor and FFRF After-Life Member John de Lancie of "Star Trek" "Q" fame.
Upcoming guests and topics include the imperiled Constitution with Supreme Court expert Linda Greenhouse, who covered the court for 30 years for the New York Times. "Freethought Matters" will also soon feature a interview with the distinguished D.C. delegate, Rep. Eleanor Holmes Norton (a member of the Congressional Freethought Caucus), and '60s and '70s pop star, movie and TV actor and singer John Davidson, today a nonbeliever.
Freethought Matters" airs in:
Chicago, WPWR-CW (Ch. 50), Sundays at 9 a.m.
Denver, KWGN-CW (Ch. 2), Sundays at 7 a.m.
Houston, KUBE-IND (Ch. 57), Sundays at 9 a.m.
Los Angeles, KCOP-MY (Ch. 13), Sundays at 8:30 a.m.
Madison, Wis., WISC-TV (Ch. 3), Sundays at 11 p.m.
Minneapolis, KSTC-IND (Ch. 45), Sundays at 9:30 a.m.
New York City, WPIX-IND (Ch. 11), Sundays at 8:30 a.m.
Phoenix, KASW-CW (Ch. 61, or 6 or 1006 for HD), Sundays at 8:30 a.m.
Portland, Ore., KRCW-CW (Ch. 32), Sundays at 9 a.m. Comcast channel 703 for High Def, or Channel 3.
Sacramento, KQCA-MY (Ch. 58), Sundays at 8:30 a.m.
Seattle, KONG-IND (Ch. 16 or Ch. 106 on Comcast). Sundays at 8 a.m.
Washington, D.C., WDCW-CW (Ch. 50), Sundays at 8 a.m.
Watch previous seasons here, including recent interviews with Ron Reagan, Julia Sweeney and Ed Asner, as well as U.S. Reps. Jared Huffman and Jamie Raskin, co-chairs of the Congressional Freethought Caucus.
"We want to provide sympathetic programming for the 'unmassed masses,' and offer an alternative, so that religious programming does not win by default," says Gaylor.
Please tune in to "Freethought Matters" . . . because freethought matters.
P.S. Please tune in or record according to the times given above regardless of what is listed in your TV guide (it may be listed simply as "paid programming" or even be misidentified). To set up an automatic weekly recording, try taping manually by time or channel. And spread the word to freethinking friends, family or colleagues about a TV show, finally, that is dedicated to providing programming for freethinkers!