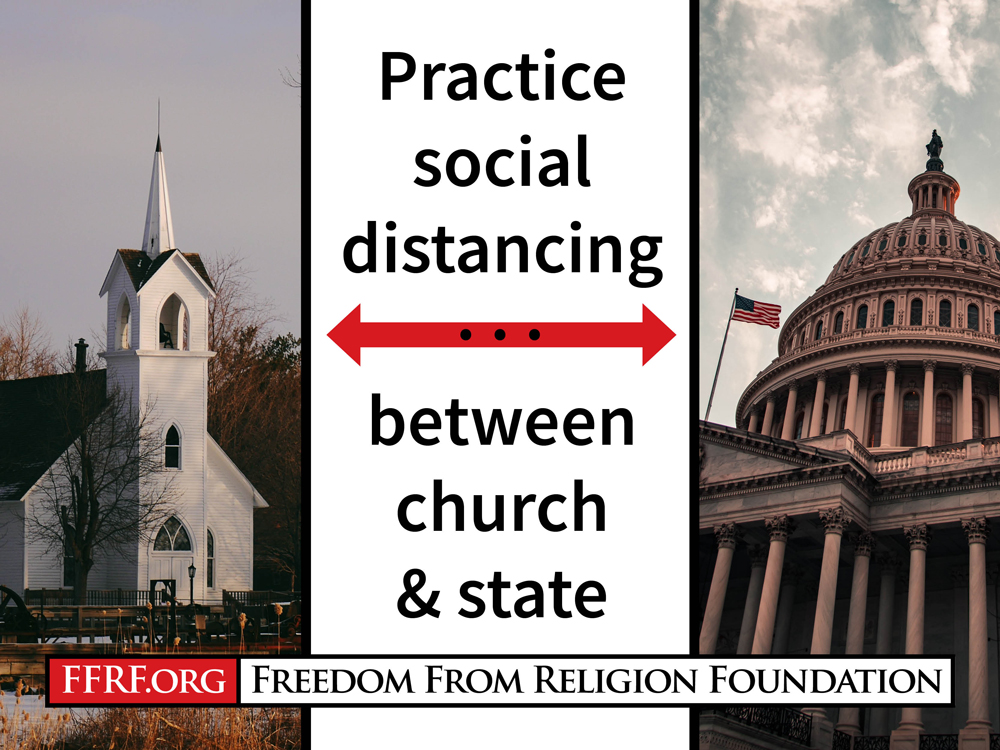 The Freedom From Religion Foundation is protesting on behalf of its local members a recent countywide order in Dane County, Wis., providing an unwise exemption for religious gatherings.
Soon after the Wisconsin Supreme Court overturned Gov. Tony Evers' statewide safer-at-home order, Public Health Madison & Dane County puzzlingly recategorized churches as "essential" businesses in an otherwise prudent safe-at-home order, allowing congregations to resume meeting in person. This unnecessary and ill-advised exemption will endanger the health and possibly the lives of Dane County residents, FFRF contends.
Since the beginning of this pandemic, churches have repeatedly been shown to be hotbeds for spreading COVID-19, as revealed by the data. One-third of all COVID-19 cases in one large California county were traced to church services. The numbers were even bigger elsewhere. Reuters reported: "South Korea announced thousands of coronavirus cases in the space of only a few days in late February. The surge in cases centred mostly around one main cluster from a church in Daegu city."
Just this past weekend, local health officials in Butte County, Calif., reported that a person who attended a religious service on Mother's Day exposed 180 other people to coronavirus. Even small gatherings can be deadly. According to "officials at East Alabama Medical Center ... church gatherings have been tied to a swell in new cases across the area." As those doctors explained, "There were only 10 people at a time in the building, but the infection still spread."
Churches are uniquely susceptible to spreading COVID-19, FFRF emphasizes. Everything about attending church in person is designed to flout best practices for not spreading this disease: passing the collection plate, greeting neighbors with hugs and handshakes, handling the same religious books, sharing wine and wafers, common pools of water, and so forth.
"There are undoubtedly some churches or congregations that will feel encouraged to meet in person because of the exemption in Dane County's order and will, in fact, meet — and that is an unnecessary risk that we, the citizens of Dane County, cannot afford," FFRF Co-Presidents Dan Barker and Annie Laurie Gaylor write to Public Health Madison & Dane County Director Janel Heinrich.
Even local church leaders agree that churches should not start holding in-person services. Rev. Kerri Parker, executive director of the Wisconsin Council of Churches (a network consisting of approximately 2,000 congregations), recently remarked: "We can't in good conscience recommend that because of this court decision, churches run out and make plans to reopen."
The Dane County religious exemption was seemingly prompted, in part, by a case before the Wisconsin Supreme Court regarding the treatment of religious entities under stay-at-home orders. FFRF had submitted an amicus brief in that case. However, prohibiting religious gatherings is not a ban on worship any more than speed limits are a ban on driving, FFRF stresses. And this order is only temporary. These policies are guided by clear science: The more people who gather, the more viruses spread.
Governments already regularly limit worship gatherings that jeopardize public health, FFRF points out. For instance, the government prohibits churches from cramming too many people into a building in violation of fire codes and also requires that church buildings comply with necessary building codes. Preventing large gatherings due to a pandemic is even more crucial.
Preachers seeking exemption from social distancing orders are not simply asking for a right to gather and worship, FFRF warns. They are risking the lives of responsible Dane County residents, immuno-compromised Dane County residents, and other people who are, for instance, only risking exposure to get necessary groceries or medicine. These church meetings could risk overburdening the health care system. That's why FFRF is asking Dane County authorities to revoke the religious exemption.
The Freedom From Religion Foundation is a national nonprofit headquartered in Dane County, Wis. It has more than 31,000 members, including 1,500 in Wisconsin, many of whom live in Dane County, and works to protect the constitutional separation between state and church, and to educate about nontheism.