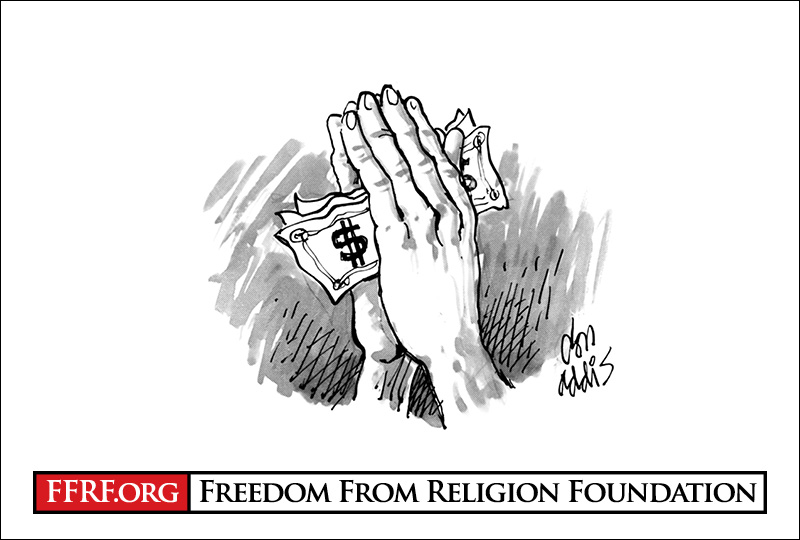 The Freedom From Religion Foundation is warning Americans that their tax dollars may soon be given away to churches and preachers. In a concise and powerful op-ed for Religion Dispatches, Andrew L. Seidel, FFRF's director of strategic response and author of The Founding Myth: Why Christian Nationalism is Un-American, explains the problem and offers a solution.
Religious liberty is threatened in America, but not in the way you've been told. The Coronavirus Aid, Relief, and Economic Security (CARES) Act, as it stands right now, poses a very real threat to the religious freedom of every American.
The CARES Act allows businesses and nonprofits to borrow money from the federal government to cover operating costs and salaries, and the government will later forgive those loans. Churches, houses of worship, and nonprofits with religious missions are stalking this money and unless the Small Business Administration includes some constitutional protections in its coming emergency regulations to implement the CARES Act and these loans, there's a good chance that American taxpayers will be footing the bill for church mortgages and preachers' salaries.
The government's taxing power should not be wielded to oblige Muslims to bankroll temples, or to coerce Jews to subsidize Christian and Catholic churches, or to force Christians to fund mosques, or to compel the nonreligious to support any of the above. One of this country's first religious freedom laws warned that taxing citizens and giving the money to churches is "sinful and tyrannical." The right to be free from that compulsion is the bedrock of religious liberty.
FFRF also sent a joint letter with other secular groups to the Small Business Administration, demanding regulations that will uphold the Constitution. Then it issued a national Action Alert calling on members to contact the SBA, and a press release correcting members of Congress who don't understand the Constitution.