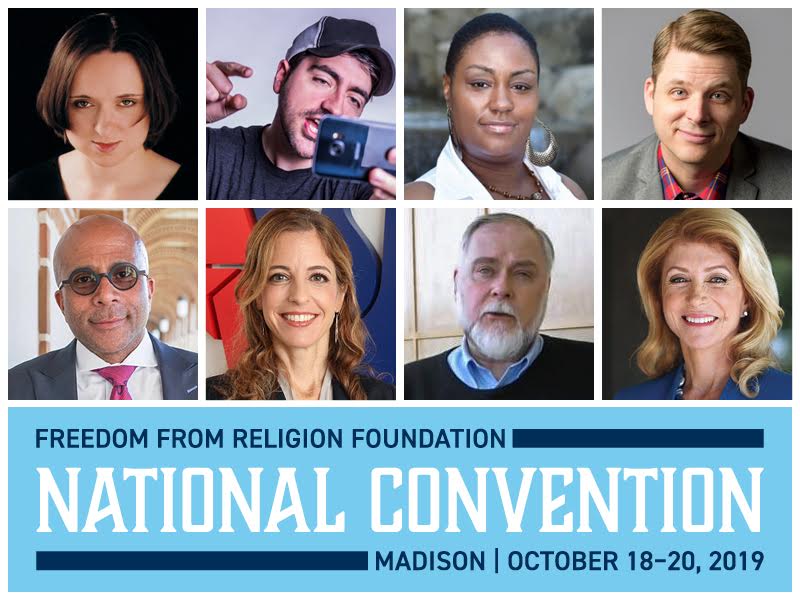 Come join us in Madison, Wisconsin, for a weekend of freethinking fun and edification at the Freedom From Religion Foundation's 42nd annual convention. It's not too soon to register for the October conference.
Best-selling author Sarah Vowell has been added to the growing list of speakers for FFRF's convention the weekend of Friday, Oct. 18, through Sunday, Oct. 20, at the Monona Terrace Community and Convention Center in Madison, Wis. Other speakers recently confirmed include women's rights activist Wendy Davis, Americans United for the Separation of Church & State President Rachel Laser and "Liberal Redneck" comedian Trae Crowder. FFRF's Director of Strategic Response Andrew L. Seidel will be talking about his new book.
The pre-convention open house is Friday morning, Oct. 18, at Freethought Hall, FFRF's national office. The official starting time of the convention is 1 p.m., Friday, Oct. 18. The schedule includes irreverent music, FFRF book and merchandise sales tables and book signings, complimentary ice cream and beverages on Friday afternoon and an on-the-house Friday night dessert reception. Plus, there is the ever-popular drawing for "clean" (pre-"In God We Trust") currency on Saturday night. As always, it will be a weekend of great speakers, awesome people, good food, irreverent music and wonderful conversation. Sign up here.
The convention has a stellar line-up of speakers and honorees. Sarah Vowell is the New York Times best-selling author of seven nonfiction books on American history and culture. Rachel Laser will be accepting the $10,000 Henry Zumach Freedom From Religious Fundamentalism Award on behalf of Americans United for the Separation of Church & State. Wendy Davis, who catapulted into prominence in 2013 when she held a 13-hour filibuster to protect women's reproductive freedoms in Texas, will receive FFRF's 2019 Forward Award. Trae Crowder has recently earned national attention for his "Liberal Redneck" series of viral videos and has appeared on shows such as "Nightline," "Real Time with Bill Maher," "The View" and "Last Word with Lawrence O'Donnell." FFRF Director of Strategic Response Andrew L. Seidel will be discussing his debut book, The Founding Myth: Why Christian Nationalism Is Un-American. Mandisa Thomas, who will be named FFRF's 2019 Freethought Heroine, is the founder and president of Black Nonbelievers. Frederick Clarkson, senior research analyst at Political Research Associates and author of several books, broke the story about Project Blitz, a Christian Right state legislative campaign with long range theocratic intentions. Anthony B. Pinn, a professor of humanities and religion at Rice University and founding director of the Center for Engaged Research and Collaborative Learning, will be receiving FFRF's Emperor Has No Clothes Award.
Always a hit at conferences is the presentation by FFRF's legal eagles, who will wow you with FFRF's accomplishments to keep religion out of government. Major speakers will be signing copies of their books, giving you a chance to meet with them. The convention features the annual drawing for "clean," pre-In God We Trust currency, musical interludes by FFRF Co-President Dan Barker at the piano, and book and sales tables.
Please reserve rooms now to avoid disappointment! FFRF is using three Madison hotels. The Hilton Madison, attached to the site of the convention, is the main hotel venue (rate $185 plus tax). The other two hotels offer overflow rooms, and require either a three-block walk or driving or taking a free shuttle to the convention site. All hotels have blocks Thursday through Saturday nights, with a few more limited rooms Wednesday and Sunday nights.
FFRF conventions are a celebration of freethought and secularism and a great way to renew energy for the significant challenges our community currently faces in the United States. Help us celebrate!
See you in October!