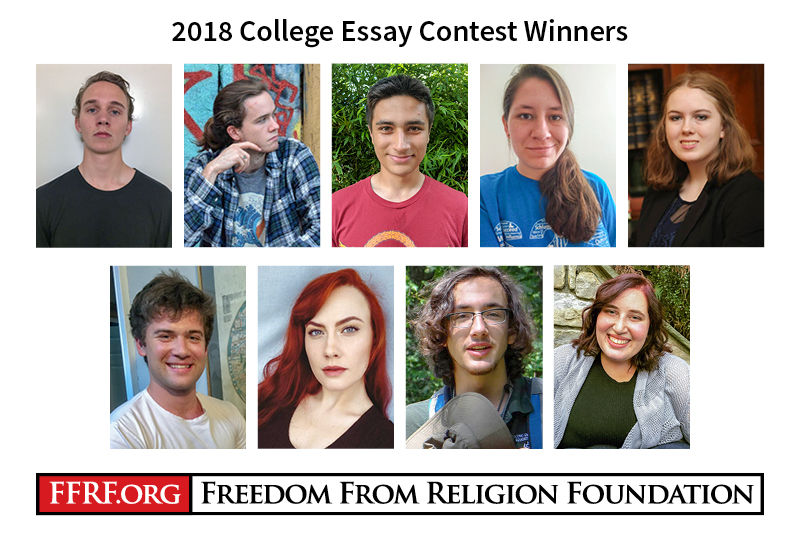 The Freedom From Religion Foundation is proud to announce the 18 winners of the 2018 Michael Hakeem Memorial College Essay Contest.
College students were asked to write a personal persuasive essay about, "Why you are an unabashed freethinker, and not afraid of burning in hell."
Winners are listed below and include the award amount and the college or university they are attending.
First place
Matthew McFadden, 19, UCLA ($3,000)
Second place (tie)
Alex Kellogg, 22, University of North Carolina ($2,000)
Second place (tie)
Mike Meo, 19, Portland State University ($2,000)
Third place
Emily Mickel, 20, Cornell University ($1,000)
Fourth place
Rachel Bellflowers, 19, Appalachian State University ($750)
Fifth place
Samuel Hagen, 22, Harvard University ($600)
Sixth place
Niamh Falter, 24, Savannah College of Art and Design ($500)
Seventh place (tie)
Emma Rosen, 24, LIU Global ($400)
Seventh place (tie)
Truth Muller, 18, College of the Atlantic ($400)
Major winners are pictured above.
Honorable mentions ($200 each)
Edon Ademaj, Texas Wesleyan University
Samantha Jones, University of Wisconsin-Madison
Ashley Levy, Oglethorpe University
Parker Maris, University of Calgary
Blake T. Miller, IUPUI
William Napp, Grand Valley State University
Julianna Schoenwald, Grand Rapids Community College
Lydia Taylor, University of Denver
Cameron Zahner, Harvard University
FFRF has offered essay competitions to college students since 1979. This contest is named for the late Michael Hakeem, a sociology professor who was an FFRF board chair and active atheist known by generations of University of Wisconsin-Madison students for fine-tuning their reasoning skills.
"We firmly believe our scholarship program rewarding young freethinkers is one of FFRF's most important activities," says FFRF Co-President Dan Barker.
FFRF has offered essay competitions to college students since 1979, high school students since 1994, and graduate students since 2010 and since 2017 a contest geared directly specifically to students of color. The winners for these contests have already been announced.

The graduate student essay winners will be announced in the November issue of Freethought Today.
FFRF has paid out a total of $12,750 in award money for this contest this year. FFRF thanks Dean and Dorea Schramm of Florida for providing a $100 bonus to students who are members of a secular student club or the Secular Student Alliance. The total reflects those bonuses.