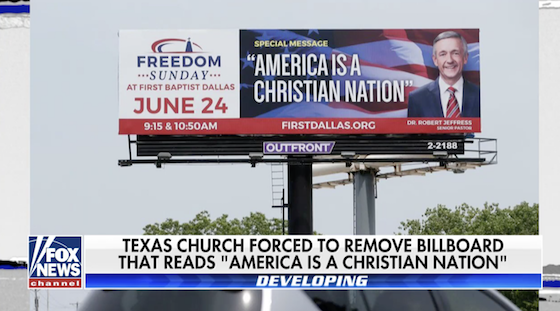 The Dallas Police Department has partnered with First Baptist Dallas to provide the church with uniformed officers, possibly from the Dallas Police Honor Guard, for an event called "Freedom Sunday." The church service is scheduled to take place on June 24 and will feature religious worship and controversial pastor Robert Jeffress claiming that "America is a Christian Nation." Billboards advertising the event and Jeffress' divisive message sparked backlash from Dallas Mayor Mike Rawlings and others earlier this week and were eventually taken down.
Abhorrent messages aside, the Dallas Police Department's apparent endorsement of the Freedom Sunday gala poses constitutional concerns. The Establishment Clause of the First Amendment prohibits the government from endorsing a religious event.
"As the Supreme Court has put it, the Establishment Clause 'mandates government neutrality between religion and religion, and between religion and nonreligion,'" writes FFRF Associate Counsel Sam Grover to Dallas Police Lt. Matt Williamson. "By providing uniformed officers to participate in this event, the department creates the appearance that it endorses the event and its exclusively religious, exclusively Christian message."
Citizens interact with and rely on law enforcement officers during some of the most urgent and vulnerable times of their lives, FFRF stresses. Minority religious and nonreligious citizens should not be made to feel excluded, like outsiders in their own community, because the city police department they support with their taxes oversteps its power by endorsing, and participating in, a Christian worship service. While individual officers are certainly free to participate in any event they wish in their personal capacities, the department may not endorse a religious event by approving the direct participation of uniformed officers.
By perpetuating the myth that American is a "Christian nation," Freedom Sunday is explicitly designed to exclude the 24 percent of Americans who are nonreligious and, more broadly, the 30 percent of Americans who are non-Christian. Such an event is not worthy of the Dallas Police Department's seal of approval.
That's why FFRF is asking that the department drop its support for this divisive, evangelistic vision for America and decline to participate in the Freedom Sunday worship service. And in order to gain a better understanding of the nature of the Dallas Police Department's involvement with the Freedom Sunday events, past and present, FFRF is seeking records that clarify the arrangement.
"The police department of one of our major cities should not intimately intertwine itself with such an overtly sectarian religious bash," says FFRF Co-President Annie Laurie Gaylor. "Law enforcement has a duty to equally serve and represent all citizens."
The Freedom From Religion Foundation is a national nonprofit organization with more than 33,000 members across the country, including over 1,300 members in Texas. Its purposes are to protect the constitutional principle of separation between religion and government and church and to educate the public on matters relating to nontheism.