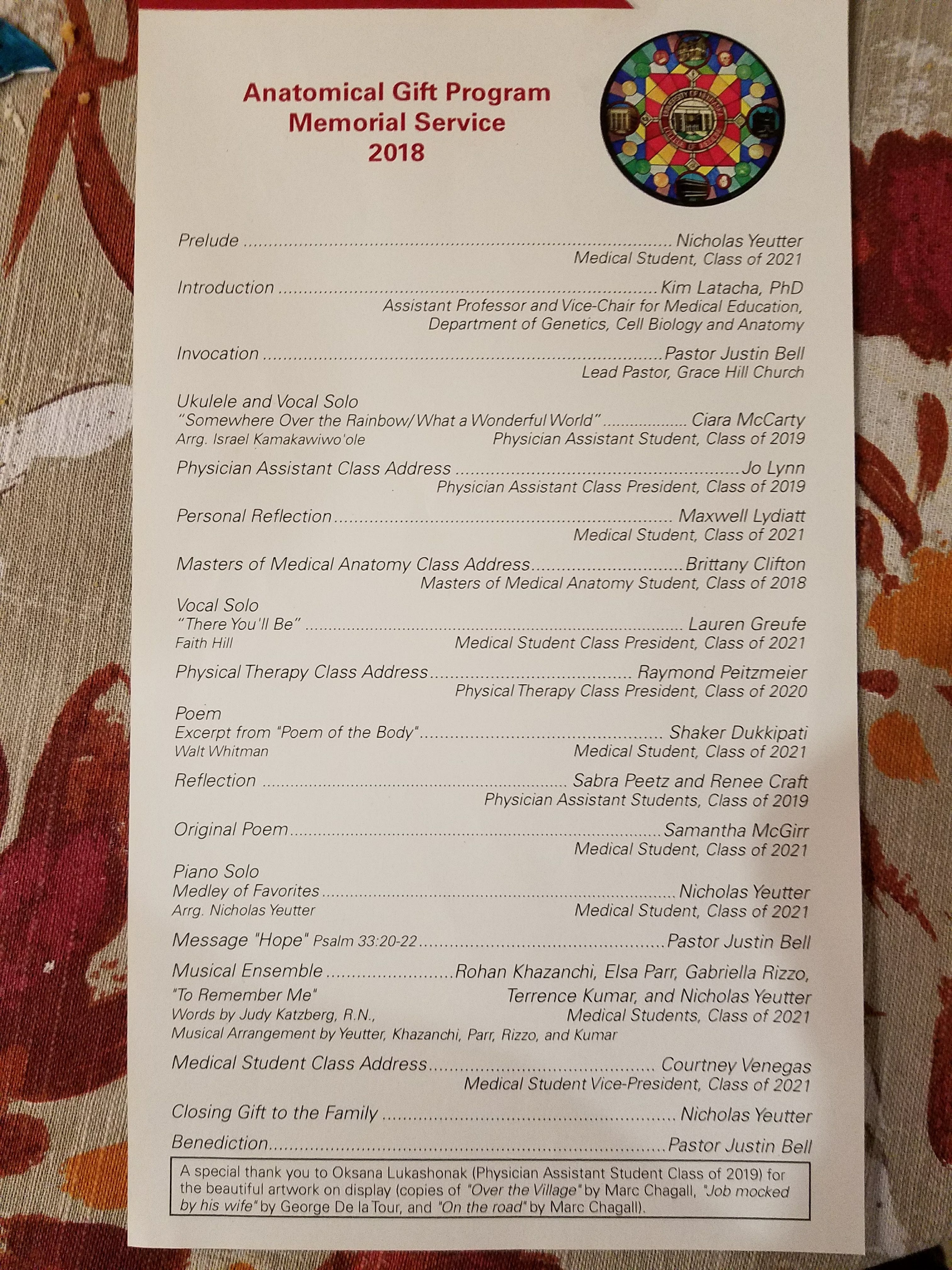 The Freedom From Religion Foundation is calling attention to a recent — slightly macabre — violation of the First Amendment at the University of Nebraska Medical Center.
A concerned student at the University of Nebraska Medical Center recently contacted FFRF to report that on April 20 the medical institution held its yearly memorial service for anatomical donors. The program for the event shows that Justin Bell, a pastor at Grace Hill Church, spoke three times, giving an opening invocation and closing benediction, as well as a reading from Psalm 33:20-22:
We wait in hope for the Lord;

he is our help and our shield.

In him our hearts rejoice,

for we trust in his holy name.

May your unfailing love be with us,
Lord, 
even as we put our hope in you.
Such religious promotion is not only unconstitutional, but also insensitive to those students and families who do not share the religious viewpoints expressed, FFRF points out.
"As a state-run institution, the University of Nebraska Medical Center is bound by the Establishment Clause," which, quoting the Supreme Court, "mandates governmental neutrality between religion and religion, and between religion and nonreligion," FFRF Legal Fellow Colin McNamara writes to University of Nebraska Medical Center Chancellor Jeffrey Gold. "Donating one's body to science is a selfless act that is rightly deserving of our reverence and remembrance," but "when government actors commemorate the honored dead, however well-deserved, their actions are not immune from constitutional scrutiny."

Inserting religion into this memorial service created a deeply coercive atmosphere. As this event was meant to pay tribute to the donors and thank their families, it is reasonable that attendees would feel pressured to participate in prayer to avoid making any outward sign that could be construed as disrespectful. For this reason, this ceremony is precisely the type of environment where strict adherence to Establishment Clause norms is most urgently required.
A memorial service for anatomical donors should be inclusive of all, regardless of religious preference, FFRF emphasizes. Injecting religion into the ceremony does exactly the opposite, alienating non-Christian students and especially families, whose deceased family members may not have wished to be memorialized in this manner. This is likely true of a decent portion of these anatomical donors — an international study found that people who donate their bodies to science are more likely to be nonreligious than the average person. Overall, nearly 30 percent of Americans are non-Christians, either practicing a minority religion or no religion at all; among millennials, that number rises to 46 percent. Out of respect for both the Constitution, and the rights of conscience of every student, donor, and family member, future memorial services should not feature prayer or other religious content, FFRF urges the University of Nebraska Medical Center.
"We've dealt with innumerable violations of the First Amendment, but not one quite like this," says FFRF Co-President Annie Laurie Gaylor. "The University of Nebraska Medical Center needs to remember that the Constitution is a living, breathing document."
The Freedom From Religion Foundation is a national nonprofit organization with more than 33,000 members across the country, including in Nebraska. FFRF's purposes are to protect the constitutional separation between state and church, and to educate the public on matters relating to nontheism.