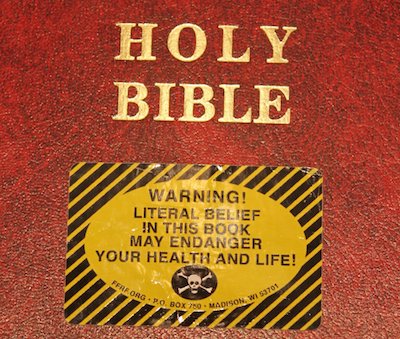 The Freedom From Religion Foundation has persuaded a West Virginia school district to deny the Gideons permission to hand out bibles to students.
A concerned local resident and parent informed FFRF that Gideons International distributed bibles to fifth-grade students at Follansbee Middle School in the Brooke County Schools system this past spring. The Gideons or school staff reportedly visited classrooms to tell students that bibles would be available.
Gideons International is a self-described interdenominational association of Christian business and professional men who are members of Protestant and evangelical churches. The organization's members, according to its website, "personally witness and distribute God's Word to ... students in the fifth grade and above."
The district was flouting the law, FFRF informed the school district.
"Courts have held that the distribution of bibles to students at public schools during instructional time is prohibited," Senior Counsel Patrick Elliott wrote to Brooke County Schools Superintendent Toni A. Paesano Shute in July.
When a school distributes religious literature to its students, or permits evangelists like the Gideons to distribute religious literature to its students, it entangles itself with that religious message, FFRF reminded the school district.
At first, school officials were unyielding. Follansbee Middle School Principal Greg Rothwell responded that the bible distribution would be allowed to continue. "This has been the practice since I have been an administrator at Follansbee Middle School, since 2015, and will continue to be the practice followed," he said.
FFRF then asked for authorization to give away its own literature alongside the bibles in schools where the Gideons had been permitted.
"If Brooke County Schools allows bible distributions, it is obligated to distribute FFRF materials and any censorship of nonreligious materials would violate the free speech rights of FFRF," Elliott wrote in an October letter. "We previously sued and secured the right to distribute freethought literature when it was censored by a school district."
FFRF's follow-up missive caused a change of heart.
"Mr. Rothwell misspoke when he stated that schools would continue to allow Gideon Bibles to be placed on a table in the hallway," Shute said in a recent email. "Our Brooke County Board of Education makes those decisions, not Principal Rothwell. We will not be permitting Gideon bible placement in our schools."
FFRF is glad that its powers of persuasion had the intended effect.
"Adult male missionaries cannot be allowed to target a captive audience of 10- and 11-year-olds," says FFRF Co-President Annie Laurie Gaylor. "We're pleased that Brooke County Schools officials finally realized that they must protect the rights of parents to decide on their children's religious instruction."
The Freedom From Religion Foundation is a national nonprofit organization with more than 29,000 members across the country, including in West Virginia. FFRF's purpose is to protect the constitutional principle of separation between state and church, and to educate the public on matters relating to nontheism.
FFRF is currently suing the school system in West Virginia's Mercer County over fundamentalist bible instruction during the school day, in a federal lawsuit attracting national attention.