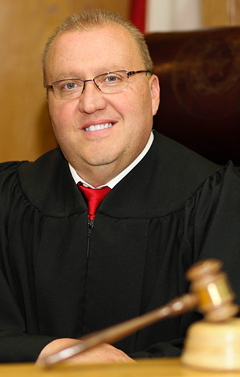 The Freedom From Religion Foundation is moving forward in its legal fight to stop a Texas justice of the peace from imposing prayers at the start of each court session. On Wednesday, July 12, FFRF filed a response to deny Judge Wayne Mack's motion to dismiss its legal challenge in the U.S. District Court for the Southern District of Texas in Houston. Along with three local plaintiffs, FFRF is suing Mack to stop his inappropriate practice of opening each session of his court with prayer.
Mack, as a Montgomery County justice of the peace, has jurisdiction over minor misdemeanor offenses and lesser civil matters, including juvenile cases. Montgomery County is north of Houston, and its county seat is Conroe.
"Defendant Wayne Mack now urges the court to turn a blind eye to the inherently coercive authority of a judge within the unique context of his courtroom and rule that plaintiffs have failed even to state a claim on which relief could be granted," FFRF's brief states. "Defendant Wayne Mack's Motion to Dismiss should be denied in its entirety."
In its response, FFRF analyzes the four major reasons that Mack provides in support of his motion. FFRF contends that none of the arguments is persuasive and demolishes them.
FFRF has more than 29,000 members, with 1,200 living in Texas, including plaintiff "Jane Noe," who has appeared before Mack on official business. Plaintiff "Jane Doe" is a licensed attorney who has appeared before Mack on at least four separate occasions. Plaintiff "John Roe," a self-employed attorney who regularly represents clients in front of Mack, "is religiously unaffiliated and objects to being subjected to religious prayers" in a courtroom. All object to courtroom prayer and felt compelled to remain in the courtroom during Mack's prayers at risk of jeopardizing their cases and careers, or their clients' cases.
On June 7, the state/church watchdog filed a brief opposing Texas Attorney General Ken Paxton's request to intervene in the case. He held a press conference on May 17 to announce his intent to interfere with the lawsuit. FFRF called out Paxton for his "hyperbolic speculation" and set the record straight on the attorney general's deliberate mischaracterization of the issues raised in FFRF's lawsuit.
FFRF and its plaintiffs are being represented by FFRF Staff Attorney Sam Grover, with FFRF Staff Attorney Elizabeth Cavell serving as co-counsel. Attorney Patrick Luff of the Luff Law Firm in San Antonio is serving as local counsel. Freedom From Religion Foundation et al. v. Judge Wayne Mack has case number 4:17-cv-881.