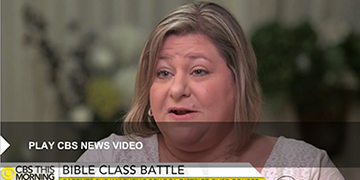 Plaintiff Elizabeth Deal
A school district in West Virginia has decided to suspend its "Bible in the Schools" classes next school year in response to a Freedom From Religion Foundation lawsuit against its egregiously unconstitutional "Bible in the Schools" program. FFRF, along with two parents of young children, brought the case earlier this year. The lawsuit has received national attention, including a segment on CBS This Morning, due to the outrageous nature of the violation.
Mercer County Schools Superintendent Deborah Akers announced that she wants to include "community members and religious leaders" in reviewing the class and recommended suspending the classes until the review was completed.
FFRF is pleased at this first step in addressing long-standing violations of the constitutional rights of children and parents. Starting this fall, it appears that students will receive an appropriate education free from religious instruction within the Mercer County public schools system. Contending that the bible classes are not legally defensible, FFRF will continue to pursue all legal remedies available against the school system to ensure compliance with the First Amendment.
"The Supreme Court has spoken directly on this type of public school indoctrination and has ruled that public schools may not engage in it," says FFRF Co-President Annie Laurie Gaylor. "Religion in schools builds walls between children and leads to ostracism of minorities — as experienced by our plaintiff Elizabeth Deal, who had to remove her child from the school."
FFRF's legal complaint lists examples of the proselytizing curriculum. Lesson 2 promotes creationism by claiming humans and dinosaurs co-existed. Students are asked to "picture Adam being able to crawl up on the back of a dinosaur! He and Eve could have their own personal water slide! Wouldn't that be so wild!"
FFRF v. Mercer County Board of Education (Case# 1:17-cv-00642) was filed in the U.S. District Court in the Southern District of West Virginia before Judge David A. Faber.
The Freedom From Religion Foundation is a national nonprofit organization with more than 29,000 nonreligious members across the country, including in West Virginia.