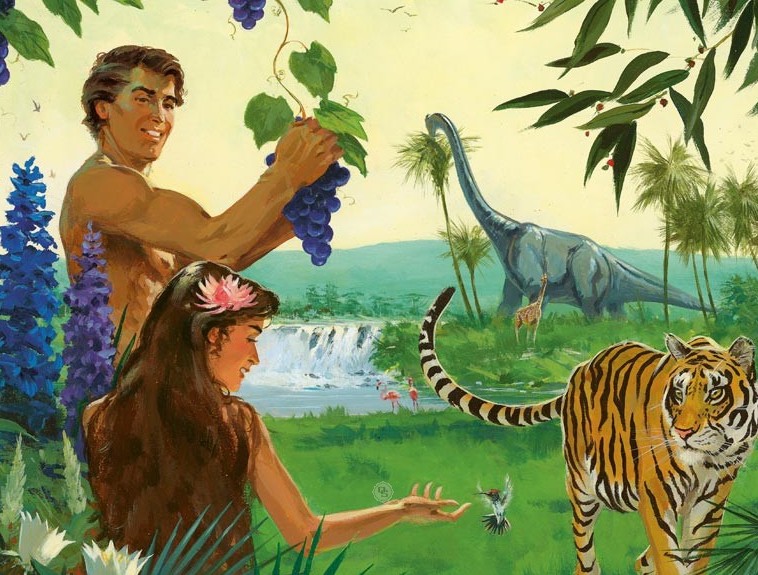 This visual aid is used to help teach "Bible in the Schools" in classes in Mercer County schools.

An additional plaintiff has joined in a Freedom From Religion Foundation lawsuit filed two months ago to end blatantly unconstitutional "Bible in the Schools" classes in a West Virginia county.
Elizabeth Deal is now also a plaintiff in the case that FFRF filed on Jan. 18 against Mercer County Schools, the board of education, the superintendent, and a school principal. Deal and her anonymous child, "Jessica Roe," suffered harm due to the bible classes. Deal had to move Jessica out of the school system to end harassment at the hands of her classmates.
Jessica faced bullying for opting out of the classes — other students harassed her for not participating. Deal discusses her daughter's mistreatment on a recent "CBS This Morning" news segment spotlighting FFRF's case.
"They taunted her about it," she told CBS. "They told her that she was going to hell, that I was going to hell, that her father was going to hell."
When Jessica was in first and second grade at Memorial Primary School, the school failed to provide her instruction or enrichment activities during the "Bible in the Schools" classes. Jessica was placed in the library or in another classroom during bible classes. She most often read a book to herself.
During third grade at Bluefield Intermediate School, Jessica was sent to the computer lab during bible classes. There, Jessica read books on her own and was not permitted to use the computers.
Jessica understandably felt excluded, since she was perfunctorily shunted out of the classroom during the biblical instruction. Deal removed Jessica from Mercer County Schools this school year to avoid the divisiveness, sending Jessica to a neighboring school district. The "Bible in the Schools" program and the treatment Jessica received as a result of not participating in the classes were a major reason for her removal, according to FFRF's amended complaint.
The primary plaintiffs in the case are presented with a similar wrenching dilemma. FFRF and "Jane Doe" (an atheist) contend Jane's daughter "Jamie" faces "an untenable choice" next year — whether to participate in unconstitutional bible indoctrination or face likely ostracism by conspicuously opting out.
The defendants filed an expected motion to dismiss the case two weeks ago, claiming that Jane and Jamie Doe did not have standing and that it was speculative as to how the Doe plaintiffs would be treated. The additional plaintiff bolsters the strength of the case, as Deal and her daughter Jessica were clearly harmed by the classes.
"FFRF is not battling Mercer County Schools just due to abstract legal principles," FFRF Co-President Annie Laurie Gaylor notes. "Here, you have a real live example of a child being harassed and abused due to a school district's insistence on hosting illegal religious instruction."
Bible indoctrination classes have been taught in Mercer County Schools for more than 75 years. The instruction, taught by itinerant teachers who possess "a degree in Bible," begins in first grade. Classes are held in 15 elementary schools, one intermediate school and three middle schools. The classes meet weekly and last 30 minutes in elementary schools and 45 minutes in middle schools.
The curriculum is the equivalent of Sunday school instruction.
FFRF's legal complaint lists examples of the proselytizing curriculum. Lesson 2 promotes creationism by claiming humans and dinosaurs co-existed. Students are asked to "picture Adam being able to crawl up on the back of a dinosaur! He and Eve could have their own personal water slide! Wouldn't that be so wild!"
The U.S. Supreme Court ruled such instruction unconstitutional in the landmark McCollum v. Board of Education case in 1948. FFRF won a court victory before the 6th U.S. Circuit Court of Appeals ending similar bible instruction in Rhea County (Dayton), Tenn., schools in 2004.
Mercer County, whose county seat is Princeton, has a population of about 63,000.
FFRF v. Mercer County Board of Education (Case# 1:17-cv-00642) was filed in the U.S. District Court in the Southern District of West Virginia before Judge David A. Faber, with Marc Schneider serving as primary litigating attorney and FFRF Staff Attorney Patrick Elliott as co-counsel.