Don't ignore the power of the secular voting bloc. That's the message the Freedom From Religion Foundation is taking to the Democratic National Convention in Philadelphia.
A striking 14-by-48-foot billboard bearing the images of four millennial voters that proclaims "I'm an atheist and I vote" is already up on I-95 north of I-676.
The "models" are actually FFRF employees or members: Patrick Elliott, a staff attorney; Sarah Lewis, a graduate student; Andrew Seidel, a staff attorney; and Callahan Miller, FFRF's legal assistant who is entering Harvard Law School this fall.
Thirty additional "I'm an atheist and I vote" ads will be displayed on MetroLight street-level kiosks in front of parking garages in downtown Philadelphia in tourist areas.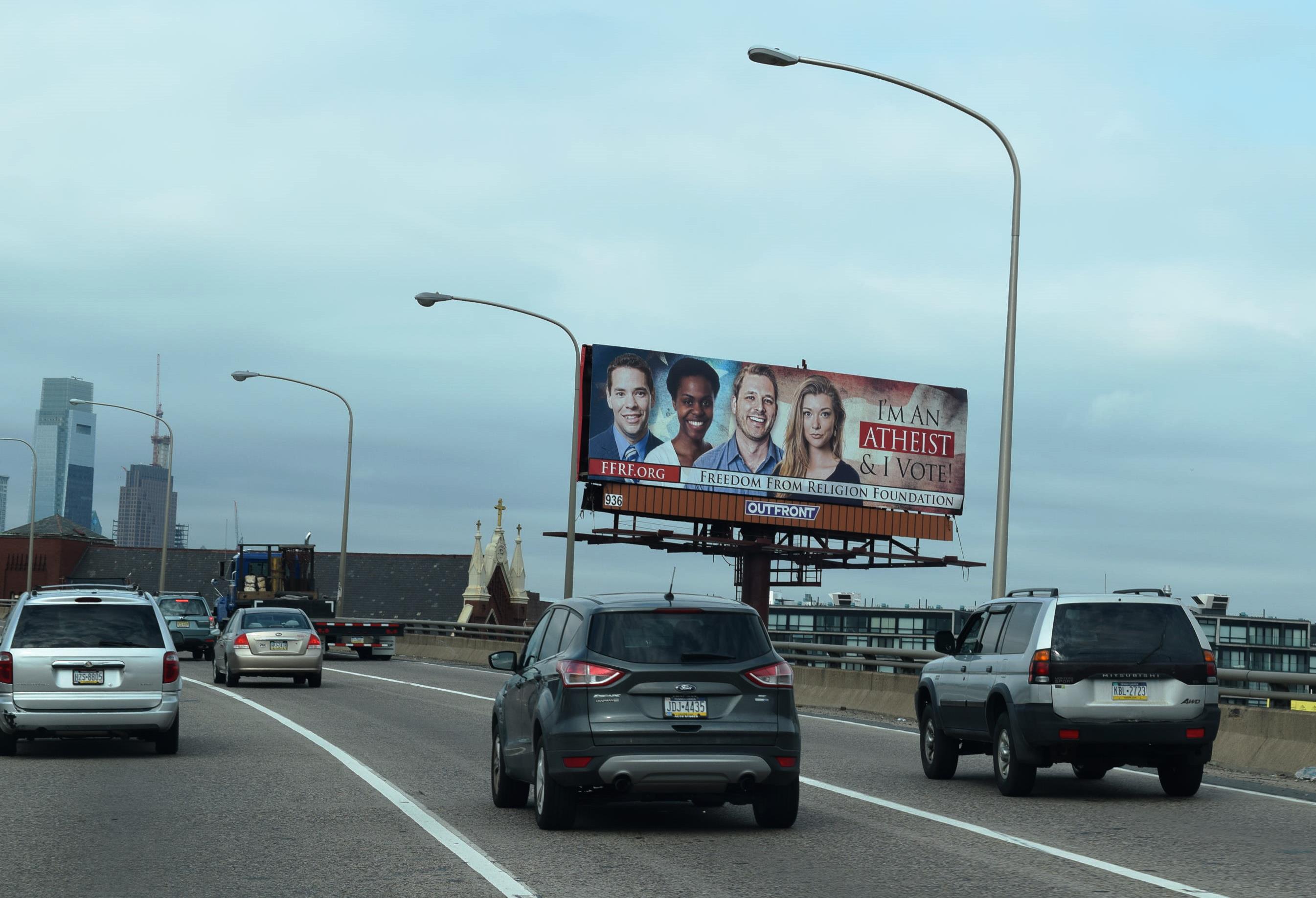 The secular quartet is representative of the rising power of the "Nones" — the one-third of young people today who identify as secular and religiously unaffiliated, says FFRF Co-President Annie Laurie Gaylor.
Overall, a quarter of the population is nonreligious, Gaylor adds, "but we have to pinch ourselves to know we atheists and agnostics even exist in an election year."
Gaylor notes that both parties go to great strides to appease the Religious Right and to woo religious voters. Many seculars are unhappy over the inevitable religious invocations to open both conventions, and the ubiquitous "God Bless America" to end political speeches, not to mention political forums routinely conducted in churches.
FFRF earlier this year released a major survey of 8,000 registered voters who are nonreligious, revealing that the country's seculars want to see more support for civil rights, women's rights, LGBTQ rights, abortion rights, the separation of state and church, and action on global warming.
FFRF had a very different billboard up in Cleveland during the Republican National Convention, featuring a quote by GOP icon President Reagan: "Church and state are, and must remain, separate." The sign received a great deal of coverage by outraged representatives of the Religious Right, who were angered over an unrelated controversy involving rejection of an ad for "God's Not Dead 2" by a company in the Cleveland area. The corporation that hosted FFRF's billboard was not the same entity that rejected the ad for the movie, but that didn't stop the hysterical reaction.
FFRF is hoping for a positive response in Philadelphia to its election-year message by the city that birthed our nation's "godless and entirely secular Constitution," Gaylor says.