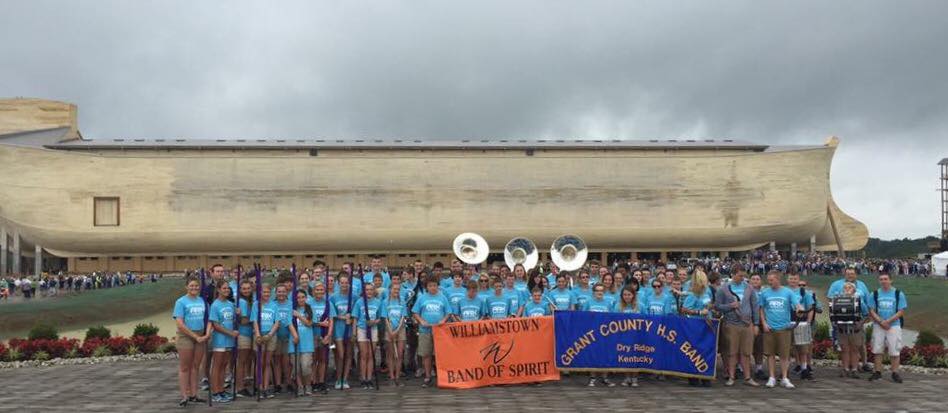 The Freedom From Religion Foundation is protesting the participation of two Kentucky public high school bands at a ceremony celebrating a new religious theme park.
The Williamstown High School (Williamstown, Ky.) and Grant County High School (Dry Ridge, Ky.) marching bands performed at the ribbon-cutting ceremony for the Ark Encounter on Tuesday, July 5. Photos show band members marching by the ark wearing T-shirts that bear the Ark Encounter logo on the front and back and the names of two bands: the Williamstown High School Marching Band and the Grant County High School Marching Band. Many appear to be using the marching band equipment that belongs to the school. The Williamstown High School "Band of Spirit" Facebook page also shared the broadcast of the ceremony.
The Ark Encounter is a Christian ministry run by the creationist Ken Ham, who also built the notorious Creation Museum. Ham has been clear about the proselytizing nature of the ark park from the beginning. In a June 27 letter entitled, "Our Real Motive for Building Ark Encounter," he lays out a clear, evangelistic goal: "Our motive is to do the King's business until He comes. And that means preaching the gospel and defending the faith, so that we can reach as many souls as we can."
Public schools and public school staff may not take part in celebrations for a park that has a clear religious goal and portrays fiction as divine truth. Ham is free to erect monuments to his bible, but public schools are not permitted to expose the children in their charge to religious myths and proselytizing, says FFRF. It is unacceptable to expose a captive audience of impressionable students to the overtly religious atmosphere of Ham's Christian theme parks.
"Schools have a constitutional obligation to ensure that their programs 'do not inculcate religion,'" as the U.S. Supreme Court has ruled, FFRF Staff Attorney Andrew Seidel writes in a letter to the superintendent of Williamstown Independent Schools and the legal counsel of Grant County Schools. "Taking public school students to a site whose self-professed goal is to convert children to a particular religion and undermine what is taught in public school science and history classrooms is inappropriate."
There are also serious constitutional issues with public schools helping a private religious ministry to launch a park meant to convert people and collect a fair bit of money in the process. The fact that this trip might have been considered "voluntary" is irrelevant, FFRF asserts, since courts have summarily rejected arguments that voluntariness excuses a constitutional violation.
The state/church watchdog group has already sent out a letter advising public schools in more than 1,000 school districts against visiting the Ark Encounter. FFRF has received inquiries from concerned parents that overzealous teachers or principals may mistakenly believe it appropriate to schedule school-related trips to the Ark Encounter, as has happened with the Creation Museum. In order to allay such concerns and to remind public schools of their constitutional obligations, it has sent a memo to every school district in Kentucky, Indiana, West Virginia and Ohio.
FFRF enclosed with the memo its "Top 10" brochure, which explains the most common state-church violations in public schools and why schools must avoid them. In the past two years, FFRF has addressed more than 1,300 violations in public schools and offered this constitutional guide with the hope to see fewer violations in coming years.
The organization seeks written assurances that no further Williamstown Independent Schools or Grant County Schools staff will organize, promote, sponsor or otherwise facilitate trips to the ark park. Students are free to travel to the park, but schools cannot play a role.
The Freedom From Religion Foundation is a national nonprofit dedicated to the separation of state and church, with 24,000 nontheistic members, including almost 200 in Kentucky.