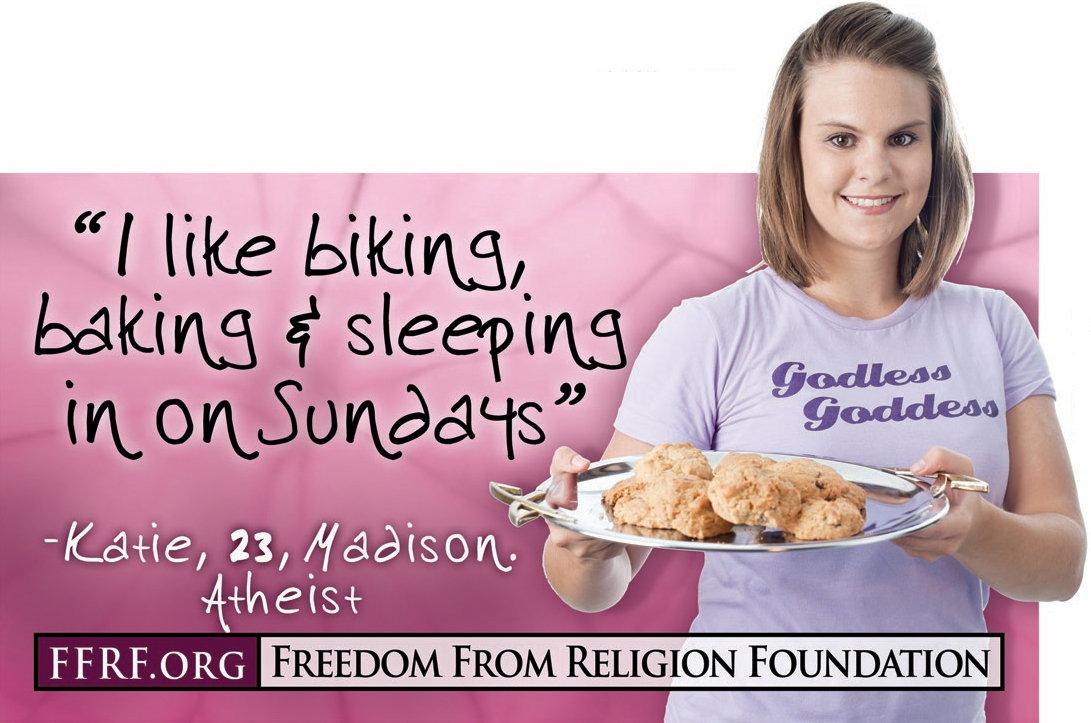 As supporters and members of the Freedom From Religion Foundation arrive in Madison, Wis., for its 33rd annual convention Oct. 29-30, they'll be greeted by celebrity Julia Sweeney and Katie, FFRF's bookkeeper/baker and Jill-of-all-trades.
The greeting comes on a billboard that's part of FFRF's new "Out of the Closet" campaign that introduces freethinkers to the community. One side bears Sweeney's message: "I read the bible! Now I am a proud atheist." The reverse side showcases Katie's billboard cut-out with a "Godless Goddess" T-shirt, holding a plateful of cookies and saying: "I like biking, baking & sleeping in on Sundays."
The sign is on East Johnson Street at First Street near the railroad tracks and is positioned for visibility for people coming from and going to Dane County Regional Airport. About 700 people will attend the convention at the downtown Concourse Hotel. Sweeney, a "Saturday Night Live" alum and "Letting Go of God" playwright, will speak at the convention at 2 p.m. Saturday.
The Foundation plans to take the campaign theme of "Many faces make enlightenment work" around the nation and will use local freethinkers' "testimonies" on bus and billboard ads.
Ads featuring 2 dozen area freethinkers are on a digital display on the beltline at Rimrock Road through next Monday, and 13 images of freethinkers are up through the end of October on king-sized ads on buses with downtown routes.
Co-President Annie Laurie Gaylor said it's time for atheists and agnostics to speak up publicly to claim their civil rights. "More and more, we're seeing the dumbing down of discourse on the principles that America was founded on, and that includes the separation of state and church."
FFRF is seeking individuals and local or regional secular groups to help coordinate "Out of the Closet" campaigns with FFRF to their area, using FFRF's template and its local members. FFRF is also looking for donors who might be interested in underwriting the myth-dispelling campaign, Gaylor said.