SIGN UP NOW FOR FFRF'S AMAZING SAN FRANCISCO CONVENTION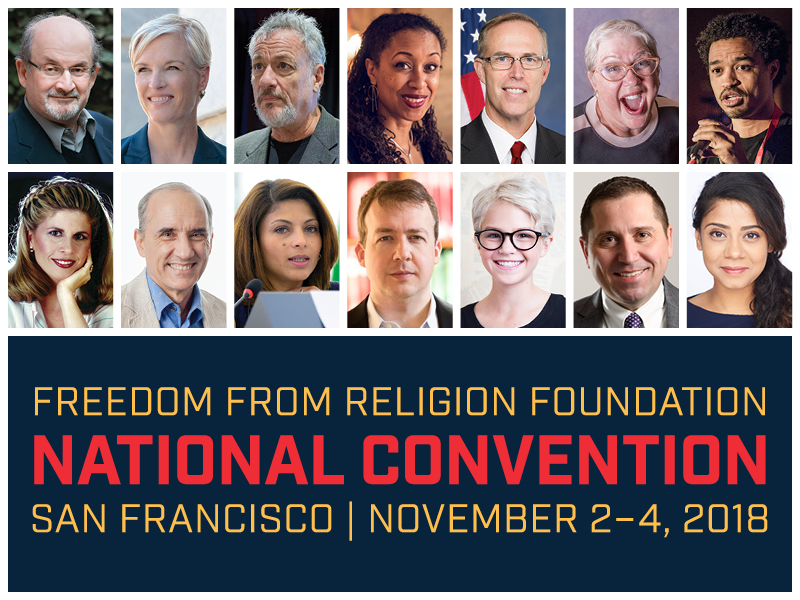 FFRF FINAL REGISTRATION DEADLINE ON FRIDAY, OCTOBER 12, 2018
No walk-in registrations accepted
FFRF's room block for Friday & Saturday is booked. You can still reserve a room at the hotel, however, the prices will be at their normal rate. Our final deadline for registration is October 12, 2018. Register today!
Where can you meet hundreds of like-minded freethinkers, and see folks like Salman Rushdie, Cecile Richards, and U.S. Rep. Jared Huffman, founder of the new Congressional Freethought Caucus?
At FFRF's 41st annual national convention in San Francisco, of course, taking place on Friday, Nov. 2 and Saturday, Nov. 3.
Although it's three months away, please don't delay in making plans to reserve your room now at the convention site, the downtown Hyatt Regency, 5 Embarcadero Center. In fact, the response has been so overwhelming that FFRF filled its original bloc in June, and had to take emergency action to renegotiate for more rooms for you, and they're going fast!
Hotel rooms are $235 plus tax, and may be reserved for Thursday, Friday and Saturday while our new bloc lasts. Make your reservations directly: 1-888-421-1442 and use the code "Freedom From Religion Foundation." Or reserve rooms directly at bit.ly/FFRF2018
Convention registration is only $60 per member, $65 per companion to member, $110 non-member (or join FFRF for $40 and save $10!). The convention opens at noon Friday and continues through Saturday night, with membership and State Representative meetings taking place Sunday morning, Nov. 5.
Besides the two offered group meals — FFRF's nontraditional Non-Prayer Breakfast and the Banquet Dinner on Saturday— FFRF will offer complimentary appetizers Friday afternoon and end the Friday night program with complimentary dessert and hot beverages.
The hotel is a hop, skip and a jump away from all the major San Francisco downtown attractions. But with FFRF's diverse list of activists, authors and even comedians, you won't want to miss any of the conference.
This list includes actress, atheist and comedian Julia Sweeney, who will entertain with her new stand-up comedy show "Julia Sweeney: Older and Wider," actor and educator John ("Q" from "Star Trek: The Next Generation") de Lancie, comedian Leighann Lord, Sarah Haider, co-founder of Ex-Muslims of North America, Bailey Harris, the 12-year-old author of the picture book about evolution called "My Name is Stardust," and Debra Deanne Olson, who just authored a book about her grandfather, Culbert Levy Olson, who was atheist governor of California from 1939-1943 (can you imagine?), with more speakers to be announced.
Among other awards will be the first annual Avijit Roy Courage Award, in honor of the Bangladeshi-American atheist and author who was assassinated in 2015 by Islamists after returning to Bangladesh for a book fair. The recipient is Roopbaan, the first gay magazine published in Bangladesh. One of its founders was murdered by Islamists. Accepting the award in its honor will be a Roopbaan co-founder whose life was threatened too, and who is now in the United States applying for asylum. On hand to announce the new award will be Rafida Bonya Ahmed, widow of Avijit Roy, who was critically wounded in the 2015 attack and has continued to help other threatened secular activists. FFRF has established the new $5,000 award.
Finally, Ensaf Haidar, the wife of persecuted Saudi freethinker and blogger Raif Badawi, will be receiving the second annual Henry Zumach Freedom From Religious Fundamentalism Award of $10,000.
Always a hit at conferences is the presentation by FFRF's legal eagles, who will wow you with FFRF's accomplishments to keep religion out of government. Major speakers will be signing copies of their books, giving you a chance to meet with them. The convention features the annual drawing for "clean," pre-In God We Trust currency, musical interludes by FFRF Co-President Dan Barker at the piano, and book and sales tables.
FFRF conventions are a celebration of freethought and secularism, are a great way to recharge burnt-out batteries and renew energy for the significant challenges our community faces today in the United States. Come help us celebrate FFRF's 40th year as a national group (a preliminary convention attracted nationwide participation the year before FFRF's formal creation, hence this is nevertheless FFRF's 41st annual convention).
REGISTRATION

FFRF registration, always a deal, is only $60 per member, $65 per companion, and students and children free. Take advantage of FFRF's meal and registration package on the form below to save $20 (and get a chance to socialize with other members). Friday night dinner and Saturday lunch are on your own. The menus for the two Saturday meals (with veggie, vegan and gluten-free options) are: Breakfast — Chef's bakery selection, scrambled eggs, Hobb's bacon, breakfast potatoes, juice and coffee.
Dinner — Potage Parmentier (potato leek soup), crispy shallots, chive creme frainche, Champagne brown butter chicken, tarragon mushroom fond, Cipollini onion and Comte risotto, steamed broccolini, French pear tart, frangipane and vanilla cream.
HOTEL INFORMATION
Reserve rooms now to avoid disappointment! Rooms (at $235) are being held for Friday and Saturday nights, and a slightly more limited number for Thursday early-birds. Call to make your reservations: toll free 1-888-421-1442 and use the code "Freedom From Religion Foundation."
GENERAL SCHEDULE
Arrange your travel schedule for the convention's expanded hours and to take in a little sightseeing as well. The official starting time is 1 p.m. Friday, Nov. 2, continuing through Saturday night. FFRF's membership and state representative meetings take place Sunday morning with a noon adjournment. The convention will include irreverent music, complimentary appetizers on Friday afternoon and a complimentary Friday night dessert reception, plus the popular drawing for "clean" (pre- "In God We Trust") currency on Saturday night.