Clarification: FFRF's "I'm an Atheist and I Vote" ad campaign is not running on Washington, D.C., Metro buses, which prohibit political and advocacy ads. It's actually featured on the Prince Williams and D runs on PRTC (Potomac and Rappahannock Transportation Commission) commuter buses.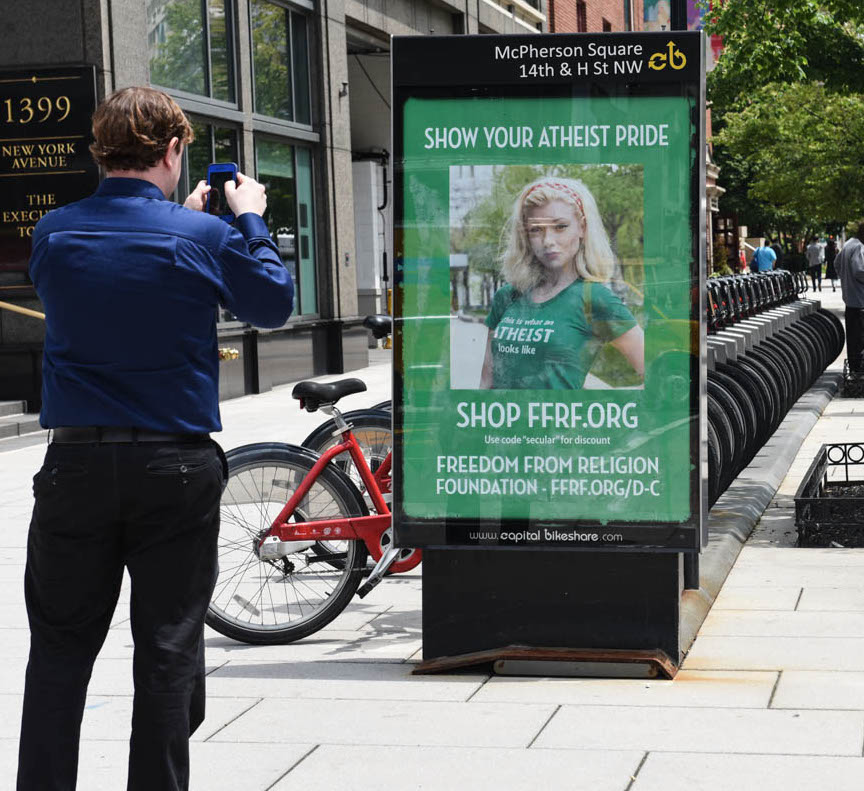 Commuter buses, BikeShare and kiosks in front of Metro Light parking garages feature messages from millennial atheist voters in advance of Reason Rally & D.C. Primary up through June 6
For the next two weeks, nonbelievers will be taking over the transportation system in the nation's capital.
Capitol Hill employees will ride to work in PRTC commuter buses wrapped with a giant message stating, "I'm an Atheist and I Vote." Downtown commuters who drive or ride Capital BikeShare will be greeted by illuminated kiosk ads featuring young, millennial atheist voters.
The ads are part of Freedom From Religion Foundation's campaign to highlight the exploding secular voting demographic in advance of the June 4 Reason Rally and the June 14 presidential primary in the District of Columbia. The ads will run from May 23 through June 6.


"We're blanketing the District with images of young secular voters, to show the faces of the fastest-growing voter demographic in America," says FFRF Co-President Annie Laurie Gaylor. "While the Religious Right is hemorrhaging numbers and influence, secular support is skyrocketing, with 20 million new people on our side of the aisle since Barack Obama was first elected. Our leaders need to see our presence and hear our priorities."
The ads lead into the June 4 Reason Rally at the Lincoln Memorial in Washington, D.C., which is being sponsored by a coalition of secular groups, including FFRF. The event will be the world's largest gathering of nonbelievers. Some of the most well-known freethinkers in the country are making an appearance, such as Bill Nye the "Science Guy," actor Johnny Depp, magician Penn Jillette and FFRF Co-Presidents Annie Laurie Gaylor and Dan Barker.
The efforts are part of FFRF's campaign to engage millions of nonreligious voters and ensure the voices of the fastest-growing minority group in America are heard in the 2016 presidential election.
FFRF has been working with its 23,800 members, 20 chapters across America and through secular student alliances to encourage supporters to register to vote, participate in influencing public policy and make a secular voice heard.
FFRF recently released a survey of nearly 8,000 members that showed 96 percent are registered to vote—more than 20 percent higher than the population at large. Respondents listed abortion rights, civil rights, women's rights, environmental protection and marriage equality among their top concerns, in addition to separation of state and church.
On the National Day of Prayer, May 5, FFRF sued the U.S. Congress for barring Barker, FFRF's co-president, from delivering a secular guest invocation to the House because he does not believe in God. The case is pending in front of the U.S. District Court for the District of Columbia. FFRF is a nonpartisan, apolitical freethought association (umbrella for atheists, agnostics and other nonbelievers) working to keep religion out of government.
Learn more at www.ffrf.org.