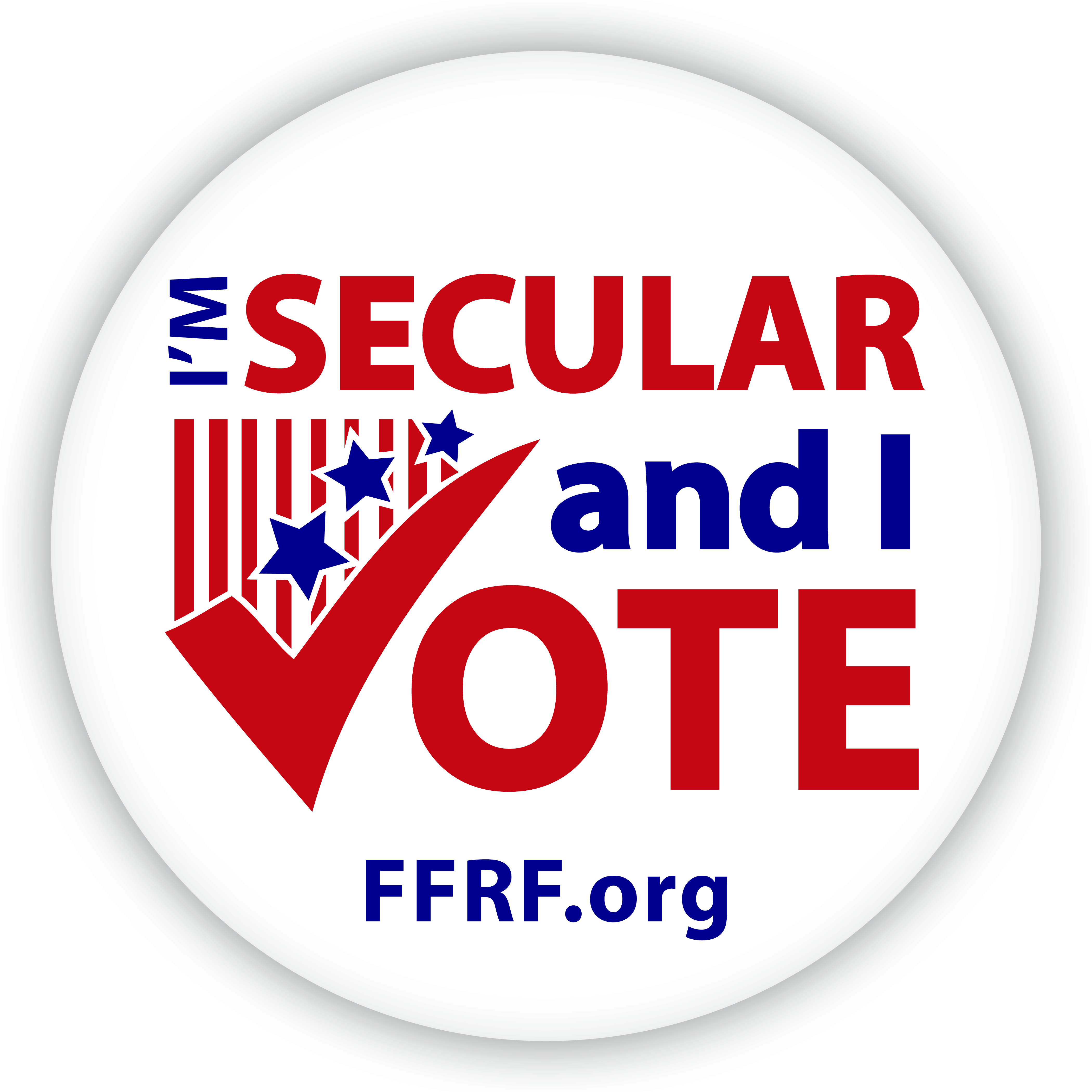 MADISON, WIS. – Tuesday, February 16, 2016 – Freedom From Religion Foundation (FFRF), the largest freethought association in North America, today launched its 'I'm Secular and I Vote' campaign to engage millions of non-religious voters and ensure the voices of the fastest-growing minority group in America are heard in the 2016 presidential election.
FFRF today also released results of a recent survey of nearly 8,000 secular voters to help educate the public about their beliefs.
The campaign will include outreach to voters across the nation through FFRF chapters, a national TV ad buy this month focusing on the separation of church and state, paid digital media ads, efforts to mobilize students on college campuses, and coordination with the nation's other major freethought associations as part of the June 4, 2016 Reason Rally in Washington, D.C.
"Since President Obama was first elected, the number of religiously unaffiliated adults in America has grown by nearly 20 million," said FFRF Co-President Annie Laurie Gaylor. "Still, most candidates and media outlets focus their time on traditional religious groups, so we're taking action to be more vocal and coordinated as a demographic that should not be ignored."
A major Pew Research survey recently found 23 percent of the U.S. population is now religiously unaffiliated, with 19 million new adults since 2007 classifying their religious affiliation as atheist, agnostic or nothing in particular, a trend Pew says is being driven primarily by young adults. A third of Millennials now identify as non-religious.
"Much of the movement away from religion in America is being driven by Millennials, many of whom will be voting for the first time this year," said FFRF Co-President Dan Barker. "We need secular voters to be vocal about their beliefs, or lack thereof, while rejecting efforts to push religious dogma on the nation."
FFRF will be working with its 23,500 members, 20 chapters across America and through secular student alliances to encourage supporters to register to vote, attend and speak out on secularism at political events and submit op-eds to local and campus newspapers. FFRF also launched a student essay contest with thousands of dollars in prizes, and will distribute "I'm Secular and I Vote" buttons, T-shirts, bumper stickers and educational material across the country.
FFRF is a nonpartisan and educational nonprofit organization, which does not endorse candidates for office.
NEW SURVEY RESULTS ON SECULAR VOTERS
From June through December 2015, FFRF conducted a survey of its 23,500 members with nearly 8,000 respondents participating across the nation. The survey found 96 percent are registered to vote, which is more than 20 percent higher than the population at large. Seventy-two percent reported having a college degree or higher.
When it comes to political affiliation, 70 percent declined to affiliate themselves with one of the major political parties, and more than 20 percent identified as independent voters. Thirty-six percent described themselves as progressive or liberal.
In addition to supporting the separation of church and state, respondents listed civil rights, women's rights, reproductive freedom, environmental protection, marriage equality, and death with dignity among their top concerns.
"Our survey shows that secular voters are highly educated and independent-minded," said Gaylor. "Many appear to be waiting for a candidate who acknowledges them as a group and speaks forcefully about keeping religion out of government."
See the results of the FFRF survey.
View FFRF 'I'm Secular and I Vote Campaign' Q&A
News Coverage: