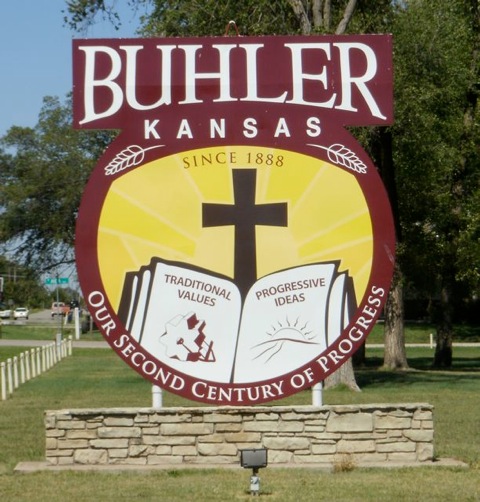 The Freedom From Religion Foundation has racked up four solid victories in the past several weeks on behalf of the separation of state and church.
Victories in Kansas and Michigan will remove direct endorsements of God and Christianity from public schools and government property. Texas and Kentucky victories have stopped proselytizing in public schools.
The Latin cross on the city seal of Buhler, Kan., will be removed in response to a letter from FFRF Staff Attorney Patrick Elliott. Buhler Mayor Daniel Friesen told the local media that the decision to change the seal was based on the Constitution, which he said, "protects the view of people who may not agree with the values of this community." The city's governing body consensually agreed last night to redesign the logo. Now local residents will have a chance to submit their own design by the end of January.
The Buhler seal is displayed on a large billboard in Albert Becker Park, as well as on official city forms.
Students as young as three were being instructed to pray by their teacher in an Elkhorn City, Ky., public school every day before lunch until a concerned parent contacted FFRF. Action from FFRF Staff Attorney Rebecca Markert prompted Elkhorn City Elementary School on Nov. 1 to end the illegal organized prayer and stop posting religious fliers in the school.
The staff of the Deaf Smith Elementary School in Rosenberg, Texas, will no longer be subject to a principal's proselytizing weekly newsletters. FFRF's local complainant referred to the principal's newsletters as "Sunday Sermons" because of their near constant use of biblical verses, references and discussions, and the presentation of biblical stories as fact. After FFRF Staff Attorney Stephanie Schmitt alerted the school district to the situation, the district instructed the principal to stop putting religious references in his school communications.
FFRF also succeeded in having a promotional church sign on an elementary school lawn in New Haven, Mich., taken down. The church will now only display its sign at Endeavour Elementary School on Sundays, the day it rents the school's cafeteria.
FFRF has over 19,400 members, and is working hard to see the constitutional principle of separation of state and church honored throughout the holiday season.
A special thanks to FFRF Journalism Intern Sarah Eucalano.