The Freedom From Religion Foundation will be making its mark next week as 880 of its members from around the country visit Portland to attend FFRF's 35th national convention. Helping to celebrate the occasion are more than 15 Portland-area FFRF members or families who volunteered to appear on a set of myth-dispelling billboard campaigns timed with the convention. FFRF is launching its largest "This is what an atheist looks" campaign to date in Portland, also debuting a new slogan: "I'm SECULAR and I VOTE." FFRF has leased three 14x48-foot bulletins and 12 EcoPoster (10-foot x 22.8-inch billboards), which will be appearing in a variety of Portland locations.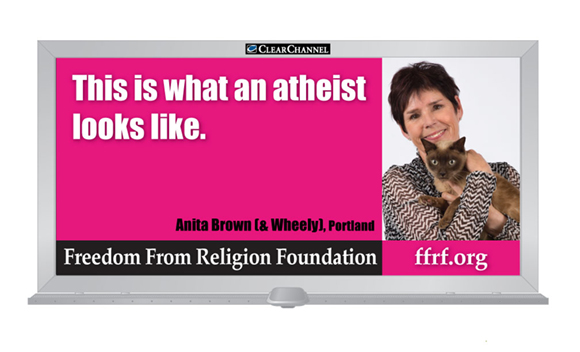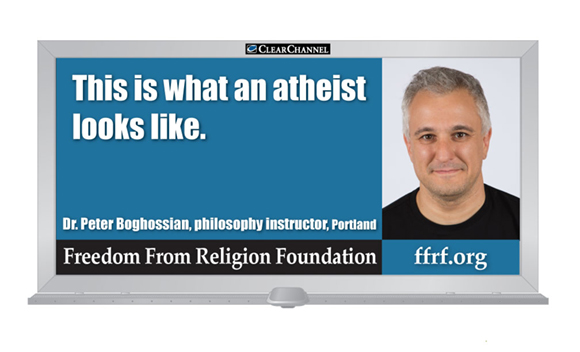 FFRF's sell-out convention takes place Friday-Sunday, Oct. 12-14 at the Downtown Portland Hilton and Towers, 921 SW Sixth Avenue. The convention will open Friday night with award acceptance speeches by two student activists, and by the premier atheist intellectual, Richard Dawkins. The event continues Saturday with appearances by bestselling mystery author Sara Paretsky and "Letting Go of God" actress and comedian Julia Sweeney, among others.
"We were pleasantly surprised we had more volunteers than we could manage to use in the campaign. We wish we hadn't had to turn anyone away," said FFRF Co-President Annie Laurie Gaylor. She noted that the definitive American Religious Identification Survey shows that 24% of Oregonians identify as nonreligious, so these FFRF'ers have plenty of good company. FFRF thanks FFRF Life Member Steve Eltinge for taking the professional photographs, and all participants for making the PR campaign possible.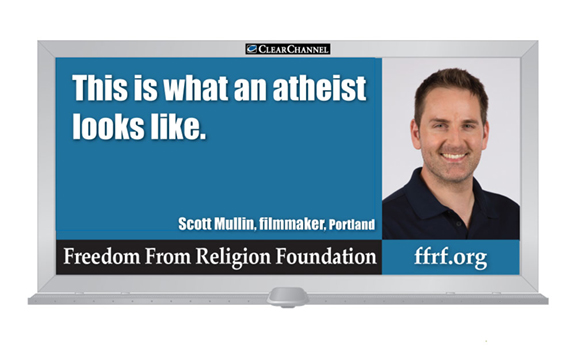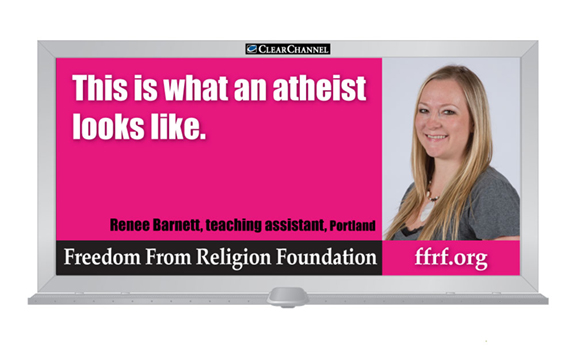 Michelle and Justin Atterbury will be pictured on a magenta 14x48-foot billboard saying "This is what an atheist family looks like," with their toddler, Sylvan, and baby, Scarlett. Also on a 14x48-foot bulletin saying "This is what atheists look like" will be Roy Firestone, an engineer, and Karen Firestone, a Portland homemaker. Another couple, Heather Gonsior, drafter, and Shawn Swagerty, information systems director, appear on a billboard with the same message.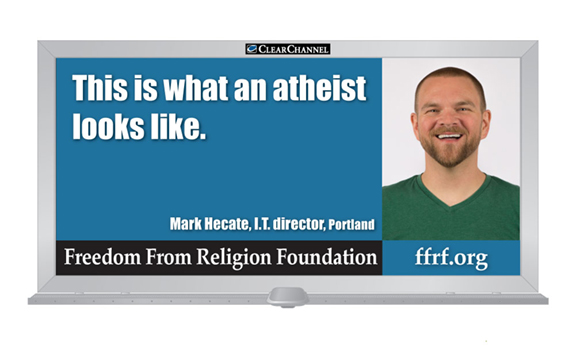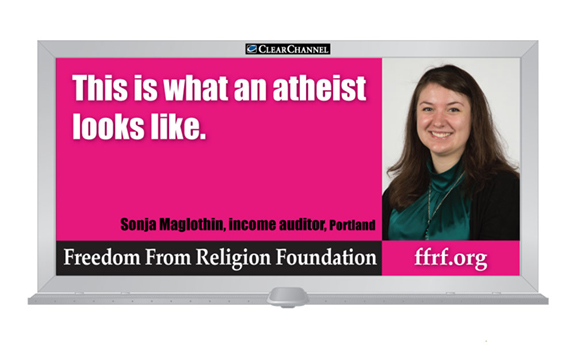 Appealing brothers Brent Mangum, a chemist and OSU tutor, and Tyler, a physiologist, are pictured back-to-back on a blue "This is what atheists look like" 14x48-foot billboard.
Other "This is what an atheist looks like" participants, each featured on their own billboard, are: Anita Brown, whose exotic cat, Wheely, also makes an appearance; Renee Barnett, a neurologist grad student and university teaching assistant; and Sonja Maglothin, an income auditor. Featured on bright blue "This is what an atheist looks like" billboards will be Dr. Peter Boghossian, a well-known philosophy instructor at Portland State University, who has an upcoming book, Against Faith; Mark Hecate, a member of FFRF who is I.T. director of New Avenues for Youth, and Scott Mullin, a filmmaker in Portland.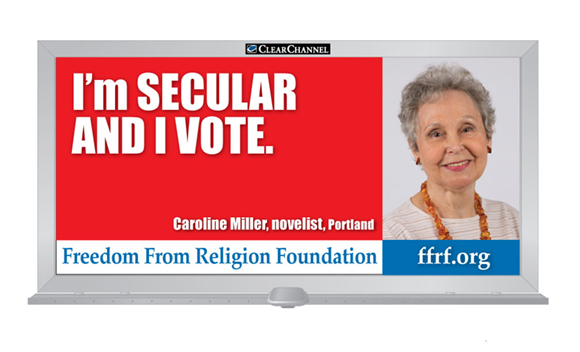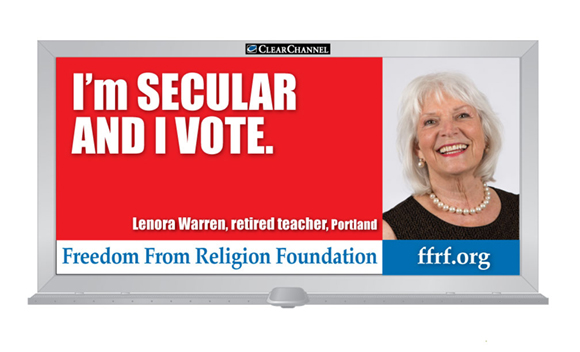 With the election so close, FFRF is also unveiling a timely billboard slogan, "I'm SECULAR and I VOTE." The red, white and blue billboards feature the smiling faces of Lenora Warren, a retired Portland teacher; retired engineer Duane A. Damiano, a Life Member of FFRF; retired politician and novelist Caroline Miller; Paul Buchman and Marsha Abelman, both retired.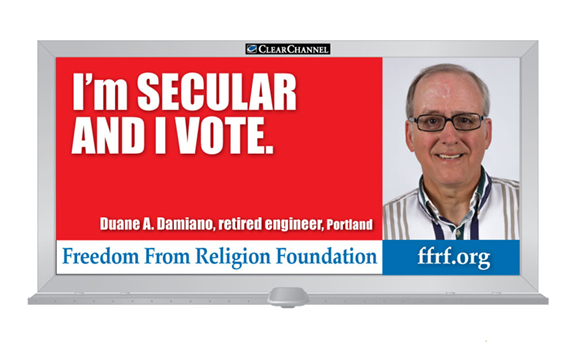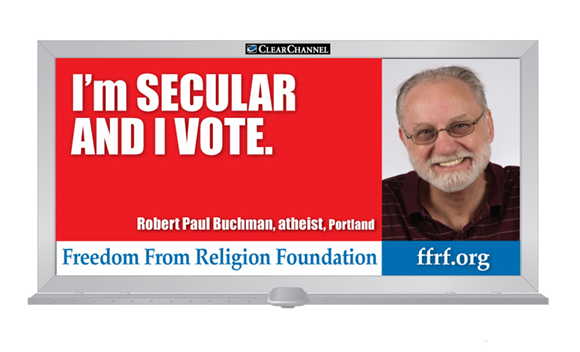 "With up to 19% of the U.S. population now identifying as nonreligious, when are politicians and candidates going to wake up to the changing demographics and start courting us? Secularists are looking for candidates who share a commitment to America's foundational principle of separation between religion and government," said Dan Barker, FFRF Co-President.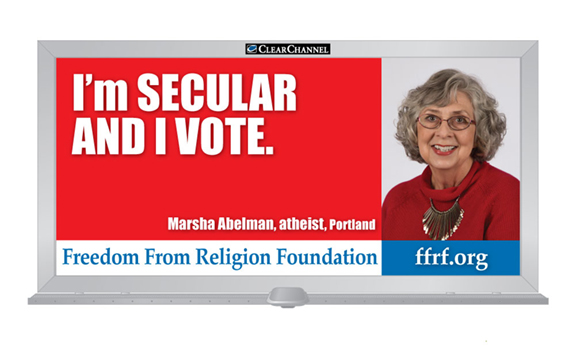 Barker, a former minister and author of two books, Godless and Losing Faith in Faith, will moderate a unique panel at the conference featuring four former ministers turned atheists, who are all part of The Clergy Project. Jerry DeWitt, a former Pentecostal minister, was the first "graduate" of The Clergy Project, a support group developed by Dawkins, Barker, Tufts Professor Daniel Dennett and researcher Linda LaScola, to aid ministers who have lost their faith and are looking for a way out of the pulpit. Joining DeWitt is Teresa MacBain, another new "graduate" who left the Methodist Church, as did annalise fonza. Robert Parham, a former Southern Baptist minister, will also appear.
No tickets may be purchased at the door.
Read more about the convention